Climate Action - Ericsson's Carbon Footprint
Climate Action - Ericsson's Carbon Footprint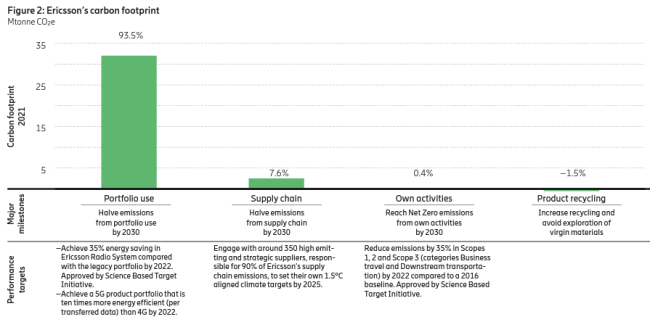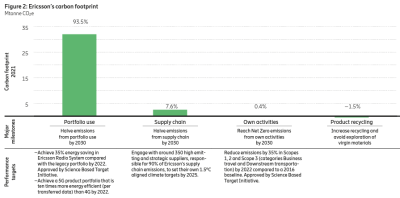 Wednesday, May 4, 2022 - 2:20pm
Originally published in Ericsson's 2021 Sustainability and Corporate responsibility Report
Advocacy
Ericsson actively contributes to consultations and hearings on strategies and legislative proposals presented by different legislative bodies. Within the European Union (EU) the EU Commission has historically taken a pro active approach to environmental legislation and is now accelerating its efforts through the EU Green Deal. The Company's approach is to advocate for clear environmental legal requirements that are effective, based on science and that improve the environmental performance of the sector.
To address these areas, Ericsson is active in industry organizations such as Digital Europe, the Association of Swedish Engineering Industries, the European Round Table for Industry and other relevant forums. The Company also engages with organizations 1) that are focused on global environmental standardization development.
Further, in order to communicate the benefits of digitalization in the transition to a low carbon economy, Ericsson engages with organizations such as the World Economic Forum, the European CEO Alliance, the Exponential Roadmap Initiative, The Pathways Coalition and the EU Green Digital Coalition.
Ericsson was an early supporter of the Paris Agreement and recognizes the need to limit global warming to 1.5°C, as described by the Intergovernmental Panel on Climate Change (IPCC). The Company's climate action approach and target setting for its own operations and industry impact is based on more than two decades of sustainability research.
In 2021, Ericsson conducted a climate scenario analysis in line with the recommendations of the Task Force on Climate-Related Financial Disclosures (TCFD) to further understand potential climate-related risks and opportunities relevant to its business model.
The analysis confirmed that the main climate-related business opportunities for Ericsson relate to providing customers with energy efficient networks and expanding its connectivity offerings to other sectors enabling further emission reductions. Main risks identified under the scenarios used relate to carbon pricing and business disruptions driven by physical risks, such as those caused by severe weather events. More details on this analysis and conclusions can be found on page 33.
Ericsson's carbon footprint
The environmental impact and carbon footprint of Ericsson's value chain are quantified based on life-cycle assessments of products and through extensive research on the impact of the ICT industry. Figure 2 shows the Company's total carbon footprint, measured in carbon dioxide equivalents (CO2e). The impact is divided into four sections: portfolio use (including products and software in operation); supply chain (including product design, procurement, and transport); own activities (including fleet vehicles, business travel, commuting, teleworking and facilities); and product recycling, (including end-of-life products that are taken back from customers and then recycled).
As seen in Figure 2, the carbon emissions resulting from the lifetime energy usage of Ericsson's delivered portfolio corresponded to approximately 94% and supply chain emissions accounted for 8% of the Company's total carbon footprint. Ericsson's emissions from own activities are small relative to the previous two categories. They make up 0.4% of the total emissions. In 2021, the Company expanded its carbon neutral target for own operations into a Net Zero emissions target for own activities by 2030, including fleet vehicles, facilities, business travel and commuting/teleworking. Own activities previously included product transportation, this is now moved to supply chain emissions.
According to Ericsson's estimations, recycling of its products at end-of-life contribute to lower supply chain emissions. The reason for this is that emissions from recovered raw materials, such as aluminum, are lower than those from virgin raw material. Thus, product recycling results in a negative share of Company emissions as shown in the figure above.
1) The International Telecommunication Union (ITU), the European Telecommunications Standards Institute (ETSI) and the European Committee for Standardization (CEN) and European Electrotechnical Committee for Standardization (CENELEC).