Children's Hospitals: Investing in the Health of Our Communities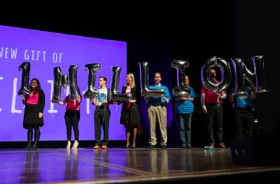 Sharing our time, talent and financial resources with our neighbors is one of our greatest responsibilities as a profitable company – and we've seen how our contributions can improve lives and strengthen communities.
"On my son Charlie's fifth day of life, he was at a routine pediatrician checkup, when we realized he was losing oxygen and his body temperature was going down," Megan Hill, Alliance Data's card services business talent effectiveness and change management manager shared. "We spent 30 days in the neonatal ICU at Nationwide Children's after that. When people ask me, 'How did you get through that?' I say it's truly the care from the staff. I just think how fortunate we are that when it mattered most and time was of the essence, we had the best care provider to help save Charlie's life."
Stories like Megan's have driven our card services business to support Nationwide Children's Hospital in Columbus, Ohio, for nearly two decades. Our 2015 donation of $400,000 helped the hospital build, and make accessible, the first big data cluster in Ohio for pediatric care. The system now links pediatric and research data sources that help provide more effective patient care.
In 2017, we announced a second donation of $1 million. This gift will support Nationwide Children's transformational approach to treating behavioral health conditions, focusing on early interventions, crisis management and community collaboration to treat and prevent behavioral issues before they result in unnecessary tragedy.
Nationwide Children's Hospital is revolutionizing children's healthcare through its data-driven research and pediatric expertise – delivering care for more than 1 million patient visits each year, including those of our associates and their families.
What's more? Leveraging our expertise to analyze data, for example, provides Nationwide Children's Hospital Foundation with deeper insights into donors – helping it build stronger relationships with its generous funders and ensure a sustainable pipeline of giving.
Investments of our time and expertise have led to additional funding opportunities, helped create life-saving technologies, and developed programs that touch the lives of millions of people.
To learn more about how Alliance Data operates responsibly, check out our 2017 Corporate Responsibility Report.