Charmin and Bounty Manufacturing Now Powered by Biomass
By Laura K. Wise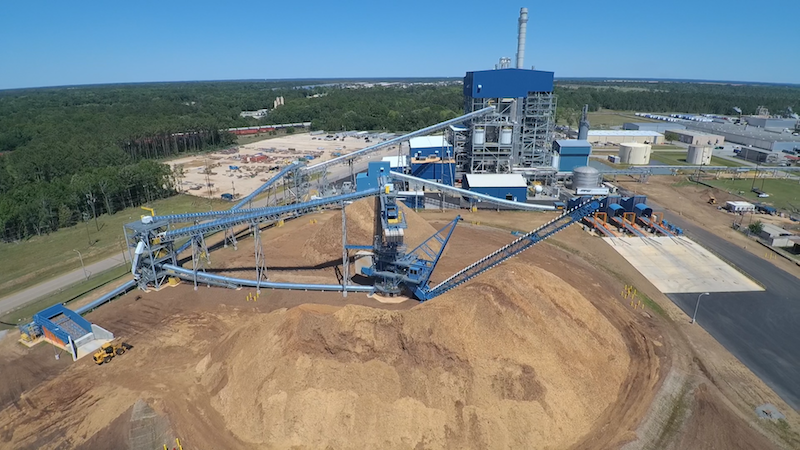 The new biomass plant will create 100 percent of the steam used to make Charmin and Bounty at P&G's Albany plant. (Photo credit: Constellation)
Originally published on TriplePundit
Founded in 1837, Procter & Gamble holds some of the most well-recognized brands in the world. The company has remained a family favorite for everyday necessities like Charmin, Pampers, Tide, and Pantene, among many others products, since that time. Now, nearly 180 years later, P&G is moving full speed ahead into their current reality of business where sustainability is a major focus. On September 26, P&G and Constellation, a subsidiary of Exelon Corporation, opened a new biomass plant in Albany, Ga, a plant that will move the consumer goods giant closer to their goal of using 30 percent renewable energy in their U.S. operations by 2020.
Biomass energy is energy created using renewable materials such as wood chips, pecan shells, and peanuts hulls as feedstock for fires that produce steam. In an effort to move away from natural gas and petroleum-powered plants, the new biomass plant will create 100 percent of the steam used to run the P&G Albany Charmin and Bounty plant.
In preparation for the grand opening TriplePundit spoke with James McCall, P&G's Global Product Supply Sustainability Leader, who shared an in-depth look at the company's long-term sustainability goals and strategy:
"P&G is committed to using 30 percent renewable energy by 2020. So when we look at that, we need to look at a wide range of sources. To meet this goal we need the combination of both large projects and small projects, and for us, this is one of our large onsite projects."
McCall continued, "Biomass is the right fit for Albany, but that doesn't mean that it's the right fit everywhere. The way that we look at it, the type of renewable energy we use varies by region and location. We really want to take advantage of what makes sense for the area. We currently have a wide range of solar, wind, biomass, and geothermal energy projects globally, all helping to drive us toward our 30 percent renewable energy goal."
Not only is the new biomass plant good for business, it's also proving to be good for the community. P&G has maintained a presence in Georgia for over 40 years and has partnered with a number of businesses and organizations in the area to complete this project — in turn strengthening the local economy. The new biomass plant was created in partnership with Constellation, a leading energy company which built the facility and is responsible for the day-to-day operations. The new plant will create about 35 permanent, full-time jobs along with a number of secondary jobs in the surrounding area collecting scrap biomass.
Georgia Power is the next major player in this partnership. Purchasing more than 385,000 megawatts of electricity per year, the plant will be a new source of power coming online and will continue to help Georgia Power add additional distribution in the area. The new plant will also supply the Marine Corps Logistics Base Albany (MCLB – Albany), physically located behind the P&G plant, with steam to power an electric generator. The partnership will help MCLB – Albany to become the first Navy base in the U.S. to reach net zero status.
The new biomass plant started as a vision nearly three years ago with the company's sustainability team — a version of their "PVPs" or purpose, values, and principles, come to life.
Recognizing that the natural resources available to make many P&G products such as Charmin and Bounty are finite, P&G has a dual goal of doing what's good for the environment and what's good for business.
"P&G has been around for nearly180 years. Within our guiding principles, or PVP's, we have specifically called out that we want to serve our consumers 'now, and for generations to come'. The PVP's came about a few years ago by senior leadership as a way to really say, we understand that we serve nearly 5 billion consumers around the world; it's important that we do so in a smart and sustainable way," McCall shared.
As important as the new biomass plant is to P&G, it is really all about their consumers. They want those who use P&G brands to feel good about the products that they are putting into their carts, and to understand that these products come from a responsible company. P&G wants to empower every shopper to make more sustainable choices and this new plant is a big step forward in their ability to do this. McCall expands on the natural role of biomass in creating a renewable system:
"People have been burning wood to create heat since the early days, so we're going back to a lot of those naturally renewable sources and asking, what's available? How do I partner with the community to work sustainably and responsibly? We are getting the leftovers, the residuals. We are not harvesting virgin sources. We are taking the leftover tree tops, tree limbs, pecan shells, peanut hulls, things that would otherwise go to waste. We are turning these things into a renewable source of energy.
P&G's new biomass plant is quite an accomplishment for the company, yet it's important to celebrate their leadership within the business community as well. It's not always easy or economically viable to take on sustainability, especially at the scale in which P&G is currently operating. After nearly two centuries in business, the company continues to think holistically about the present and the future. With only three years until 2020, and to their goal of 30 percent renewable energy, the opening of this plant along with the windfarm in Texas will double their current usage from 10 percent to 20 percent, getting them two-thirds of the way to their 2020 goal. This investment will hopefully perpetuate their legacy throughout the next 180 years.
Laura K. Wise is a Program Officer and relationship manager by day, where she is building community among the corporate and non-profit spaces of New York City. She spends her evenings writing about business, corporate social responsibility (CSR), technology, and entrepreneurship. You can find Laura at www.laurakwise.com and on Twitter @laurakwise.
Image credit: Constellation