Ceres Releases Investor Expectations for Paris-aligned Financial Reporting in U.S. Oil and Gas Sector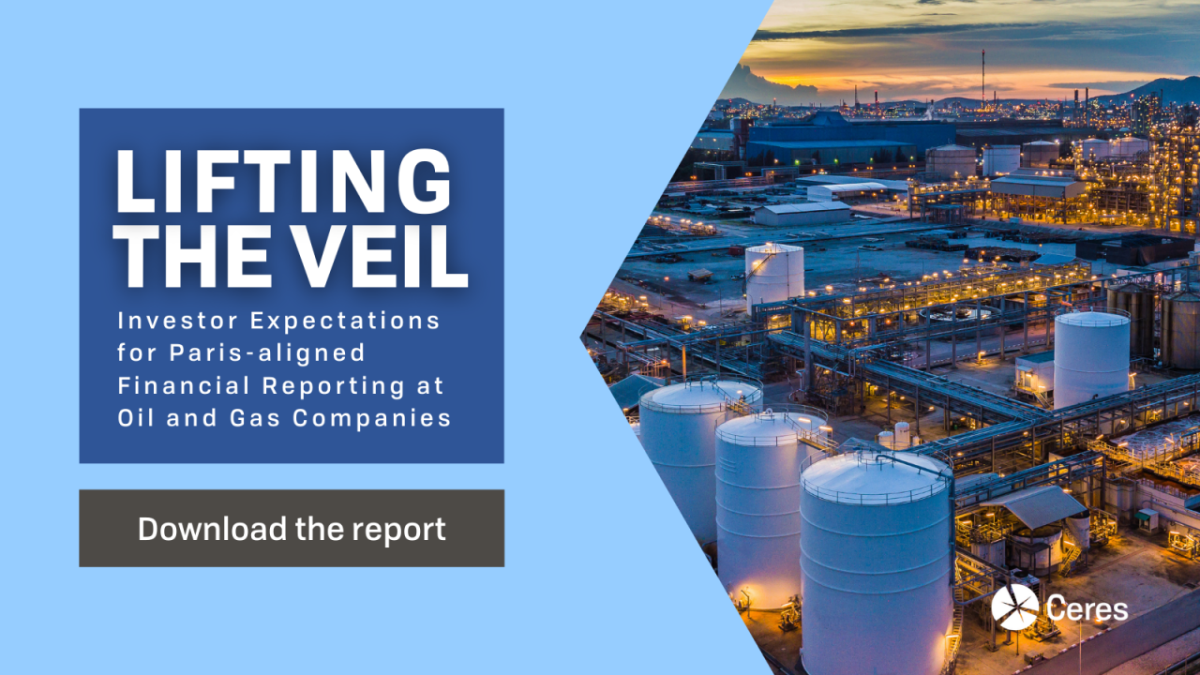 June 17, 2021 /3BL Media/ - U.S. oil and gas companies, and their investors, are at risk of significant stranded assets because they are not adequately reflecting the impacts of the climate crisis and the clean energy transition in their financial reporting, as detailed in a new report from the sustainability nonprofit Ceres.
The report, Lifting the Veil: Investor Expectations for Paris-Aligned Financial Reporting by Oil and Gas Companies, is the first analysis of how the U.S. oil and gas industry should address climate change in order to comply with established U.S. financial disclosure standards and meet investor expectations for transparency.
It comes as the oil and gas industry faces a turning point. Countries responsible for almost two-thirds of the world's greenhouse gas emissions have committed to reach net zero emissions by 2050 or sooner, but many U.S. oil and gas companies have neither set targets nor fully acknowledged the financial implications of the energy transition. A global drop in demand for fossil fuels, accelerated by regulation and affordable renewables, will slash overall demand and impact companies' positions, depending on how they approach the transition.
"Financial accounting requires numerous estimates about the future," said Samantha Ross, the report's author and a former SEC staffer and the chief of staff of the U.S. Public Company Accounting Oversight Board, who now leads AssuranceMark, an initiative to help investors get the most out of audits. "Existing accounting standards are designed to give investors fair warning when it looks like assets may become stranded, as can happen in any period of disruption and transition.  If companies don't disclose the assumptions they use to set and test asset values, it is very difficult for investors to understand the extent of the value at risk of future stranding."
Lifting the Veil  contains detailed investor expectations on reporting that are consistent with the goals of Climate Action 100+, the world's largest investor initiative on climate change. It lays out clear steps investors want companies and their boards, audit committees, and auditors to take to ensure financial reporting is both aligned with the Paris Agreement goal to limit global temperature rise to no more than 1.5 degrees Celsius and is consistent with generally accepted accounting practices (U.S. GAAP) required by the Financial Accounting Standards Board. 
"Investors need comprehensive reporting on risks and opportunities that drive returns. That is fundamental to our fiduciary duty in allocating capital and exercising stewardship" said Anne Simpson, chair of the Climate Action 100+ steering committee, managing investment director of board governance and sustainability at CalPERS and a contributor to the report. "Investors need company financials to reflect sustainable assumptions, with the assurance that audit committees and auditors have signed off on the numbers and the narrative. Without this we are navigating uncertainty through a fog of unregulated data points which blur our line of sight into risk and return."
Lifting the Veil outlines four investor expectations for financial reporting in the U.S. oil and gas sector:
Companies should explicitly and consistently discuss climate-related impacts in all financial statements. They should also disclose future asset retirement obligations, including plugging wells, decommissioning infrastructure and reclaiming land. They should disclose long term pricing assumptions, all carbon offset and carbon capture assumptions, and total greenhouse gas emissions including Scopes 1, 2 and3, as high emissions can pose a greater future financial risk due to regulations and demand changes.
The narrative portion of oil and gas companies' financial reports should include robust discussion of a company's climate strategy in line with the U.S. Securities and Exchange Commission guidance and should disclose limits on access to capital. Assumptions should be consistent with financial statements.
Corporate audit committees should reinforce rigorous consideration of climate-related impacts on financial statements and set expectations with external auditors.
External auditors should demonstrate that they have taken climate impacts and the energy transition into account.
In May, the International Energy Agency released the landmark report, Net Zero by 2050, A Roadmap for the Global Energy Sector. It concluded that no new oil and gas exploration is needed in a Paris-aligned future, and projected average oil prices lower than those seen in 2020, a year in which oil and gas companies in North America and Europe wrote down roughly $145 billion in assets and dozens of U.S. operators filed for bankruptcy.
Low future prices will result in lower cash flows, potentially impairing assets, triggering write-downs, and accelerating asset retirements. There are more than three million active and idle oil and gas wells that operators are legally required to plug and reclaim in the U.S. Investors want companies to disclose the full undiscounted amount of their asset retirement obligations. Wells in the U.S.  are bonded at a fraction of their true clean-up cost. If companies are unprepared, the impact will hit local communities and state budgets.
"Investors felt that we needed this foundational material in the U.S.," said Tracey Cameron, senior manager of corporate climate engagement at the sustainability nonprofit Ceres. "Companies have begun to disclose climate impacts in some places, but not in their financials — and that is what really matters to investors. Failure to do so puts investors at risk. We are at a moment where investors have recognized that a climate risk is a financial risk and they are acting on that reality through their investment and voting decisions."
"Having reasonable assurance over progress on achieving a company's Science Based Target commitment is extremely important as the SBT Initiative doesn't monitor a company's compliance with its commitment,"  said Christina Herman, the Program Director for the Climate Change & Environmental Justice at the Interfaith Center on Corporate Accountability. "A separate accountability mechanism of some sort is needed."
In the 2021 proxy season, shareholders handed climate-related proposals majority votes at Phillips 66, ConocoPhillips, Exxon and Chevron, and three Exxon board directors were replaced by candidates with experience in energy transitions and clean energy. First-time proposals recommending that Exxon and Chevron report on financial risks associated with climate change received 48% and 47% of shareholder votes respectively.
Some oil and gas companies have disclosed the financial impact of the clean energy transition, resulting in write-downs. Now, investors are demanding consistent transparency of assumptions, robust board oversight over climate reporting, and independent, third-party assurance over crucial climate disclosures.
About Ceres
Ceres is a nonprofit organization working with the most influential capital market leaders to solve the world's greatest sustainability challenges. Through our powerful networks and global collaborations of investors, companies and nonprofits, we drive action and inspire equitable market-based and policy solutions throughout the economy to build a just and sustainable future. For more information, visit ceres.org and follow @CeresNews.