Ceres 2021 to Call on Capital Market Leaders for Urgent Action to Stop the Climate Crisis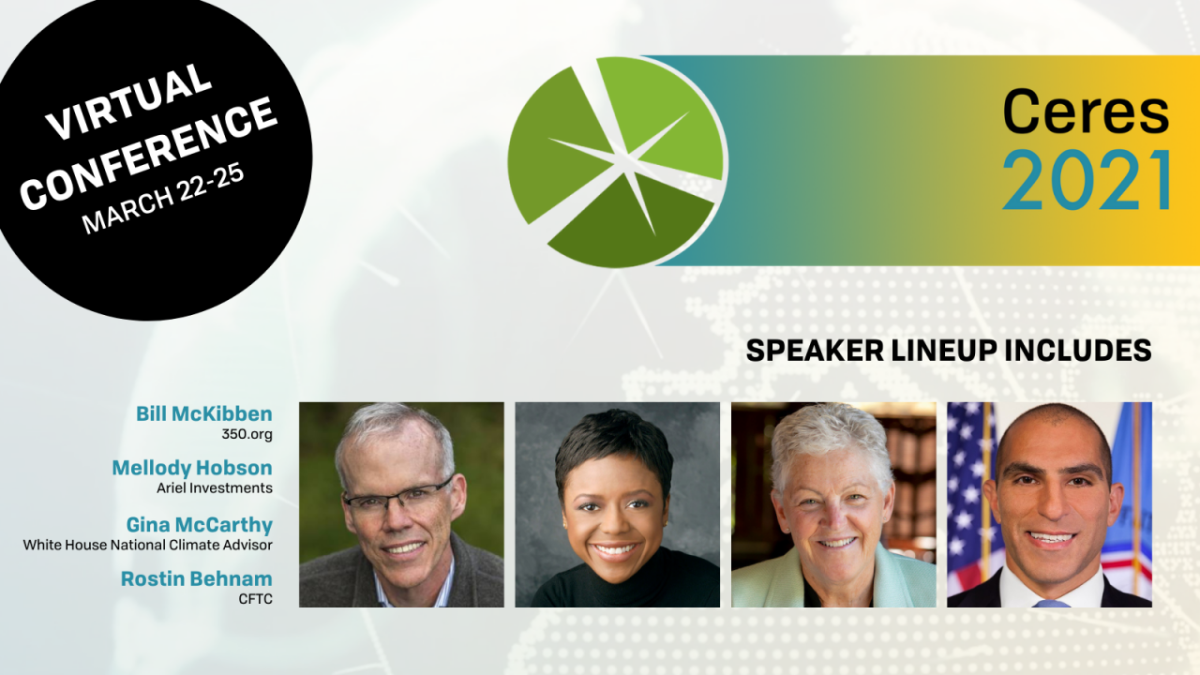 Momentum is building among the business community—from tackling the climate crisis and water scarcity and pollution to eliminating racial, gender and workplace inequality and inequity. The world's largest institutional investors and Fortune 500 companies are acting like never before—and raising their ambition to achieve a just and sustainable world. Across every sector of the economy—from oil and gas to transportation to electric power—transformational change is beginning to take hold as businesses align their strategies with a net-zero emissions future. 
At Ceres 2021: Transform Tomorrow Today, we will convene capital market leaders across the U.S. and the globe for three days of virtual programming to highlight the urgent actions they are taking today to transform tomorrow and stabilize our climate, protect water and natural resources, and build a more equitable and inclusive economy. This includes the collaborative advocacy work for the necessary regulatory and policy actions that will enable wholesale change across capital markets.
Plenary sessions will highlight key action steps in the Ceres Roadmap 2030 - a 10-year plan for sustainable business leadership and the impact and progress of high-profile global initiatives such as Climate Action 100+ and The Investor Agenda in driving the net-zero transition. 
Participants will be called on to move faster and at greater scale in order to limit global temperature rise to no more than 1.5 degrees Celsius. They will also have opportunities to join breakout sessions to network and learn from their peers on how to capture the opportunities in our new business and political reality and thrive in 2021 and beyond.
What:
Ceres 2021: Transform Tomorrow Today
Virtual Three-Day Conference
Who: 
See the Ceres 2021 agenda and full list of speakers here
When: 
March 23 - 25, 2021