In Celebration of Trans Awareness Week MAC Cosmetics Launch Inclusive Makeup Edit by Joseph Harwood (He, She, They) and Donate £50,000 to Mermaids Charity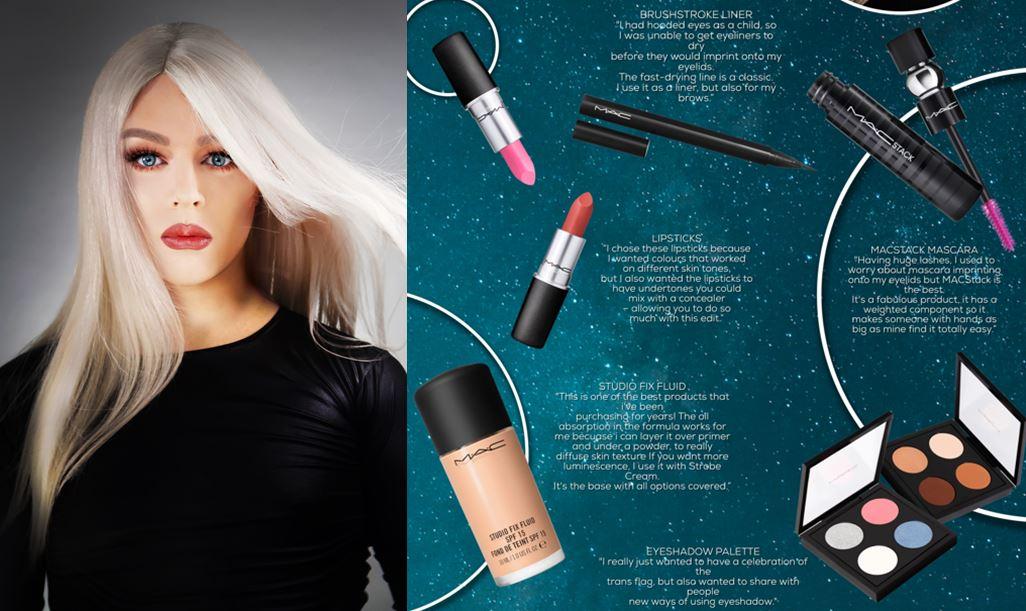 November 30, 2022 /3BL Media/ - M·A·C UK&I has donated £50,000 to Mermaids funded from 100% of the proceeds of M·A·C VIVA GLAM Lipsticks (less VAT), to meet the charity's ever-increasing demand (+110% from 2021- 2022) for services which supports transgender, nonbinary and gender-diverse children and young people. M·A·C's support will help Mermaids in its mission to end harmful conversion practices in the UK, which disproportionately affect the trans community.
"M·A·C's been a loud and proud part of the LGBTQIA+ community since the brand's inception in 1984," says M·A·C Cosmetics UK & Ireland Vice President General Manager Fiona Sainty. "We believe there is no LGB without the T, and know that the trans community need our support now more than ever. We hope that our £50,000 pledge to Mermaids from VIVA GLAM will support their life-changing assistance to gender-diverse young people and their families."
Pioneers in shade and product inclusivity, M·A·C are proud to partner with diversity and inclusivity consultant and award-winning beauty expert Joseph Harwood (he, she, they) on a limited-edition edit — accessible to all gender identities — available exclusively online at M·A·C here: The Joseph Harwood Edit
"I have always had a special relationship with M·A·C as they were the first ever makeup brand who didn't try to change me and who celebrated me for being truly me!" says Joseph Harwood, "I will never forget that."
Trans Awareness Week is held in 2022 from November 13th to 19th, and is a week to help raise the visibility of transgender and gender non-conforming people, and address the issues the community faces.
ABOUT M·A·C VIVA GLAM
Funding more than 1,800 organisations globaIly to date, M·A·C's philanthropic campaign VIVA GLAM continues to drive essentiaI funding to support the LGBTQIA+ community, women and girls, and people living with or affected by HIV/AIDS. Having raised over $500 million US dollars globally, in its 27th year VIVA GLAM is continuing to help the communities who need it most.
In the UK and Ireland, the full recommended retail price (RRP)(less VAT) from the saIe of aII M·A·C VIVA GLAM lipsticks is donated to organisations that support the health and rights of people of All Ages, All Races and All Genders. We will make grants to non-profit organisations we believe can make a meaningful impact on heaIth, rights and equality.
M·A·C's VIVA GLAM campaign continues to evolve to support those who need it most. In 2019, after 25 years and $500 million US Dollars raised by the sale of VIVA GLAM lip products, MAC expanded the mission to cover three areas:
SUPPORTING THE LGBTQIA+ COMMUNITY — M·A·C VIVA GLAM eliminates stigma and fights for the empowerment of the LGBTQIA+ community, specifically assisting homeless LGBTQIA+ youth alongside regional organisations.
EMPOWERING WOMEN & GIRLS — M·A·C VIVA GLAM partners with local organisations to fight for equal rights and healthy futures for women and girls, specifically around reproductive and sexual health education.
FIGHTING HIV/AIDS — M·A·C VIVA GLAD continues our mission and confirms our commitment to ending HIV/AIDS, one VIVA GLAM Lipstick at a time.
In the UK & Ireland M·A·C continues to support charities that support the communities that need it most. In addition to the donation to Micro Rainbow, this year alone M·A·C has awarded over £550,000 to our locaI partners. lncludinq grants to Terence Huggins Trust, NationaI Aids Trust, Lunch Positive, Positive East, Waverley Care, The Food Chain, George House Trust, HIV Ireland, Body & Soul, SexuaI Health West, A Positive Life, and Lunch Positive.
PROUD 365 DAYS A YEAR
#MACVIVAGLAM
For more information please reach out to:
M·A·C COSMETICS UK & IRELAND
ABOUT M·A·C COSMETICS
M·A·C (Make-up Art Cosmetics), a leading brand of professionaI cosmetics is part of The Estée Lauder Companies Inc. Since its creation in Toronto, Canada, over 30 years ago, the brand's popularity has grown through a tradition of word-of-mouth endorsement from makeup artists, models, photographers and journalists around the world. M·A·C is now sold in over 110 countries/territories worldwide.
See more here: https://www.maccosmetics.co.uk/mac-loves-pride and follow us @MACCOSMETICSUK
ABOUT MERMAIDS
Mermaids has been supporting transgender, nonbinary and gender-diverse children, young people, and their families since 1995. Mermaids supports transgender, nonbinary and gender-diverse children and young people until their 20th birthday, as well as their families and professionaIs involved in their care. Transgender, non-binary and gender-diverse children and teens need support and understanding, as well as the freedom to explore their gender identity. Whatever the outcome, Mermaids is committed to helping families navigate the chaIlenges they may face.
Find out more at: https://mermaidsuk.orq.uk/