Can Wildfires Be Prevented?
Can Wildfires Be Prevented?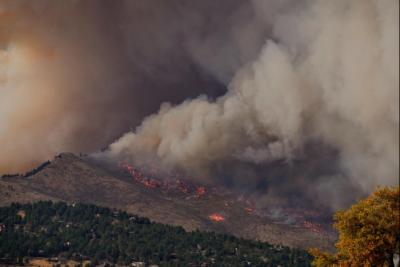 Wednesday, June 16, 2021 - 10:00am
Wildfire devastation grows annually as rising global temperatures lead to more frequent and intense fires. The number of people affected by wildfires grows as a result, with housing developments in high-risk fire zones putting 4.5 million U.S. homes in danger. Of the top 10 wildfires in California history, five occurred in 2020. The human costs are multiplied by degradation in air quality, risk to water supplies and even the difficulty of finding enough firefighters to combat the fires.
How do we turn these historic fires into learning opportunities and create sustainable, thriving forest lands for the future? 
Wildfires can be managed more effectively before and after they happen through collaboration among NGOs, government agencies such as the Forest Service or the Bureau of Land Management, and private landowners. The maintenance strategy needs to be on the terrain level rather than an ownership level, and these stakeholders must coordinate effectively with proactive strategies to effectively manage wildfires. With everyone working together, we can ensure that forests will thrive for future generations.
Steps to wildfire prevention
Decrease global temperatures. Significantly reining in global emissions is an urgent priority for stopping the increase in wildfire risk. Despite greater awareness and concern for warming temperatures, emissions continue to rise. Planting trees at scale is one way to absorb carbon from the atmosphere and cool surrounding areas, but this must be paired with drastic behavioral change.
While personal choices are important to reversing climate change, the greatest decreases in emissions will only come when corporations make and follow through on commitments to change. Innovative companies will push themselves to reduce emissions to zero, through a combination of sustainable processes and partnerships that offset remaining emissions. Industry-leading commitments, such as those by Procter & Gamble along with its Bounty, Charmin and Puffs brands, to plant 500,000 trees in areas devasted by fire, lay the groundwork for a future with less severe wildfires. 
Build partnership and coordination for land management. Kieran O'Leary, a registered professional forester with more than 25 years of experience and one of the many partners the Arbor Day Foundation works with regularly, helps us to see the value of managing forests at a landscape level. 
"It's a huge endeavor because forests cross property lines. Whether it's the Forest Service, Bureau of Land Management, or private and small landowners, we all have to get on that same page," O'Leary says. Individual owners and managers need to work together to ensure that fire prevention best practices are in place across the breadth of the land.
Use prescribed burning and grazing. O'Leary also suggests utilizing prescribed burning and grazing to manage the forest underbrush: "Once we reestablish these forests, we have to manage them and keep their fuel production low so that we can reduce these megafires in the future." O'Leary suggests a "mixed bag of prescriptions" to help prevent megafires, including everything from prescribed burns to cattle grazing that can prevent fuel from building up over time.
Tools available after wildfires occur
Planting and soil management. After a fire occurs, we have several key things to keep in mind for optimal replanting. The first is in how trees are spaced; properly spaced trees cut back on fuel for future wildfires.
It's also crucial to ensure trees are replanted as soon as possible to prevent soil erosion. When wildfires burn away trees and leave bare soil, the soil erosion can lead to flooding and mudslides during rainstorms. This can impact communities by damaging homes and buildings as sediment moves downstream. When soil has already eroded, it is harder to get seedlings in place, which is why planting new seedlings quickly is key.
Urgency in replanting efforts. Replanting quickly after a wildfire has been extinguished and the land has been properly prepped is important to give the seedlings the best chance for survival. O'Leary notes that if replanting happens soon after a fire, the seedlings have to compete with less brush and other vegetation. This allows them a better opportunity to take root and increases their potential survivability. The more time that elapses before seedlings are replanted, the more the costs will increase for vegetation management and removal. After a fire happens, trees must be grown from seed to enable a replanting project, so every project has some preparation time before planting begins. Working with corporate sustainability leaders and partnering organizations allows us at the Arbor Day Foundation to replant faster and at a larger scale than any organization can do alone.
We can create and nurture safe and more sustainable forest lands. We can and we must. Failure to do so is simply not an option for our climate and the people those forests serve. We are thankful to all of the agencies, landowners, corporate sustainability leaders and partnering organizations helping to drive this positive change in forest management.
This article series is sponsored by Procter & Gamble and produced by the TriplePundit editorial team.
Image credit: Malachi Brooks/Unsplash
Dan Lambe is the president of the Arbor Day Foundation.