Southwire 2021 Sustainability Report
STRONG. SUSTAINABLE. SOUTHWIRE.
At Southwire, we remain committed to the sustainability of our company for the next 100 years and beyond. As we strengthen this commitment, we continue to work hard every day to discover, develop and distribute sustainable solutions that exceed the expectations of our stakeholders around the world.
Building upon this spirit, we are pleased to present our 2021 Sustainability Report. As seen in past reports, this assessment covers sustainability at Southwire, highlights our most significant impacts and opportunities and details our sustainability goals and strategies.
View the full 2021 Sustainability Report here.
Videos from this campaign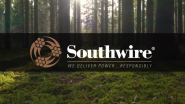 Content from this campaign