KeyBank: Responsible Banking
Everyone's financial journey is different. We make intentional efforts to meet the individual needs of clients and communities through a diverse range of products, services, programs, and initiatives.
Providing inclusive banking is evident in how we:
Show up in our communities every single day
Provide advice and guidance to our clients
Are accessible when and how clients need us most
In 2021, we worked with the Financial Health Network, the leading authority on financial health in the U.S., to identify opportunities to support equitable financial health outcomes and access for our clients and communities. We also introduced a new role, Emerging Markets Segment Product Manager, within the Consumer Bank Product Management team. This role will focus on helping Key develop and deliver products that meet the needs of LMI communities and clients. The individual in this role partners with teammates across the enterprise, including Product Management, Consumer Payments, Corporate Responsibility, Home Lending, Marketing, and Communications, to align product design, features, and functions with LMI clients' needs, while developing a measurement infrastructure to monitor progress with clients' financial health.
Videos from this campaign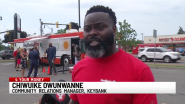 Content from this campaign