Human Rights Coalition - Working to End Forced Labour
The CGF Human Rights Coalition -- Working to End Forced Labour (HRC) is a CEO-led Coalition of Action from The Consumer Goods Forum. As an initiative of 19 of the world's largest consumer goods companies, the HRC is committed to helping achieve fair and decent working conditions worldwide by eradicating forced labour from its supply chains. The work of the HRC continues the CGF's long history of engagement on the issue of forced labour within consumer goods supply chains by building on the CGF's Social Resolution on Forced Labour, the first of its kind in the industry; its Priority Industry Principles, and ongoing relationships with key stakeholders in the industry.
For more information about the HRC, visit www.tcgfsocial.com. 
Videos from this campaign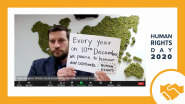 Content from this campaign