Building a World-Class Middle-School Innovation Lab
Building a World-Class Middle-School Innovation Lab
by Victoria Glazar, Verizon Corporate Social Responsibility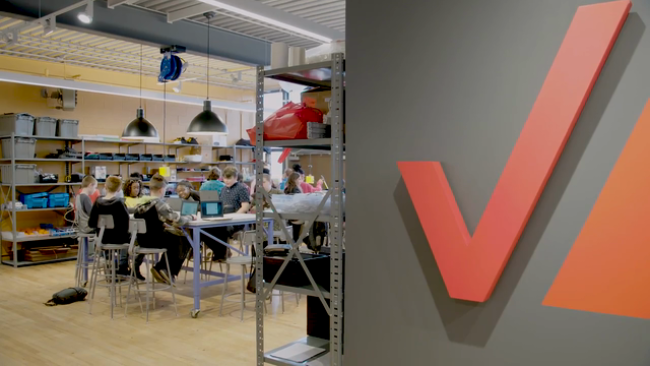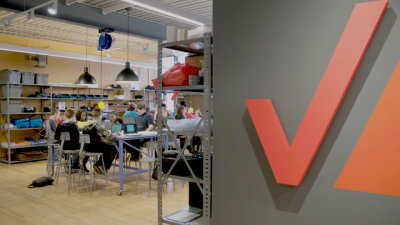 Thursday, June 14, 2018 - 11:00am
As you walk the linoleum tiled hallway of FDR Middle School, a 1950s-era middle school in a once thriving manufacturing town northeast of Philadelphia, passing the rows of lockers set into green cinder block walls, a sign marked Wood Shop comes into view. If you attended junior high school any time before the '90s, you have an expectation of what you'll see when you enter the room: a table saw, jig saw, miter saw, maybe a lathe or two. Except for the lingering scent of sawdust, this is far from the wood shop you remember.
Turning into the room, you see that one wall is painted a cheery orange. Exposed beams and duct work give the large open space a contemporary industrial feel. A wall of windows floods the space with natural light. On another wall hangs a modern art piece composed of antique woodworking tools, paying homage to the space's origins. And around the room, students are engrossed in their work. Near the entrance, students are navigating a virtual reality landscape. Further inside, three students are huddled around a 3D printer, and in another area two students are leaning over a laser cutter. Three students are fitting Little Bits parts together to build an electronic gadget. In a studio set within the space, two students are recording a video. This is a Verizon Innovative Learning lab.
The lab's purpose is to provide students with a wide range of resources, both next-gen technology and low tech materials, that allow them to tinker, explore and build. It employs a specialized curriculum developed by Arizona State University in collaboration with Verizon Innovative Learning, which is helping to prepare students for success in the digital economy. Research has shown that maker-centered learning helps students develop ingenuity and flexibility, as well as self-confidence and a sense of community. "We're building a culture where creativity thrives, and this space is the nucleus," said FDR Middle School Principal Kevin Boles. "Creativity," he added, "is one of the most important skills for future workers."
One of several learning labs that Verizon is creating in under-resourced middle schools, FDR's lab came about as a result of a unique collaboration in which every one of the contributors went well beyond their regular job description.  It started with the Verizon Foundation's education program team. As part of its due diligence, the team visited labs and makerspaces at leading universities such as Harvard, MIT, NYU and UVA to ensure that the Verizon Innovative Learning lab would be of world-class caliber. "We went to see all the best labs, the truly cutting-edge," said Phil Puthumana, education program manager. "We analyzed what they offered, removed what was not relevant or dangerous and aged it appropriately for middle school students. What we ended up with is a customized state-of the-art innovation lab." In addition, the team recruited the architects and designers of Verizon's Next Gen retail stores to create a layout that is ergonomic and student-friendly.
Andreas Karales, Associate Creative Director of Design for Verizon, took on the project enthusiastically, even though it was in addition to his regular day job. "I thought it was great that Verizon was creating this opportunity for kids and I wanted to be a part of it," he said.
"We carried over a lot of what we learned while creating the new human-centric space for Verizon customers. One important element was a collaboration table, which, in the store serves as a comfortable place for customers to meet and talk with Verizon reps," said Andreas. Working on the early blueprints, Andreas knew that the collaboration table would be an important element of the lab, as well. Little did he know, however, what a conversation piece it would become.
Andreas said the process of building the lab was a bit non-typical. "We didn't have a dedicated general contractor, but relied on volunteers from the school's facilities team. It created a different kind of schedule than we're used to, and of course, it was a different kind of budget than we're used to. A mandate of the project from the beginning was to do the most with the least, so I was always on the lookout for ways to cut costs."
That's why he was delighted to find a table at Verizon's downtown New York City offices that was a prototype from the Next Gen store design. Verizon was willing to donate the table, and so, all that had to be done was to transport it to the school. Simple enough, Andreas thought. He would rent a van, coordinate a few colleagues to help load, and drive the table over himself.
"It turns out, it's not that easy to find a rental van that can hold a table that's 10 feet long," he said. After some effort, he did find a long bed cargo van. With the van waiting at the Verizon building's loading dock and his helpers at the ready, Andreas called for the freight elevator, which he had reserved in advance. And then they waited.
"At that point I got a call from building maintenance. The freight elevator was broken and there was no estimate of when it would be fixed," he recalled. "So I had to cancel everything and wait for word that the elevator was back in service."
Word came a few days later, and the move was back on. Andreas and some of his colleagues -- architects and designers by trade -- became furniture movers for the day, hauling the enormous table 80 miles from lower Manhattan to Bristol Township, PA. These makeshift movers supplemented the project's unorthodox crew, which included Principal Boles, who refinished the floors himself, Verizon employee volunteers, who helped construct the art piece, students, who pitched in in many ways, and school faculty and staff, who did whatever was necessary.
It was worth it, according to Andreas. "I'm really happy with the way everything turned out. All the late nights and effort put into this will have boundless returns," he said. Project manager Phil Puthumana agreed. "We are all proud of what Verizon and the school community have been able to create here for students. We can't wait to see the great inventions that will come from it."