Building the Future of Plumbing: American Standard Hosts Tools & Tiaras Workshop
Building the Future of Plumbing: American Standard Hosts Tools & Tiaras Workshop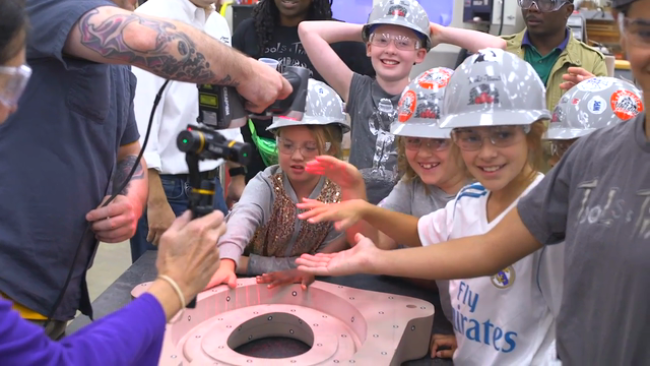 Monday, September 23, 2019 - 10:30am
American Standard, part of LIXIL Americas, partnered with Tools & Tiaras by hosting a group of industrious female campers exploring careers in traditionally male-dominated trade professions, like plumbing! As part of LIXIL's TradeUp effort, the partnership was created to help shrink the growing skilled labor gap in the U.S. by supporting programs that inspire more people to pursue plumbing as a viable career option.
For more info, please visit https://bit.ly/2Hn1X5Y.
ABOUT LIXIL
LIXIL is a global leader in the housing and building industry. Our unique portfolio spans everything from technologies that revolutionize how we interact with water in our daily lives, to a full lineup of products and services for housing and major architectural projects. Delivering core strengths in water, kitchen, housing, and building technologies, our brands including LIXIL, American Standard, GROHE, DXV, INAX, and Permasteelisa are leaders in the industries and regions in which they operate. LIXIL operates in more than 150 countries and employs more than 70,000 people, bringing together function, quality, and design to make people's lives better and more delightful – wherever they are.
Learn more at www.lixil.com and follow us on Facebook and LinkedIn
ABOUT AMERICAN STANDARD
American Standard makes life healthier, safer and more beautiful at home, at work and in our communities. For more than 140 years, the brand has innovated and created products that improve daily living in and around the bathroom and kitchen for residential and commercial customers. It has been recognized with 83 product innovation and design awards in the past five years. American Standard is part of LIXIL, a global leader in housing and building materials products and services. Learn more at americanstandard.com, or follow us at facebook.com/AmericanStandardPlumbing, twitter.com/AmStandard, youtube.com/AmericanStandard01, Pinterest.com/amstandard, Instagram.com/americanstandard.
ABOUT TOOLS & TIARAS
Tools & Tiaras Inc is committed to advancing the interests of young girls and women who want to pursue non-traditional careers. T&T motivates young girls and women who dream of having a career in the male-dominated construction industry. We make available a community network to help young women connect with professionals, mentors and leaders in the industry thus providing the support needed at all stages of their journey.