Bristol-Myers Squibb Opens New Child Development Center in Lawrence, N.J.
Biopharma leader celebrates the opening of a new child development center, continuing the company's strategy to provide an energizing workplace enabling employees to balance work/life to achieve success at work and home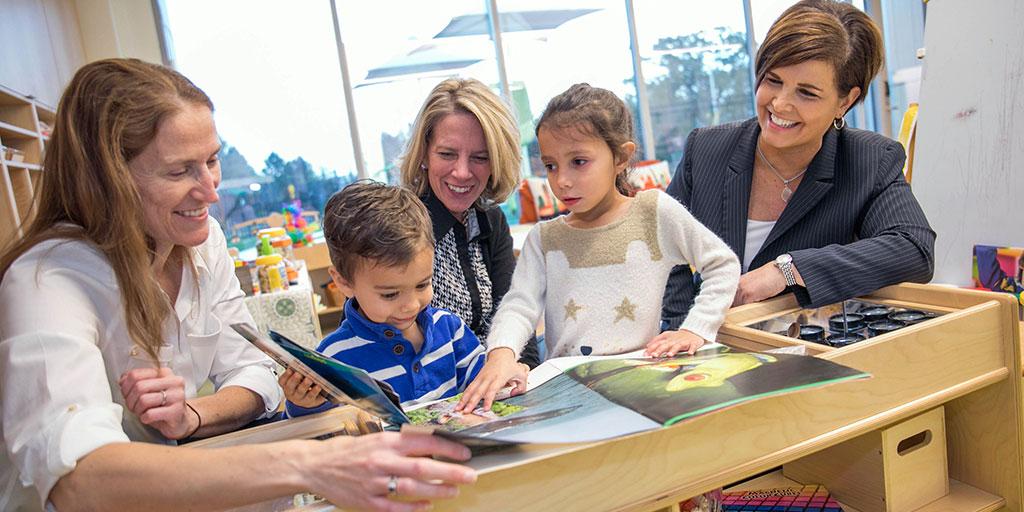 /*-->*/
LAWRENCE, N.J., November. 3, 2017 -- Most mornings Jodi Thrasher drops her two pre-school children off at the new, state-of-the-art, Bristol-Myers Squibb Child Development Center in the new campus on Princeton Pike in Lawrence Township, N.J., before reporting to work. Jodi is the Strategy and Operations Lead at the company and knowing her kids are safe, in an onsite learning environment, enables her to focus on her work – helping deliver life-saving and enhancing medicines to patients with serious diseases.
At a ribbon-cutting ceremony celebrating the opening of the 17,000 square foot center on November 1, Jodi commented to colleagues on how much her children enjoy the center. "When I pick them up at the end of the day, it takes an extra half-hour to leave." That's because the children aren't in a hurry to leave. They chat with beloved caregivers and stop to share with her activities they've done during the day.
"I look for three things in child care services: A place where my kids are safe, happy and loved, with a high opportunity to discover and learn new things, and where there's a sense of community," Thrasher said. The center, operated by Bright Horizons, delivers all three.
Ann Powell Judge, Chief Human Resources Officer for Bristol-Myers Squibb, recognizes the importance of supporting employees' family needs. "We're investing in our people. We support employees by providing a safe learning environment for their young children, so that while they are working, they can focus their attention on the patients we serve. It's all about providing energizing work experiences."
Bristol-Myers Squibb, which discovers, develops and delivers medicines to help patients with serious diseases, hosts child care centers for employees at various campuses. Today, the centers serve nearly 900 children, according to Jonathan Dotson, Group Vice President, Client Relations, at Bright Horizons.
Johanna Mercier, Head of U.S. Commercial for Bristol-Myers Squibb and lead executive at the Princeton Pike campus, officiated at the ceremony. The mother of two children who attended the company's child care center at the Plainsboro campus years ago, Mercier noted that employees are more engaged when they feel an emotional connection between their work and personal lives. "Our child development centers and other family-focused services provide our employees a work/life balance that helps them to succeed both within the company and in their personal lives."
Read more on Bristol-Myers Squibb's focus on employees at https://www.bms.com/job-seekers/working-with-us.html.
About Bristol-Myers Squibb
Bristol-Myers Squibb is a global biopharmaceutical company whose mission is to discover, develop and deliver innovative medicines that help patients prevail over serious diseases. For more information about Bristol-Myers Squibb, visit us at BMS.com or follow us on LinkedIn, Twitter, YouTube and Facebook.