Bristol-Myers Squibb Foundation Provides $1.7 Million Grant to UNC School of Medicine to Fund Program Streamlining Afib Care & Education for Underserved Populations
Atrial fibrillation hospitalizations reduced by 30 percentage points in first year of program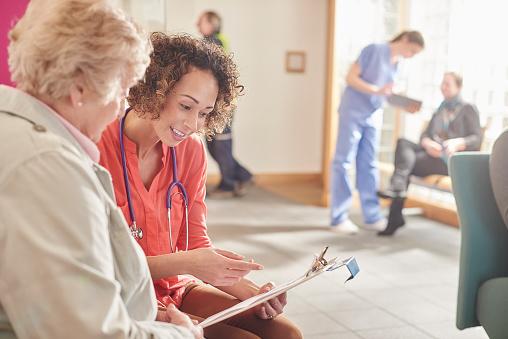 CHAPEL HILL, N.C., September 29, 2017 /3BL Media/ – UNC School of Medicine cardiologist Anil Gehi, MD, will use a $1.7 million grant from the Bristol-Myers Squibb Foundation to further innovate a care model, launched in 2015, that reduced hospitalizations for patients with atrial fibrillation (Afib) presenting in the emergency room by more than 30 percentage points in its first year.
Atrial fibrillation, which affects more than 2.7 million Americans, is characterized by an irregular heartbeat and is associated with an increased risk for blood clots, stroke, heart failure and multiple other heart complications according to Dr. Gehi who serves as associate professor of medicine at the UNC School of Medicine, program director of UNC's Clinical Cardiac Electrophysiology Fellowship.
The three-year grant from the Bristol-Myers Squibb Foundation will enable Dr. Gehi  to continue development of a new protocol he established at UNC Medical Center through a pilot grant from the UNC Center for Health Innovation and adapt and evaluate its application primary care and urgent care settings as well.
UNC President Margaret Spellings applauded Dr. Gehi's work and the Bristol-Myers Squibb Foundation team.  "We're committed to increasing the amount of world-class research at our universities because these efforts spur economic growth and improve the quality of life of our citizens," said President Spellings.  "We are extremely proud of Dr. Gehi's work and thankful that it is being sustained through the generosity of the BMS Foundation." 
"Supporting significant innovations in access to cardiovascular care that are homegrown by those caring for patients in safety net settings is a top priority for the Bristol-Myers Squibb Foundation," said John Damonti, president, Bristol-Myers Squibb Foundation. "This partnership with UNC Health Care will help patients access the right care, in the right setting, in a timely manner and receive the education and support they need to manage their Afib."
Avoiding Unnecessary Hospitalization
"When we launched the pilot in 2015, we realized that many Afib patients were hospitalized unnecessarily, which certainly drives up the cost of healthcare for patients, and these hospitalizations didn't necessarily improve quality of care," Gehi said. "We felt that one of the major problems with Afib care was that it is very disorganized. Patients bounce around between many different providers – primary care providers, cardiologists, electrophysiologists, emergency medicine physicians. There's just not very good coordination of care for these patients."
As a result, there's very little emphasis on education and prevention, which is critical in managing a chronic condition like Afib, Gehi explained.
"I always tell my patients: I may never be able to cure you of your atrial fibrillation, but I can work with you to manage it so that it doesn't affect your life," Gehi said. "We teach patients the importance of stroke prevention. We teach them how to tell when they're in atrial fibrillation, and we teach them what they can do themselves – when they need to seek medical attention and when they can manage it on their own. It's about getting patients more engaged in their own health."
For many Afib patients – particularly those in vulnerable populations – access to specialty care can be extremely limited. Gehi hopes this grant can improve and perhaps remedy the lack of access in areas in and around the Triangle, Rocky Mount and High Point through partnerships with UNC Hospitals Hillsborough campus, UNC Rex Healthcare, Nash Health Care and High Point Regional Hospital.
Afib Transition Clinics vs Hospitalization
"We're trying to address the problem of poor access by setting up a new pathway for care for patients who have the most challenging and urgent medical needs, primarily those who are coming into the emergency room," Gehi said. "We have set up a new pathway here at UNC Medical Center by developing a new protocol for the emergency room so that ER physicians can triage Afib patients. Those patients who aren't particularly high risk for poor outcomes might be discharged from the ER and sent to an Afib transition clinic."
The Afib clinic at UNC is located at UNC Cardiology's Meadowmont clinic in Chapel Hill. It is staffed by clinical pharmacists, though the protocol provides for any advanced practice provider to be able to staff the clinic.
"One of the things that's so novel about our protocol is that our clinic is staffed with clinical pharmacists trained in the management of chronic illnesses, like diabetes or Afib," Gehi said. "They are able to see these patients on a next-day basis and are able to do a lot of the patient education, which has been missing from traditional care models. They can also coordinate Afib care across all the patient's providers."
The 30 percentage-point reduction in hospitalizations in 2015 demonstrated that Afib can be treated in an outpatient setting for most patients, despite the statistic that upwards of 80 percent of Afib patients who go to the ER throughout the country are hospitalized, Gehi said.
"We were able to get that number down in the 50 percent range, and with further education we should be able to reduce it even further," Gehi said. "We are quiet certain we have improved the quality of care for these patients, as well."
The Bristol Myers Squibb Foundation grant will allow Gehi to expand this program throughout the UNC Health Care system, and potentially into other clinics and hospitals in North Carolina and across the country.
"The grant proposal was to establish other Afib clinics like the one we did here, targeting areas with a high proportion of vulnerable patients and to train local providers how to triage the patients and which ones would be appropriate to send to our clinics," Gehi said.  "Our hope is that with this type of expansion, we can show that this model is scalable, and we'll have a larger number of patients to demonstrate outcomes in better patient care, reduced emergency room visits, and reduced hospitalizations.
"We want this to be something that can be integrated into what is already present at other hospitals and primary care and specialty care clinics. It's beneficial to patients, beneficial to the ER, and it's beneficial to the providers."
About UNC School of Medicine
The UNC School of Medicine (SOM) is the state's largest medical school graduating approximately 180 new physicians each year. It is consistently ranked among the top medical schools in the US and is among the most well funded for its research efforts.  More than half of the school's 1,700 faculty members served as principal investigators on active research awards in 2016. Two UNC SOM faculty members have earned Nobel Prize awards.
About Bristol-Myers Squibb Foundation
The Bristol-Myers Squibb Foundation is committed to improving the health outcomes of populations disproportionately affected by serious diseases by strengthening healthcare worker capacity, integrating medical care and community-based supportive services, and addressing unmet medical need. The Foundation engages partners to develop, execute, evaluate and promote innovative programs to help patients with lung cancer and removing barriers to accessing care in the United States, HIV and comorbid diseases such as cervical and breast cancers and tuberculosis in sub-Saharan Africa, hepatitis B and C in China and India and veterans' mental health and well-being in the U.S.
For more information about the Bristol-Myers Squibb Foundation, please visit www.bms.com/foundation or follow us on LinkedIn, Twitter, YouTube and Facebook.