Booz Allen Summer Games Challenges Gen Z to Change the World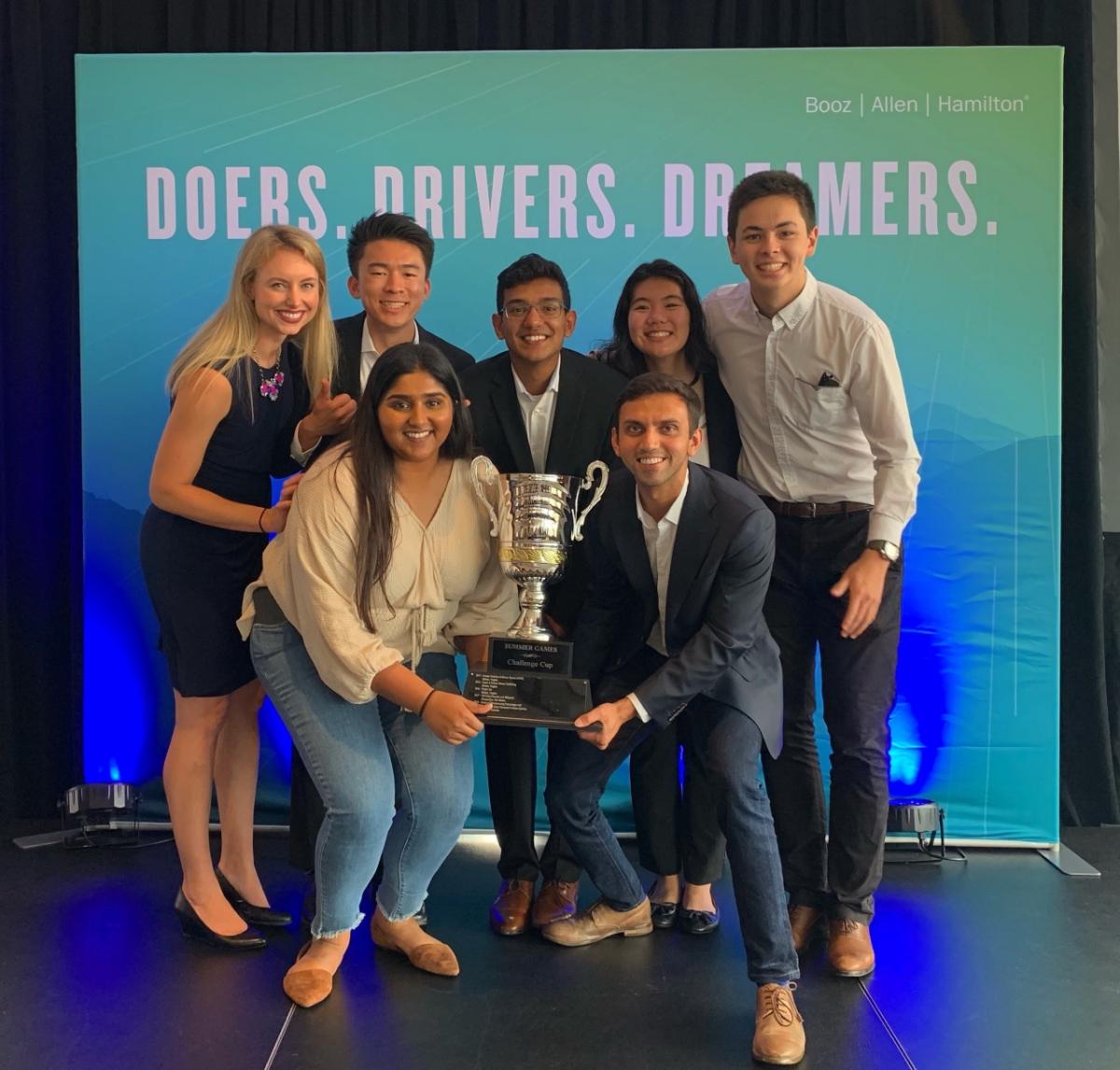 Pictured (from left to right, top to bottom): Michelle Hokans, Bryan Pan, Ashvin Nagarajan, Connie Chen, Kea Braekman, Vini Sundaram [Challenge Leader], and Varun Patel [Challenge Leader]
Since 2014, the Booz Allen Summer Games has engaged university students from around the world to respond to major global problems through collaboration and creativity.
This year, 383 internss were chosen from thousands of applicants. Teams brought together university students representing 11 regions, 24 cities, and a diverse range of interest areas, talents, and academic specializations.
An average day for a Summer Games team might involve gathering data, talking through feedback, coding web pages, and building a business case for their project. The interns work in cross-functional agile teams to accomplish their ambitious missions in a 10-week period, with computer engineers and data scientists working alongside students studying social sciences to ideate, design, and develop their solutions.
What motivated Summer Games teams to take on such a rigorous challenge eight hours a day during a time when many busy students are taking a break? Participants cited the opportunity to explore new technologies, expand their knowledge and skills, step outside of comfort zones, and collaborate with teammates who were equally passionate about their work.
On August 14, interns presented 81 projects to leaders at Booz Allen. Ten teams advanced to the final round and presented to a panel of senior leaders with more than 300 interns and staff in attendance at the International Spy Museum in Washington, DC. After deliberation by Booz Allen leadership, Team UberKuber won the coveted Challenge Cup.
Team UberKuber, based out of El Segundo, California, consisted of five interns (pictured, above) and was led by Booz Allen employees Varun Patel and Vini Sundaram. The team took on the challenge of developing a visualization tool for containerized applications that can be utilized by non-technical and technical users alike. The team created a proof of concept for an intuitive user interface that enabled monitoring and alerting of a multilayered virtual infrastructure. Team UberKuber was applauded for being able to explain a complicated subject matter in an easily ingestible and entertaining presentation. Their hope is that their tool may be leveraged for several key Booz Allen projects and service offerings, and potentially become a stand-alone product.
Read more about the Summer Games and about opportunities for university talent at Booz Allen.