Booz Allen Interns Create Mobile App for Washington, DC's Metro System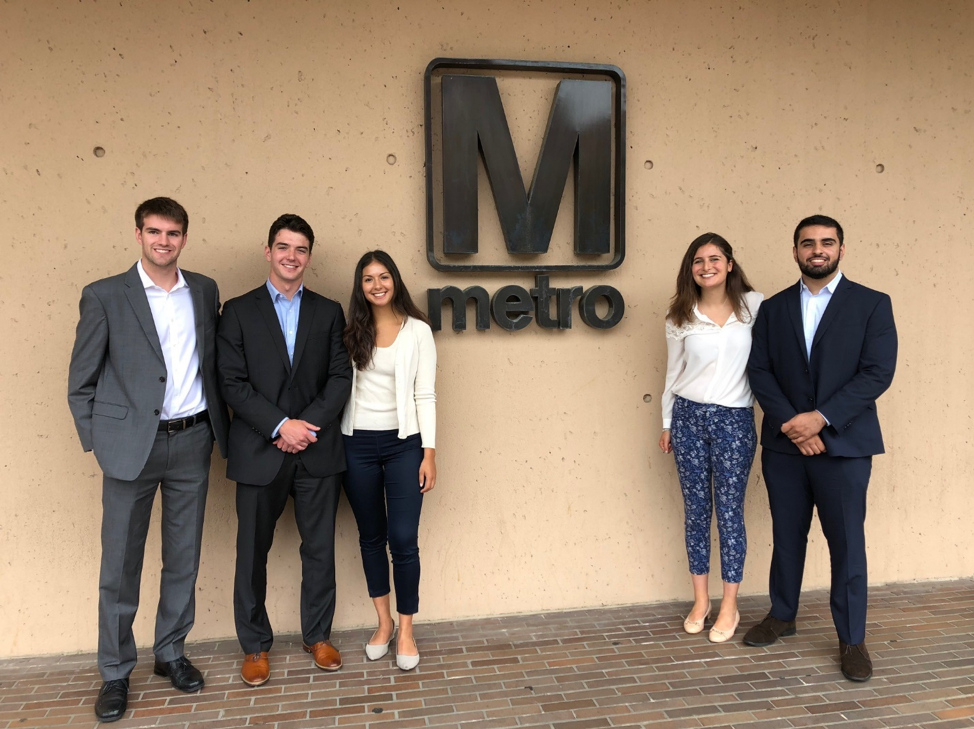 Pictured (from left to right): Patrick Ganninger, Cameron Nolan, Vanesse Della Torre, Aliza Berger, and Sam Grewal.
Washington, DC's metropolitan rail system (Metro) is the second busiest rail system in the U.S. with more than 600,000 daily riders. However, Metro is also plagued with serious problems—severe safety lapses, service disruptions, and extended maintenance closures. As a result, significantly fewer people are using the service, opting instead for alternative forms of transportation. The Washington Metropolitan Transit Authority (WMATA), which runs Metro, is reevaluating initiatives as a public transit service to attract new riders and bring back those who left.
While not officially contracted by WMATA, a team of Summer Games interns at Booz Allen are going through a design thinking exercise to improve Metro's image by developing what an official mobile application could look like for WMATA. "We're eager to help expand WMATA's digital footprint to improve the overall Metro experience for all riders," says Cameron Nolan of the DC-based team. "Going forward, we hope the app is effective not only for WMATA, but also can be replicated in public transit systems across the country." 
As part of the design thinking exercise, our interns implemented a full-product development lifecycle to design, prototype, and build out the app. "Starting with market research, we identified key user experience (UX) design components that Metro riders would value in an app," adds Cameron. "These features include a live train map, real-time customized alerts, and a crowd-sourced incident reporting feature. Once in the prototyping phase, we created UX design mock-ups that serve as the wireframe for the mobile app. Now in development sprints, we're developing the first functional app—a minimum viable product."
Consulting with cyber risk, data privacy, and other subject matter experts across the firm, the team is shaping a comprehensive vision for the mobile app. "Our app is intuitive and useful for Metro riders while also helping WMATA increase ridership and improve public perception," says Cameron.
Learn more about how Booz Allen's Summer Games interns are empowered to change the world.