Boosting the Impact of Social Purpose Leaders
Nonprofit organization GRAVIS receives this year's American Express Leadership Academy Alumni Award in recognition of its work in India's Thar Desert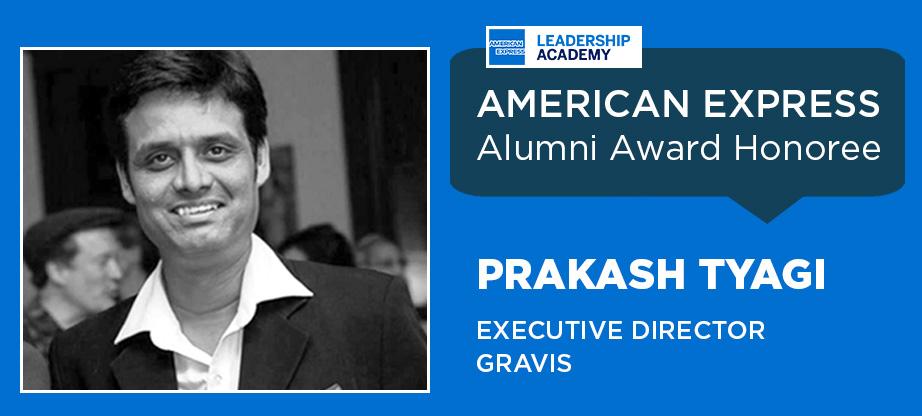 To continue backing the communities we serve around the world, including the nonprofit leaders who are helping drive positive change, American Express today announced the recipient of the 2020 American Express Leadership Academy Alumni Award: Prakash Tyagi, executive director of the India-based NGO, GRAVIS. The organization works to expand access to clean water, food, education and healthcare in rural communities in the Thar Desert.
Tyagi is one of thousands of social purpose leaders who have participated in the American Express Leadership Academy, a program that provides hands-on training, skills development and curated learning opportunities to emerging nonprofit leaders. Tyagi was selected by other Leadership Academy alumni to receive this year's Alumni Award, which honors past program participants who have consistently demonstrated strong leadership while making significant impacts on their communities.
In recent months, Tyagi and his colleagues have focused their resources on helping vulnerable groups affected by the COVID-19 pandemic, working around the clock to ensure local hospitals and medical clinics are resourced to handle increased demand, helping keep people fed by providing families with dry food kits and other supplies, and delivering health and safety education about the disease. As part of the award, GRAVIS received a $25,000 grant from the American Express Foundation, which the organization intends to put toward training and development.
"Our work is in a desert region, and the population is very scattered among remote villages," said Prakash Tyagi, a 2014 alum of the American Express Leadership Academy. "Even on normal days, it's extremely difficult to reach the nearly 1.4 million people we serve. It has become even more difficult now."
The American Express Leadership Academy first began in 2008 as a single, New York-based program, and has since expanded into a global platform with multiple nonprofit partners that together have hosted more than 150 separate academy programs across 14 countries. Altogether, the American Express Leadership Academy has helped train more than 5,100 nonprofit and social purpose leaders in education, the arts, social services, health and environmental work, among others. Last year, we hosted our first American Express Leadership Academy for leaders from LGBTQ+ organizations, as well as the inaugural Academy in Southern Africa for women NGO leaders.
American Express is continuing to build on our efforts to help organizations fighting the COVID-19 pandemic. Overall, the company has donated over $7 million to various organizations working to provide protective equipment to frontline healthcare workers, research and develop vaccines and treatments, and feed communities impacted by COVID-19.
To learn more about the work GRAVIS is doing, visit our partner site LeaderStories.org for an interview with Tyagi and more stories about the impact other American Express Leadership Academy alumni are having in their communities.
ABOUT AMERICAN EXPRESS
American Express is a globally integrated payments company, providing customers with access to products, insights and experiences that enrich lives and build business success. Learn more at americanexpress.com and connect with us on facebook.com/americanexpress, instagram.com/americanexpress, linkedin.com/company/american-express, twitter.com/americanexpress, and youtube.com/americanexpress.
Key links to products, services and corporate responsibility information: charge and credit cards, business credit cards, travel services, gift cards, prepaid cards, merchant services, Accertify, InAuth, corporate card, business travel, and corporate responsibility.