Bloomberg Is on Target to Reach 35% Renewable Energy Use in 2020, Continuing on Its Path of 100% Renewable Energy by 2025
Bloomberg Is on Target to Reach 35% Renewable Energy Use in 2020, Continuing on Its Path of 100% Renewable Energy by 2025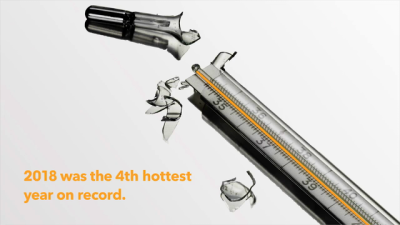 Tuesday, May 7, 2019 - 10:30am
Bloomberg began investigating renewable energy projects in 2008; our first project, a 1.8 megawatt (MW) solar installation in New Jersey, began providing us with energy in 2012. In 2018, we obtained energy from six on- and off-site solar and wind sites. Our newest installation, a 20MW wind farm in Arkwright, New York, started providing us with energy in October 2018. 
In 2018, we received 17 percent of our energy from renewable sources, up from 11 percent in 2017, driven primarily by the addition of the Arkwright wind farm. Our renewable energy projects reduced our 2018 operating expenses by $1.7 million. To date, our renewable projects have generated 75,579 megawatt hours (MWh) of energy and saved Bloomberg $2.8 million. 
Read more on Bloomberg's renewable energy strategy here.