Blackbaud President & CEO Mike Gianoni on How Digital Transformation Drives Performance for Social Good Organizations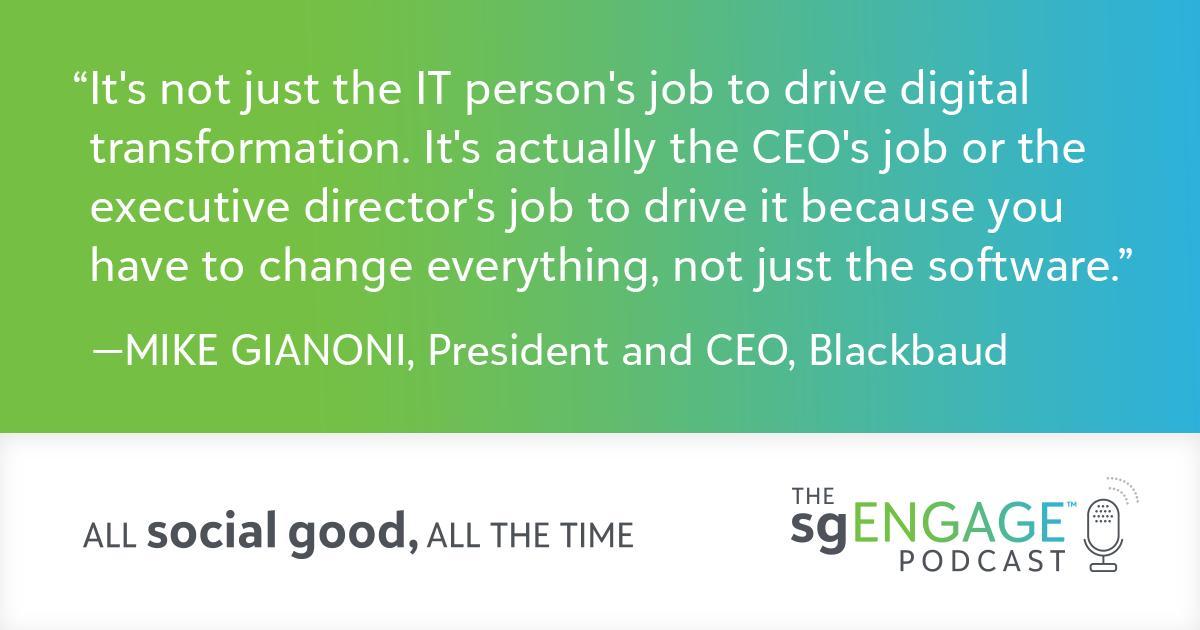 The sgENGAGE Podcast Episode 100: Driving Business Performance with Digital Tra…
Mike Gianoni, president & CEO of Blackbaud, joined The sgENGAGE Podcast for its 100th episode to explore the topic of digital transformation and how it drives business performance. Listen to the episode to hear what Mike has to say about how technology has changed the way organizations run over the past few decades, why successful digital transformation requires more than just new technology, and how leaders can champion digital transformation across their organizations.
Topics Discussed in This Episode:
Digital transformation over the past 30+ years
How digital transformation has changed various industries, such as banking and farming
How digital transformation drives business performance
What social good organizations can learn from the digital transformation of private sector companies
Barriers to digital transformation in social good organizations
Why digital transformation needs to be a team sport
The responsibility of the C-suite in leading digital transformation across their organization
Examples of social good organizations that have been positively impacted by digital transformations
Listen here: blkb.co/sgENGAGE100 
About The sgENGAGE Podcast: The sgENGAGE Podcast brings brings together thought leaders and practitioners from across the social good community for wide-ranging discussions on trends and best practices. Subscribe to the podcast on iTunes, Stitcher, Spotify or your preferred streaming service, or view past episodes on our website.
About Blackbaud: Blackbaud (NASDAQ: BLKB) is the world's leading cloud software company powering social good. Serving the entire social good community—nonprofits, foundations, companies, education institutions, healthcare organizations and individual change agents—Blackbaud connects and empowers organizations to increase their impact through cloud software, services, expertise, and data intelligence.