Blackbaud Employees are Committed to Being Change Agents for Social Good
Blackbaud Matching Gifts Participation is 2.2 Times the National Median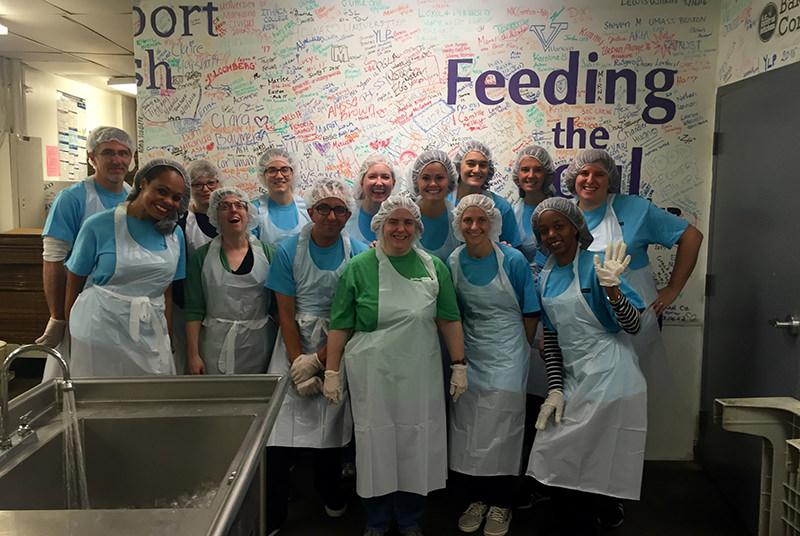 As featured in the 2019 Blackbaud Social Responsibility Report
Blackbaud partners with people and organizations across the social good community because we know that any individual can make an indelible impact—and that a unified team can affect groundbreaking change. After all, we've seen it firsthand:
Through the capability of a solution that empowered a 7-year-old British boy to raise £145,000 for earthquake relief in Haiti
Through the spirit of community that generated 2.4 million Ice Bucket Challenge videos to raise awareness of ALS and critical funding to research new therapies
Through the power of philanthropy that enabled Brown University to end student loans, replacing them with scholarships that students do not have to repay
Our humble role in these triumphs gives us a unique perspective and daily motivation. Our own efforts can make our customers' efforts not only more efficient but more impactful. It's more than a bottom line; it's helping to build a better world. 
We take pride in how our team shows up to serve our customers—at work and in their personal lives: 
Nearly 9 out of 10 of our employees say our work in the social good space played a role in their decision to join Blackbaud
1 in 4 employees serves on a social good board or committee
59% of our team reports volunteering more often since joining Blackbaud
89% of our employees have volunteered in the last year
Our team participates in our matching gift program at 2.2 times the national average
Because we attract people with world-class talent and a deep, personal connection to their jobs, we want to ensure that we provide a great work environment for them in return. That comes to life in a few key ways:
A diverse team of people…

We recognize that diverse backgrounds, viewpoints, and experiences make us a better team. We provide cloud software, services, data intelligence, and expertise to such a broad range of people and organizations that creating a culture of mutual respect and inclusion is not only paramount  to our operations but essential to our success

⮞ Ongoing unconscious bias workshops

⮞ Mandatory respect in the workplace training for all employees and enhanced training for managers

⮞ Annual Executive Women's Summit

⮞ Senior Women's Leadership Council

⮞ Employee-led business networking groups, including veterans, LGBTQ+, women in technology, women in sales, African American employees, remote employees, and employees interested in sustainability 

Led by coaches, not bosses…

Keeping our employees engaged begins with giving our managers tools to inspire and encourage. 

⮞ Formalized leadership development program

⮞ Accelerated development program to empower rising leaders through mentorship and sponsorship

With defined paths for professional growth…

We subscribe to a total rewards philosophy built on the principles of equity and pay for performance. We want every employee to know the steps to reaching professional goals.

⮞ Career frameworks for managers and individual contributors

⮞ Quarterly and annual check-ins to provide frequent reflection and discussion

Space for fun along the way…

We take time to celebrate our achievements and spend time together as a team. 

⮞ 123 service projects involving 1,596 volunteers in 2018 alone

⮞ Presentations by customers at quarterly all-hands meetings to keep our purpose top of mind

⮞ Employee breakfasts served by Executive Leadership Team

⮞ Off the Grid® annual "hackathon" to collaborate with customers and drive innovation

⮞ Volunteer projects built into team retreats

And opportunities for engagement starting on day one…

All team members begin their careers at Blackbaud with an orientation that we call the Blackbaud Experience, in which we provide a comprehensive look at the guiding principles behind our organizational structure and the values driving our every decision. We end each Blackbaud Experience session with a service project, which we envision as the first of many throughout a team member's career at Blackbaud

⮞ Current team members fill 40% of our open jobs through promotion and growth opportunities

⮞ Quarterly all-hands meetings inform employees with reports and updates from across the company, plus customer speakers to reinforce our purpose

⮞ Option to earn vacation hours through volunteer work

⮞ Creative events hosted by employee-driven culture committees and service teams