BIER Member Spotlight: Shourya Rane
Meet Shourya Rane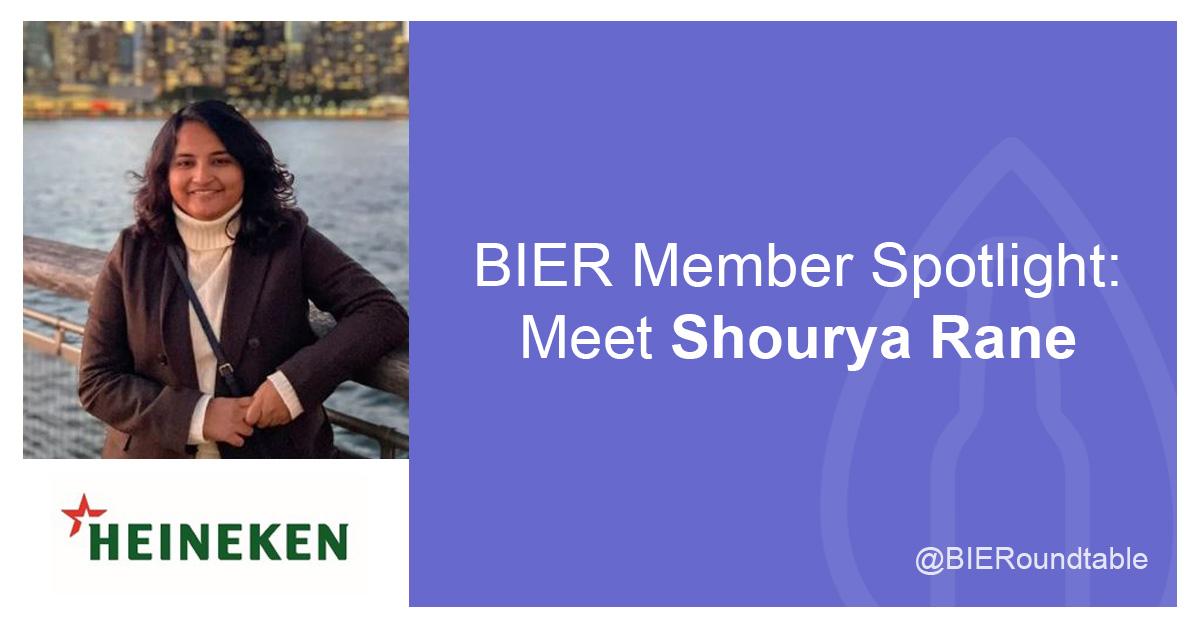 Name: Shourya Rane, Sustainability Manager, Commerce and Business Services
Company: HEINEKEN
Connect with Shourya on LinkedIn and Twitter 
Welcome to our series aimed at spotlighting the individual leaders within BIER member companies and stakeholder organizations. Learn how these practitioners and their companies are addressing pressing challenges around water, energy, agriculture, climate change, and what inspires each of them to advance environmental sustainability in the beverage sector and collectively, overall.
Briefly describe your role and responsibilities and how long you have worked with your company. 
My title is Sustainability Manager, Commerce and Business Services. At HEINEKEN, our procurement is structured so that we are divided into several category teams. Every category team has a sustainability manager. My team is responsible for procuring everything to do with commerce and business services and I am responsible for the sustainability aspect of it. However, given the external commitment, I am primarily responsible for the scope 3 emissions from cooling, also known as commercial refrigeration equipment which is used for commerce. I spend 80% of my time focused on decarbonization of cooling and the remaining 20% of my time on everything else that my category involves, which is pretty broad. It includes business travel to merchandise to media houses. To sum it up, my role is about sustainability for cooling, though in theory, it is much more than cooling.
How has the company's sustainability program evolved over the years, and what are your specific priorities for 2023?
As a 158-year-old family-owned business, it is in our DNA to take a long-term view and continuously improve our impact on the environment and society. We started a long time ago with sustainable innovations, such as the Wobo bottle. If you are unfamiliar with the Wobo bottle, it was a bottle that looked like a brick that Freddy Heineken, our previous CEO of many years ago, made. The idea was that after people drank beer out of it, it could be used as a brick to make houses. Ultimately, the idea centered around having a circular mindset way back in 1963. Building upon that and in 2010, the first Brew A Better World strategy was implemented with strong targets for 2020. At that time, we already had a target to reduce our carbon emissions in cooling by 50% in ten years. So already, back in 2010, we started with our decarbonization agenda. In 2020, we delivered more than 55% of reduction on cooling, mainly by changing the refrigerants used in our fridges. Also, in 2020, our CEO and the executive team changed completely.
Our new CEO and executive team are an ambitious and dynamic group with aspirations to raise the bar on sustainability. This team approved with the board long-term incentives connected to 3 sustainability KPIs, including carbon- a best practise I would say. Reflecting that, we announced our 'Brew a Better World - Raise the Bar' 2030 goals in 2021. We increased our ambition to reach Net Zero in Scope 1 & 2 by 2030 and the full value chain (Scope 1, 2, and 3) by 2040. I think that's the ambitious part because in the value chain, going Net Zero is quite the challenge. Our near-term targets, which are approved as science-based from the Science Based Targets Initiative (SBTi), include 21% emissions reduction in Scope 3 by 2030 vs. a 2018 baseline. It puts us on our trajectory to achieve Net Zero by 2040.
Our 2030 targets are meant to drive immediate action. We intentionally decided to focus on our own operations first - to lead by example. But now we have to deliver at speed, and at scale, in both our own operations and with our key suppliers. In 2023, our Scope 3 focus is on four key categories that make up 85% of our Scope 3 emissions – Agriculture, Packaging, Logistics, and Cooling. We will focus on areas where we have teams in place, expertise, and strong relationships with suppliers.
Learn more about Shourya Rane in this BIER Member Spotlight.