BIER Member Spotlight: Andy Battjes
BIER Member Spotlight: Andy Battjes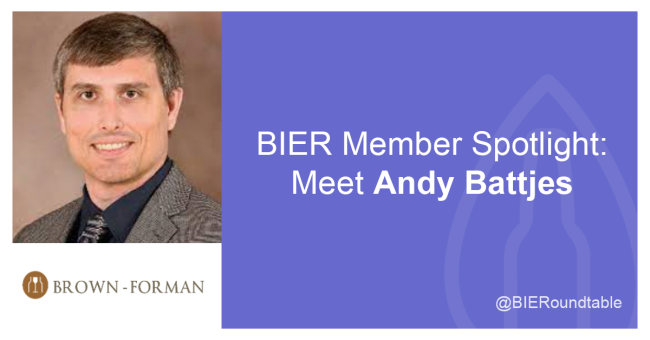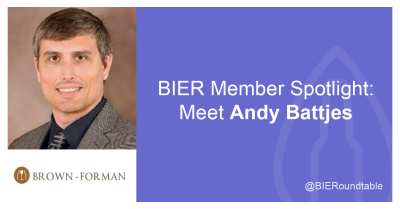 Thursday, March 17, 2022 - 12:10pm
Name: Andy Battjes, Director Environmental, Health, and Safety
Company: Brown-Forman
Connect with Andy on LinkedIn and Twitter
Welcome to our series aimed at spotlighting the individual leaders within BIER member companies and stakeholder organizations. Learn how these practitioners and their companies are addressing pressing challenges around water, energy, agriculture, climate change, and what inspires each of them to advance environmental sustainability in the beverage sector and collectively, overall.
Briefly describe your role and responsibilities and how long you have worked with your company.
I have been with Brown-Forman for over 16 years. My current role is Director of Environment Health & Safety (EHS), and I am responsible for leading the team of EHS experts who ensure that our Supply Chain sites around the world are keeping our people safe and protecting our environment. I also collaborate with our Global Sustainability Director on the development of our Environmental Sustainability strategy and targets and work with the Supply Chain site teams to identify and implement projects that can bring our commitments to life.
How has the company's sustainability program evolved over the years, and what are your specific priorities for 2022?
In 2021, Brown-Forman released an updated Environmental Sustainability strategy, as well as our third set of public ES targets. One of the most significant changes is the expansion of our targets beyond our four walls and including our supply chain for the first time. Our Environmental Sustainability strategy includes six strategic focus areas: Climate Action, Water Stewardship, Circularity, Sustainable Agriculture, Sustainable Forestry, and Sustainable Packaging.
A driver for us in the expansion of our targets beyond our owned operations was a recognition that we can't just focus on ourselves. When we updated the strategy, one of our principles was to use science as a guide for our decisions. Looking at the full life cycle of environmental impacts from the very beginning of our production process to the very end, we find that the vast majority of the impacts, similar to other beverage companies, lie outside of our direct control. We realized that focusing our improvement efforts solely on our company would not create the scale of impact needed; the only way to do that is to engage our supply chain partners to also make improvements. This is especially important in areas such as packaging. We wanted to engage with our packaging suppliers to determine the best path forward to become net-zero. It was important to work together and question, "How do we get there? What needs to change? How can we come together to make our collective efforts easier? And how can we all move faster together?" And that's really what the driver was behind our targets. We recognize we can't solve these pressing challenges by ourselves. We're going to have to collaborate.
Currently, we're engaging all of our packaging suppliers and working on projects such as incorporating post-consumer recycled content into our PET bottles. We are also working with the University of Kentucky's agricultural school, some nonprofit partners, and some farmers on a project to see if we can bring commercial rye back to Kentucky, with the goal of incorporating rye into the typical corn-soybean rotation. Of course, rye is an off-season crop. It offers many cover crop benefits including that it helps put nitrogen back into the soil, it provides a living cover over winter, and it helps reduce nutrient loss among other things. So it's a really good crop, but it typically likes colder climates. Essentially, this is considered research and development in working with local farmers who want to be engaged in this type of work and innovate as we bring back a valuable crop that can help us environmentally, help the farmers economically, and ultimately, be a win for everybody. This Project Woodford Reserve initiative has been really exciting to see.
Learn more about Andy Battjes in this BIER Member Spotlight.