Benevity Shares Why More Companies Are Joining the #GivingTuesday Movement
Benevity Shares Why More Companies Are Joining the #GivingTuesday Movement
A worldwide desire for more purpose at work spurs companies to take action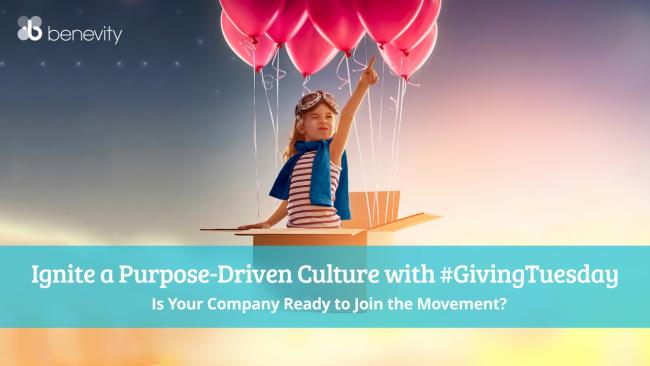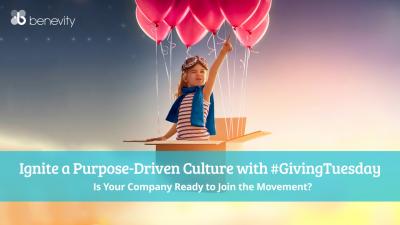 Tuesday, November 21, 2017 - 7:45am
CALGARY, Canada, November 21, 2017 /3BL Media/ - Benevity, Inc., the global leader in workplace giving, volunteering and community investment software, has noted a trend of increased participation from companies in the #GivingTuesday movement. Of the 165 organizations polled by Benevity, 92nd Street Y (92Y) and the Bill and Melinda Gates Foundation during a webinar prior to the upcoming national day of giving, 90% of respondents indicated they would like to run a #GivingTuesday campaign this year and nearly 40% will be doing so for the first time.
"The power of #GivingTuesday in our highly socially conscious world grows in importance and impact every year," says Bryan de Lottinville, Founder and CEO of Benevity. "It represents a terrific opportunity for companies to put empathy, service and generosity at the top of the agenda. However, at Benevity we see greater potential for the occasion. To the world, #GivingTuesday may be a moment in time; but to us, it's a powerful catalyst for a deeper, year-round investment by companies and their people—employees, customers, supply chain and other stakeholders—in prosocial activities that create a sense of meaning, purpose and belonging at scale. The world needs to embrace a culture of Goodness now more than ever."
Benevity data from 2016 reveals the impact of #GivingTuesday, showing 271% more employees getting involved compared to an average Tuesday throughout the year. Company matching on employee donations and donation currency rewards for volunteering have largely driven the increase in engagement, highlighting a significant opportunity for businesses to use their corporate "Goodness" programs—including workplace giving, employee volunteering and grantmaking initiatives—to create a culture of purpose and meaning in the workplace. "These programs should no longer have fundraising as the goal", says de Lottinville. "Fundraising is only one of many positive outcomes. #GivingTuesday should really be about driving meaning, purpose and belonging in ways that help people be their best selves."
"This is our first year participating in #GivingTuesday and we are excited to be part of the movement," says Karen Arsenault, Best Buy's Community Relations Manager for Canada. "Giving back to our communities is a key part of our culture. Participating in #GivingTuesday is another way we can ensure we are making a positive impact on the communities where we do business and it's also a great way to engage and inspire our employees."
Increased corporate participation in #GivingTuesday is evident across all industries—biotechnology included. Chris Barr, Executive Director at Biogen Foundation, notes that their decision to run an inaugural #GivingTuesday campaign this year was a result of the incredible generosity of employees in support of hurricane relief, exemplifying a culture they hope to cultivate moving forward.
2017 marked a year of disasters, including politically charged events, that led people to support one another through trying times. But #GivingTuesday is different; it's less reactionary and more proactive. Companies are empowering their people to intentionally give time, money, goods and their voice in a variety of ways. This year, many companies—including Accenture and Genworth—will leverage their Goodness programs to engage their employees, consumers, partners and suppliers in prosocial behaviors. These include doubling employee donation match rates, providing charitable gift cards and volunteer opportunities and encouraging their people to share causes with personal networks through branded, public-facing versions of their giving sites.
"It's exciting to see Benevity help more companies encourage their people to support the causes that reflect their personal values during this day of intentional giving," says Jessica Schneider, Director of Strategy and Collaboration at 92Y's Belfer Center for Innovation & Social Impact—founders of #GivingTuesday.
Benevity, Inc. is the global leader in online workplace giving, matching, volunteering and community investment software. Many of the world's most iconic brands rely on Benevity's award-winning cloud solution to power corporate "Goodness" programs that attract, retain and engage today's diverse workforce by connecting people to the causes that matter to them. With software that is available in 16 languages, to several million users around the world, Benevity will process over a billion dollars in donations and 10 million hours of volunteering time this year to more than 100,000 charities worldwide.