Bechtel and JA Inspire Girls to Dream Big and Think Differently About STEM Careers
At Bechtel, we're stepping forward with our nonprofit partners to influence girls early in their education, to encourage them to dream big about STEM careers, and to change the future of our world.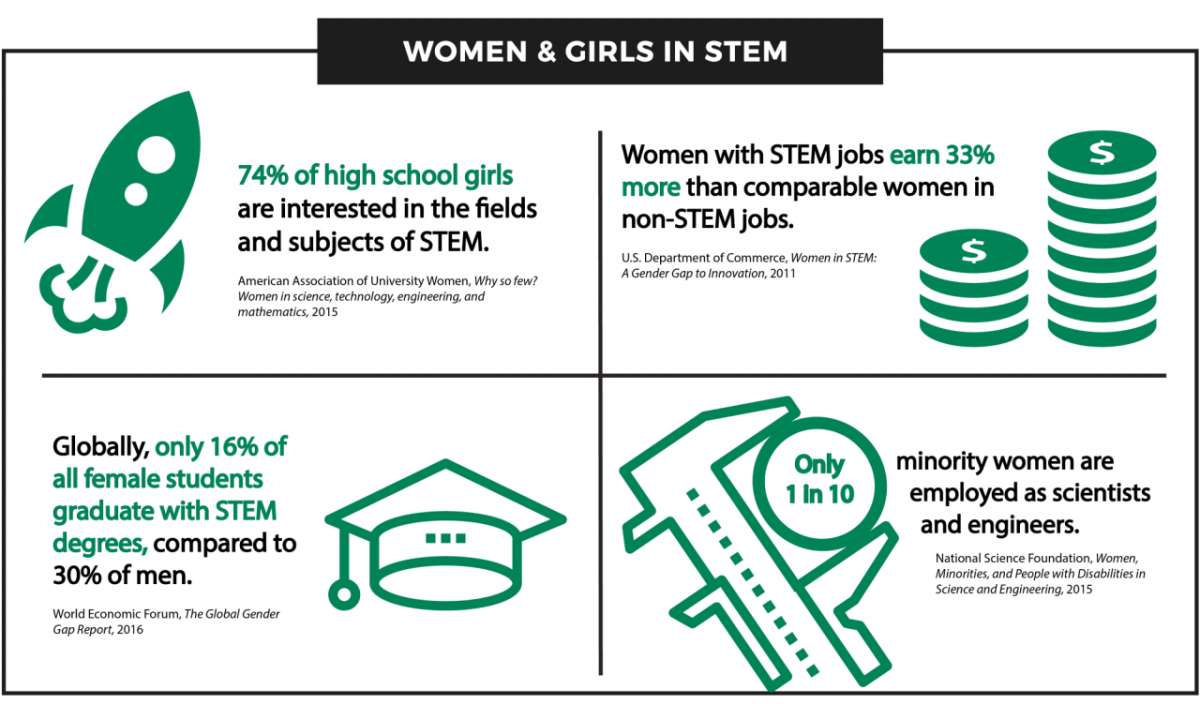 Originally published on JA Worldwide's Medium page
by Charlene Wheeless, Principal Vice President and Manager, Global Corporate Affairs, Bechtel
Bechtel and its Signature Program partners, like JA (Junior Achievement) Worldwide, are on a mission to empower girls, who are less likely to be exposed to science, technology, engineering, and math (STEM) careers than their male peers. We're taking on this challenge because of continued underrepresentation of women in STEM fields, and we believe only a collective effort from an ecosystem that includes community organizations, non-governmental organizations (NGOs), academia, industry, foundations, and government agencies will build the STEM pipeline for the future.
STEM Girls Need Support
Generation STEM, a study by the Girl Scout Research Institute, revealed that 76 percent of women who chose engineering as a career did so because they received encouragement from their parents. Because parents play a key role in girls' pursuing STEM, the big question is whether we can create the same dynamic for girls who may not have adult support at home. Can a support network extend beyond the home to include extended family members, family friends, teachers, school friends, and industry role models to fill the gap in parental support?
Women make up nearly 51 percent of the U.S. population, but according to a recent Pew Research study, women account for only 14 percent of engineering jobs and 25 percent of computer positions. Despite gains that have brought women within striking distance of gender equality in the life sciences (47 percent women), the number of women in computer occupations has dropped, from 32 percent in 1990 to 25 percent today. Numbers are even lower for women of color. Overall, only 25 percent of all STEM positions in the U.S. are held by women; worldwide, it's 16 percent.
The issue isn't related to competency, but to exposure. Although high school test scores show that boys and girls perform equally well in math and science, girls aren't majoring in engineering in large numbers. How do we shift their mindset and help girls understand the opportunities that STEM careers offer and that they can make a difference in the world as they by pursuing them? And, what kind of networks and role models will be persistent in encouraging them throughout the education process?
Dreaming Big
Last year, Bechtel partnered with MacGillivray Freeman Films and the American Society of Civil Engineers to launch a first-of-its-kind IMAX® film about the possibilities of STEM careers. Dream Big: Engineering our World showcases engineers as big thinkers who solve big challenges — and many of the engineers in the film are women. This film is part of a larger movement to help fill the gap by introducing girls to STEM careers and giving educators hands-on activities and other tools to use in classrooms or with community organizations. Research shows that girls are drawn to the creative and problem-solving aspects of STEM.
According to Generation STEM, 74 percent of high school girls across the U.S. are interested in fields and subjects of STEM. Additionally, African American and Hispanic girls show great interest in STEM but because of the less exposure, fewer support systems, and fewer role models, they have lower academic achievement in STEM fields than Caucasian girls do.
Girls may like STEM, but we also know that they're not pursuing engineering at the rate we would like. The 2017 National Science Foundation Study of women engineers found that women didn't enter engineering after graduation because they perceived engineering as being inflexible and the engineering workplace culture as being non-supportive of women. Clearly, we have work to do.
A host of organizations — like FIRST®, National Science Foundation (NSF), NASA, Lockheed Martin, and many other companies — have enhanced their focus on gender equity in STEM education. Despite these efforts, the number of women in STEM isn't changing fast enough. Not only are girls not significantly represented in high-paying STEM jobs with excellent prospects for future employment, but companies like Bechtel, with thousands of engineers globally and other similar firms, are challenged to fill engineering jobs. If half the population opts out of the pipeline, companies can expect serious shortfalls in the future. It's not a demand issue; it's a supply issue.
Support Networks for Girls
Bechtel has partnered with organizations that can help create numerous touch points throughout the educational lifecycle (from primary school through college) to ensure girls' success in STEM. Partners like JA Worldwide, which works with more than 10 million young people each year, are working to reshape education and ecosystems, improve student competencies, and reroute students' negative thoughts into positive ones. "We see an opportunity to provide holistic support for girls, starting from the time they first enter a JA program and continuing through vocational school or higher education, into internships and job opportunities, and throughout their careers," says Margie Wang, chief operating officer and chief financial officer at JA Worldwide and a math major in college. "Partners like Bechtel, who support these programs through generous contributions, make that lifelong support possible."
All girls can dream big about STEM, if we put in place the support networks to help change mindsets about who can be a STEM professional or engineer. It's an ongoing process, but the results can be measured by increased representation in boardrooms, in other areas of leadership, in academia, and in policy discussions. Bechtel and its nonprofit partners are putting structures in place to enable that process. It's our industry's responsibility to attract girls to STEM professions. The person who will help meet the challenges of modern society — such as building smart and resilient cities to address population growth, sustainable energy, and finding a cure for cancer — will be a woman, but only if we build a holistic landscape that supports her throughout her academic and professional career.
To learn more about Bechtel's STEM outreach, visit bechtel.com/sustainability/stewardship/dream-big-engineering-our-world.
Lean forward and dream big with Bechtel and its partners, see bechtel.com/sustainability/signature-programs.
Learn more about JA Worldwide, visit jaworldwide.org.