Barclays | Leading Questions: Anna Kessel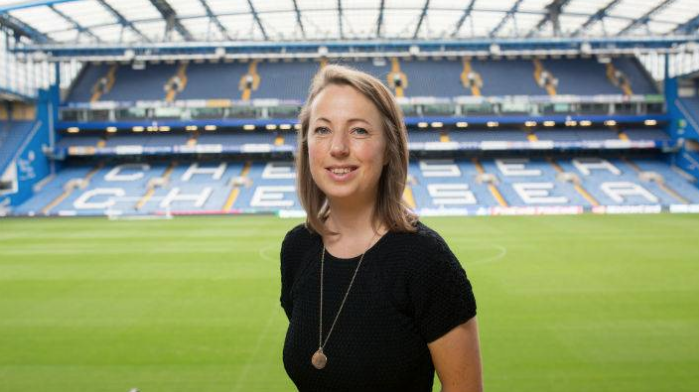 "Diversity makes for better decisions. Be true to that. Don't be afraid to be who you are"
Anna Kessel is a sports journalist and the Chair and Co-founder of Women in Football, a network dedicated to supporting and championing women within the sport and lobbying against sexism. Last year she was awarded an MBE for services to journalism and women's sport.
What are your memories of football as a child?
My memories of football as a child are that it was very much something women and girls didn't engage with. For this reason, it was a long time before I became involved, and fell in love, with the game. Euro 96 was when I witnessed my first explosion of football. It was the first time I had noticed everyone in the nation was really excited.
I went to a school in north London where everyone supported Arsenal, so that was a kind of natural connection for me.
What is it that makes you so passionate about getting women involved in the game?
I'm so passionate because football is the national sport. In a way it is even more than a sport – no matter where you go in the world, people will talk to you about football. It doesn't make any sense for half of the population to be estranged from it. Football is fun, it's brilliant, it's amazing and it brings people together. Why wouldn't we want everyone to be part of that?
How did you go about building a strong team at Women in Football?
I didn't have to build a strong team at Women in Football – people came because they believed in what we were doing. I still find it extraordinary when I see the women who have become involved with the organisation.
We did a women's leadership course recently, and I looked around the room and thought to myself: "The women in this room could run a football club, there are so many diverse skills at such a high level."
What's the best piece of advice you've been given on leadership?
I've been given lots of advice but I think the one that is most interesting was at the Women in Football leadership course run by Ebru Koksal. There was an element of the course that was about negotiation, which I'd always seen as being about having a winner and a loser.
Ebru taught me that negotiation was about both people coming away with what they wanted. For the first time, I saw negotiation as key to everything you do, every decision that you make. Negotiation is how you run an organisation, and I thought it was an amazing thing for her to share with us. I think everyone in the room lit up and thought: "Wow, that's how you lead."
What qualities make a good leader?
I think for a long time the discussion about good leadership has been stuck in a similar place, particular when discussing female leadership. There is this school of thought that women are holding themselves back and ¬need – to use a football expression – to get into the mixer a bit more.
I read a really interesting article that questioned why we always characterise leadership qualities as male. We talk about being decisive, authoritative and confident. Why don't we discuss more typically female qualities like emotional intelligence, empathy and collaboration? It's time we started talking about a different kind of leadership.
What advice do you have for women who want to take on a leadership role in a male-dominated area?
I think it is important for women to be authentic to themselves. Often when you come into an environment as someone who is different, you can feel there is pressure to fit in, and I feel women need to stand up to that. Diversity makes for better decisions. Be true to that. Don't be afraid to be who you are.
Are there any other women whose leadership you find inspiring?
I'm inspired by Tammy Parlour and Jo Bostock, who run the Women's Sport Trust. They have a really unique style of leadership. I admire the way they engage with people. They work in a collaborative style and make things fun, bringing energy with a smile on their face. There's also a serious side to them, the kind of people you would laugh with in a room but still come out having learnt something. And I really appreciate that.
Why did you decide to launch Women in Football?
Women in Football came at a time when I was a young journalist in the industry and wasn't seeing many other women at the matches. I would often be mistaken for the tea lady or somebody's girlfriend. I felt that women in the industry needed to come together and share experiences and professional expertise. It has now grown from six women with an idea to a network of around 2,000.
Can you tell us about the Women in Football leadership workshop?
In September, Women in Football are hosting a leadership workshop, as we want to get more women involved in football.
A big challenge of ours has always been convincing women that they should be part of leadership in football. We have spoken to so many women who are seriously experienced in the industry, and doing incredible things, yet they still didn't feel like they are leaders.
That is what the workshop is all about: empowering women, and showing them that they possess the skills and experience to lead the industry.
What has been your proudest moment since setting up Women in Football?
Our proudest moments happen on a regular basis, when women in the industry tell us how much of a difference we have made in their lives. It is incredibly touching. It may be that they came to one of our talks and were inspired, or perhaps they had had a bad experience in a role and we were able to offer legal advice. There are lots of different ways we can help, and it's really special to know that you've changed people's lives.
 We always characterise leadership qualities as male. Why don't we discuss more typically female qualities like emotional intelligence, empathy and collaboration? 
How did it feel to have your hard work recognised by being awarded an MBE?
To have the work Women in Football have done, along with the work I had personally done in journalism and around women in sport, recognised like that was such an honour. It was particularly special as the Princess Royal, who presented the award, is a sportswoman herself. We had a chat about her role, and some of the barriers she has faced.
How has Barclays supported Women in Football?
Barclays has been there for Women in Football from the very early days. Before we even had a staff member, they supported us. Initially they helped us create a website, which was a significant development because it meant we had a home. People knew how to find us, whereas before we were relying on word of mouth.
As we've grown as an organisation, Barclays has grown with us. We are very proud of our relationship with them.