Back to the Basics of Money Management: Regions Next Step Highlights Free Resources During Financial Literacy Month
Regions Bank's financial wellness program has year-round, no-cost financial tips and tools to build budgets – and savings.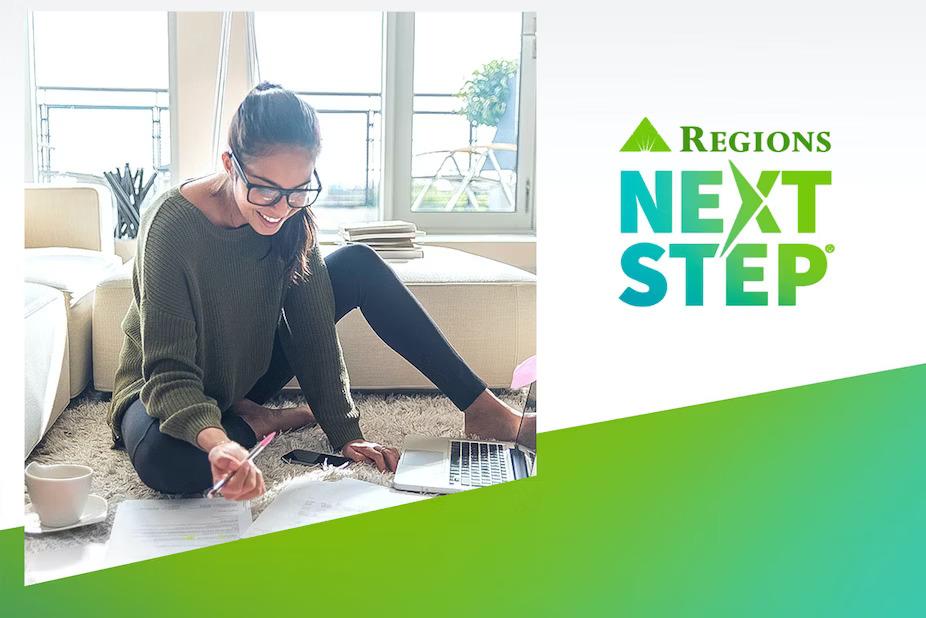 By Jennifer Elmore
BIRMINGHAM, Ala., May 5, 2023 /3BL Media/ - Regions Bank invited consumers and businesses to take a fresh – and free – review of their financial health and their plans for building savings, reducing debts, and reaching other financial goals.
April is Financial Literacy Month, and Regions Next Step, the bank's no-cost financial education program, is highlighting the importance of budgeting and saving to help people focus on key parts of money management. According to recent Regions Next Step surveys, Americans have serious questions and concerns about managing their financial futures. The good news is Regions Next Step has a wealth of information and budgeting tools to help people start or meet their financial goals.
Surveys have found:
Regions Next Step has useful tools and information to help people start or meet financial goals. These resources are available to anyone, regardless of whether they have a Regions account, and there is no cost to access them.
"Seasons of economic volatility create stress and make a real impact on finances," said Joye Hehn, Next Step financial education manager at Regions Bank. "With inflation impacting every part of daily living, Regions Next Step is helping people lean into the basics of money management to keep their financial goals on track. Financial wellness is at the heart of how we serve consumers and businesses, and we invite people to not only check out our free tools online but also stop by for a personal conversation in any of our branch locations."
Resources available around the clock include:
Budgeting and savings calculators help categorize spending, address debt and increase savings. People can use these and other online calculators to develop a budget, know where money is going every month, and work toward long-term savings goals.
The Regions Next Step content library includes courses on creating a budget, building an emergency savings account, having family conversations about money and more. These self-paced, interactive courses are designed to help people grow money management skills. Each course takes 10 minutes or less to complete and can be accessed via a mobile device, tablet or desktop.
Articles, podcasts, worksheets and other financial wellness resources are available in the Next Step Family Budgeting and Saving Resource Center to help set up families for financial success through all of life's milestones.
The Personal Spending Plan Worksheet can plan, track and organize monthly spending.
Next Step workshops are available to people for one-on-one guidance to address their money-management needs. These quick, informative workshops can be delivered in-person or virtually. For more information on hosting or attending a workshop, contact a Regions Bank branch or call 1-800-REGIONS to learn more.
Additionally, Regions Bank customers can access convenient financial management tools through My GreenInsights, available through Regions online banking and mobile app. My GreenInsights allows customers to create and track budgets, set financial goals and combine external accounts, providing one place to track spending and savings.
During Financial Literacy Month, Regions is also highlighting key tips:
Consider Zero-Based Budgeting. This method accounts for every dollar of monthly income, so it can be helpful to use when people want to stretch their budget and find new ways to save. Each month, start from scratch and create a new budget that accounts for every dollar of income. Move any dollars saved by spending less than budgeted into a savings account.
Track Spending: Closely track spending on a weekly or monthly basis to help ensure budget goals are on track. Regions has a free downloadable worksheet to track personal spending. At the end of the tracking timeframe, review spending trends, areas for improvement and areas on target.
Set Savings Goals. Saving a little bit on a regular basis adds up over time. Set smaller savings targets along a timeline toward a goal. Consider saving a percentage of your tax refund as a simple way to begin.
Do a Savings Challenge. Try Regions' 52-Week Savings Challenge, and watch savings grow when a little money is put aside each week. By following the downloadable worksheet, $1,378 can be saved in 52 weeks. Just save the amount each week that corresponds with the week of the challenge.
Maintain an Emergency Savings Fund. An emergency fund is key to managing unexpected expenses. Some examples include car or home repairs, medical bills or a sudden loss of income. Aim to set aside three to six months of income, and keep these funds separate from any other checking or savings account so you know it isn't part of monthly operating expenses. This podcast is available for more tips on growing an emergency fund.
Pay Down Debt. During periods of inflation, minimize existing debt with variable interest rates, such as credit card debt. Include these payments as a line item in the monthly budget. As you pay down debt, reallocate funds from paid debt to other debt or add it to savings.
Financial wellness is a key part of Regions' mission to make life better in the communities it serves. In 2022, Regions Next Step provided financial education to more than 2.1 million people across the Southeast, Midwest and Texas and received 3.2 million financial education content page views. Nearly 150,000 Regions podcasts and other resources on a variety of consumer and business topics were downloaded. Further, Regions Bank associates completed 9,800 financial education volunteer hours.
"Regions Bank works with many community organizations to connect financial education opportunities to more people," said Wendi Boyen, community advocacy and financial wellness manager for Regions Bank. "Regions takes an inclusive and accessible approach toward providing helpful insights and encouraging people to take the next step in their financial journeys. By working together, we can keep our communities moving forward."
For more advice on budgeting, saving and planning, visit Regions.com/NextStep. Or, visit a nearby Regions Bank branch to speak with a banker directly.
About Regions Financial Corporation 
Regions Financial Corporation (NYSE:RF), with $155 billion in assets, is a member of the S&P 500 Index and is one of the nation's largest full-service providers of consumer and commercial banking, wealth management, and mortgage products and services. Regions serves customers across the South, Midwest and Texas, and through its subsidiary, Regions Bank, operates more than 1,250 banking offices and more than 2,000 ATMs. Regions Bank is an Equal Housing Lender and Member FDIC. Additional information about Regions and its full line of products and services can be found at www.regions.com.
About Regions Next Step® 
Regions Next Step is the financial education program from Regions Bank, offering a free collection of action-oriented tips, tools and resources. Next Step is designed to simplify financial topics, help people of all ages and business of varying sizes stay on track and meet financial goals. Resources are available online, in-person, virtually, and in English and Spanish. In 2022, Next Step provided financial education to more than 2.1 million people across the company's footprint, delivered more than 1,600 financial wellness workshops, received 3.2 million financial education content page views and associates completed 9,800 financial education volunteer hours. Additional information and resources are available at Regions.com/NextStep.