Avnet Sponsors The Not Impossible Awards Recognizing Emerging Technologies That Improve Lives
Avnet Sponsors The Not Impossible Awards Recognizing Emerging Technologies That Improve Lives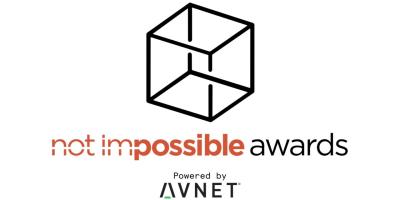 Thursday, December 14, 2017 - 12:35pm
PHOENIX, December 14, 2017 /3BL Media/ -- Avnet (NYSE: AVT), a leading global technology distributor, today announced its title sponsorship of The Not Impossible Awards, which recognizes the breakthrough achievements of innovators who share the Not Impossible Labs mission to create inventive technology that improves the well-being of others.
The Not Impossible Award winners will have their work recognized and showcased during CES 2018 in Las Vegas. Additionally, recipients selected to be part of the "Class of 2018" will receive world-class mentorship from the Not Impossible Advisory Council, comprised of industry leaders and experts, including Avnet's Kevin Sellers, Chief Marketing Officer, and Jim Fusaro, senior vice president, design services and solutions development. Award recipients also receive opportunities to incubate and accelerate their work through participation in strategic partnerships with members of the Not Impossible network.
The Not Impossible Award winners will be able to take advantage of Avnet's expertise on the requirements of getting their products to market depending on which stage of the development cycle they are in. After an initial consultation and assessment with each honoree, Avnet will provide insights on how to tackle such challenges as technology sourcing, manufacturing, supply chain and logistics. Avnet has more than 2,500 engineers and nearly a million engineering community members who are part of the vast additional resources available to help innovators turn their ideas into a product through education, collaboration and high-quality design and supply-chain services.
"The Not Impossible Awards exemplify Avnet's mission to 'reach further' and take new and innovative technologies from idea to design to production," said Kevin Sellers, Chief Marketing Officer, Avnet. "Our sponsorship of the Not Impossible Awards underscores Avnet's commitment to assisting companies around the world realize technology's potential. Through the Avnet ecosystem, we'll help guide these exciting projects to market and help further Not Impossible Labs' mission to create technology for the sake of humanity."
For 2018, The Not Impossible Awards, Powered by Avnet, recipients are:
DCTclock – The Not Impossible Connectivity Award for their utilization of connected devices to improve lives
ANDE – The Not Impossible Commitment Award for their dedication to evolving tools to progress public safety
BecDot – The Not Impossible Limitless Award for their ability to break through barriers
OffGridBox – The Not Impossible Ignition Award for their commitment to accessible energy
VR-Project Δ (Delta) and VR-Qualis Est Vita – The Not Impossible Vitality Award for their innovation in healthcare
In addition, Avnet is the presenting sponsor of the Internet of Things (IoT)-focused award category, The Not Impossible Connectivity Award.
The recipient of The Not Impossible Connectivity Award, the DCTclock from Digital Cognition Technologies (DCT), analyzes behavior signals that have to date remained hidden to traditional testing methods for detecting cognitive impairment from Alzheimer's, dementia and Parkinson's. An inspired husband and wife team out of MIT created DCTclock, a diagnostic tool that leverages data and technology to transform the familiar Clock Drawing Test into a precise measure of cognitive function that can lead to early detection, better care and increased quality of life.
The Not Impossible Awards Show will take place on the evening of Thursday, Jan. 11, 2018 in the Zappos Theatre at Zappos Headquarters in downtown Las Vegas.
For more information on The Not Impossible Awards Powered by Avnet, please visit www.notimpossible.com/awards. For more information about Avnet, please visit www.Avnet.com.
Follow Avnet on Twitter: @Avnet 
Connect with Avnet on LinkedIn: http://www.linkedin.com/company/avnet 
Connect with Avnet on Facebook: http://www.facebook.com/AvnetInc
All brands and trade names are trademarks or registered trademarks, and are the properties of their respective owners. Avnet disclaims any proprietary interest in marks other than its own.
ABOUT NOT IMPOSSIBLE LABS
Launched in 2009, Not Impossible Labs (NI) crowd-solves issues of inability and inaccessibility through Technology for the Sake of Humanity and provide low-cost solutions that allow the most vulnerable among us to survive and thrive. Not Impossible Labs disrupts the status quo through a cycle of collaboration and impactful innovation paired with Help One, Help Many storytelling.
Not Impossible's initiatives each identify an absurdity in our modern world and then dedicate to making a difference for those impacted with a promise to Commit…Then Figure It Out. Through listening and deep discovery, Not Impossible develops a bold intention to address this absurdity and take ambitious action steps to make real impact in order to Make the Impossible, Not Impossible.
Not Impossible Labs has numerous initiatives, both in-development and active, that address absurdities ranging from hunger to educational inequity to degenerative disease and beyond. Initiatives to-date have included:
The Eyewriter - Open source, low-cost, DIY devices that enable individuals with paralysis to communicate and create using only the movement of their eyes.
Project Daniel & DOAP (The Department of Accessible Prosthetics) - Radically accessible prosthetics, from labs in the South Sudan allowing communities to 3D-print custom prostheses to low-cost kits allowing for access and customization of prostheses without electricity.
Music: Not Impossible - A wireless ecosystem including hardware, software and wearables that creates a vibrational interpretation of musical, auditory, or programmable rhythms and cues across the skin. Created to allow the deaf and hard of hearing to experience live music with no discernable latency, Not Impossible Labs has identified broad applications of this technology, from creative and artistic undertakings to medical technology that can augment the abilities of those with sensory disorders.
Not Impossible Labs has been awarded Cannes Lions, CLIO Awards, SXSW Interactive Innovation Awards, Telly Awards, and numerous other honors for both technology and creative work.
Learn more at www.notimpossible.com.
About Avnet
From idea to design and from prototype to production, Avnet supports customers at each stage of a product's lifecycle. A comprehensive portfolio of design and supply chain services makes Avnet the go-to guide for innovators who set the pace for technological change. For nearly a century, Avnet has helped its customers and suppliers around the world realize the transformative possibilities of technology. Learn more about Avnet at: www.avnet.com.