AT&T Aspire Accelerator Alumni: Where Are They Now? CommonLit's Story
By Michelle Brown, founder & CEO of CommonLit, 2016 AT&T Aspire Accelerator member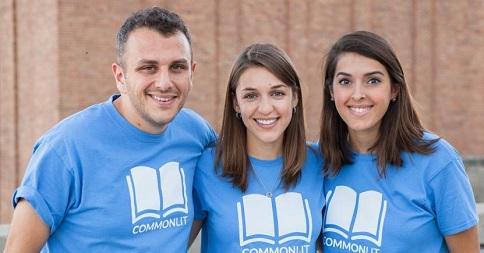 In the spring of 2016, CommonLit.org was a collection of about 100 individual PDF reading lessons that English teachers could download and use with their students. Despite its humble start, I had a big vision. 
I came to the AT&T Aspire team with a simple pitch: Create the best reading and writing program in America and make it available for free so that even the most vulnerable students could access it online.
With financial support and advising from the AT&T Aspire Accelerator for ed-tech start-ups, my co-founder Sarah Robertson and I created CommonLit Digital. We launched it in September 2016. "AT&T set us up for massive growth. And it was the spark we needed to build the tool and ultimately make our vision a reality," said Sarah, CommonLit's Chief Product Officer.
A few short months after the AT&T Aspire Accelerator ended, the first CommonLit students logged on to CommonLit Digital. That's when CommonLit started growing - virally. Our team celebrated our 1 millionth registered user in 11 months, the same rate as Facebook.
A few months after the launch, CommonLit received a $3.9 million grant from the Department of Education. With the runway to build a team and expand the website's content, we hit 2 million registered users. Within one year of the AT&T Aspire Accelerator, we grew from 2,000 to 2 million users!
Today, more than 2.8 million registered teachers and students have access to over 1,000 lessons in literature, poetry and nonfiction. Each CommonLit lesson comes with tools to support struggling readers and free data reports to help teachers track student progress over time. Teachers regularly share their love for CommonLit. And third-party research has shown CommonLit's effectiveness in helping kids learn to read and write.
Throughout our success, we remained true to our original mission of delivering services at no cost to teachers and students. As a nonprofit, we have the freedom to focus on impact rather than returns. That is why we could build a tool specifically designed to meet the needs of low-income classrooms.
Today, 73% of CommonLit users are low-income. Our vision is quickly becoming a reality, thanks to the spark of support from AT&T.
CommonLit is still on a high-growth trajectory. Our goal is to serve 20 million students by 2020. Our team is proud to pave the way for other ed-tech startups with the AT&T Aspire Accelerator.