Announcing the 2023 Corporate Goodness Award Winners
Benevity recognizes leading-edge brands for outstanding approaches to social impact, employee engagement and corporate philanthropy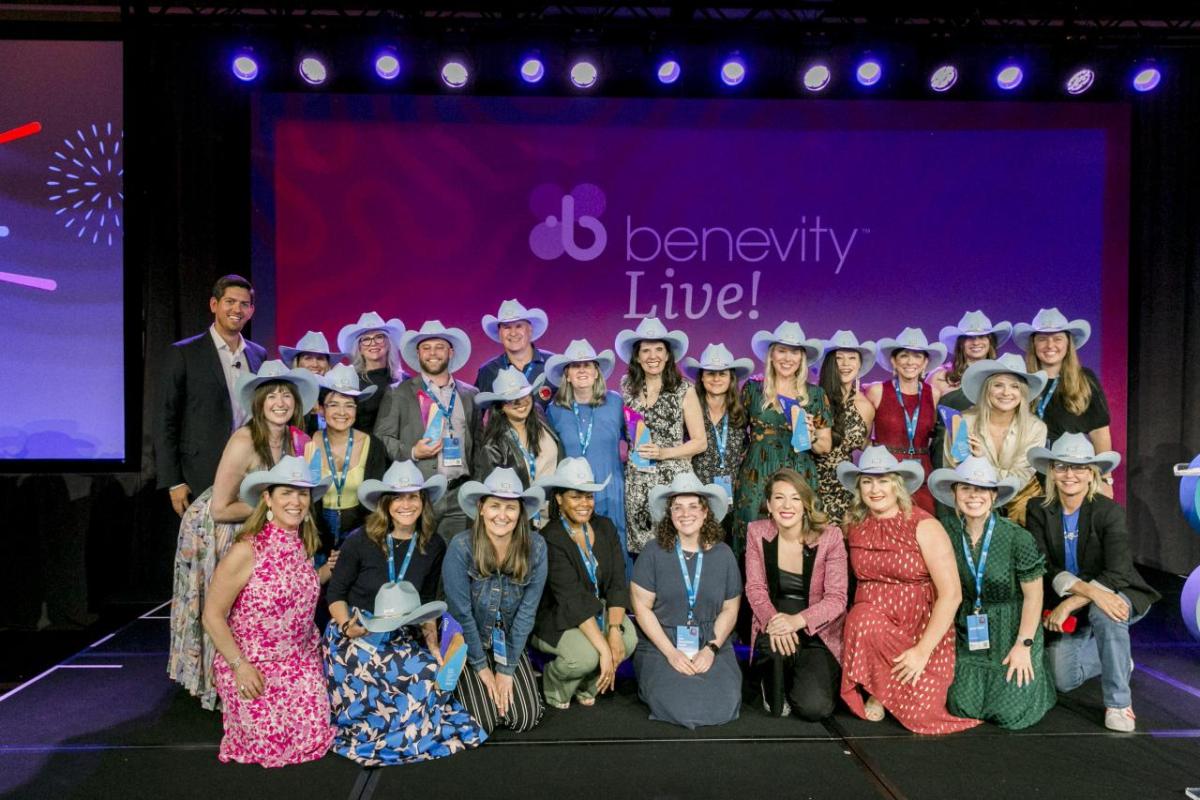 Benevity's Corporate Goodness Awards, also known as "The Goodies," celebrate the bold, innovative, inclusive and creative ways our clients are making a difference in the world — and how they inspire other people through purpose 

Congrats to the 2023 Goodie Award winners announced at our annual corporate purpose conference, Benevity Live! in San Diego, California. 

The Bestie Award — American Family Insurance 
For best‑in‑class approach and overall impact
American Family Insurance isn't afraid to disrupt the status quo. They are radically changing the landscape of philanthropy as one of the first companies to fully embrace trust-based granting. Plus, they make long-term grant commitments that increase by 5% every year and renew automatically. On top of that, they encourage employees to step away from their day jobs to work full-time with nonprofits for months at a time and find ways to reduce the burden on nonprofits so they can focus on what matters. They're giving people a sense of meaning that inspires more action and impact, and they're setting a new bar for how companies think about philanthropy.
The Moonshot Award — Vancouver Airport Authority 
For boldness and creativity
Vancouver Airport Authority was recognized for their creative and collaborative approach to corporate purpose. In a year marked by the economic fallout from COVID and a war in Ukraine, they creatively rallied employees, customers and surrounding businesses to help address food insecurity and a refugee crisis. The team took a new approach to their usual food drive. Instead of asking folks to donate non-perishable food items, they pre-purchased food at wholesale prices and created a pop-up market that filled 1,264 hampers and raised over $26,000 for their nonprofit partner (which included 200% donation matching) — feeding 7,500 British Columbians! They kept that collaboration going, rallying everyone again to Fill a Box with essential items for refugees arriving from Ukraine, and fulfilling their purpose to be a place where "people feel safe, welcome and supported". For these, and all the other ways they took a departure from their traditional programming, Vancouver Airport Authority achieved a sky high level of impact in 2022.
The Buzz Award — HP Inc. 
For catalyzing purpose through communications and storytelling
HP Inc. partnered with communication teams, their company team leads, ERGs and more to reach tens of thousands of colleagues across the world. Then, to create a steady buzz for their massive volunteer campaign, they used creative video emails, social media posts and virtual info sessions. And HP Inc. understood the best stories come directly from their people, so they incentivized their employees to share with extra volunteer rewards and provided them with ready-to-use content to make it easy. They even ran a whole campaign to remind employees to log their volunteer hours, for a chance to earn $500 to donate to a nonprofit they love. HP employees logged 258,131 volunteer hours in 2022, making it their best volunteering year ever. Not only are they this year's Buzz winner but they made People Magazine's 100 Companies That Care list, and they credit their collaborative storytelling for getting there.
The People Power Award — Visa 
For promoting purpose through people's passions
Visa's culture fuels their commitment to global equity — with their people using their program to drive equitable impact in the world. Their program is led and supported by 225+ volunteer leads. And in the last year, they increased their ERG membership by a remarkable 50% to 9,000 members. Employees are actively involved in decision-making for the company's granting program, nominating issues they want to help solve – with up to two nonprofit partners in each city receiving grants of up to $250,000. Additionally, employees get to support underrepresented small businesses across 80+ countries through mentorship and loans. Supported by the company's partnership with the world's first online lending platform, Kiva, they've directed $1.2 million in loans to 52,000 SMBs in 40 countries, 86% of which are women-owned. With an awe-inspiring 80% of their 26,500 employees globally participating in granting and volunteering, Visa proves that employee involvement and empowerment builds best‑in‑class programs.
The Community Hero Award — Motorola Solutions 
For best-in-class approach to community investment
Motorola Solutions stepped up to help the first responder community, dedicating a big part of their granting program to providing these community heroes with mental health and family support. It's also important to them that they drive more diverse representation in the next generation of tech leaders, so they provide tech and engineering scholarships and work placements to underserved youth in their communities. Involving their employees in reviewing grants applications is central to their program philosophy and employees can track that time as volunteer hours to receive donation currency to further multiply their impact in their community. In 2022, $9.5 million in grants were awarded to more than 160 organizations in 23 countries. An impressive 75% of that funding benefited people of color, and over 2 million first responders, teachers and students benefited directly from their investments. 
 
The BeCause Award — CSAA Insurance Group 
For dedication to causes
In 2022, CSAA Insurance Group worked with teams across the company to find new ways to help their nonprofit partners create more impact. That involved everything from working with HR to offer free temporary office space to nonprofits, including a food bank undergoing renovations, to tapping their legal team to run clinics that offered their expertise. CSAA also offers unrestricted funding for grantees, pays for all volunteer events that nonprofits often have to cover themselves, and ensures Goodness opportunities are infused in team meetings and town halls. Offering double volunteer rewards for skills-based volunteering meant that nonprofits got the help they really needed. And implementing special matching campaigns for their community partners saw a 200% increase in donations. CSAA's cause-focused approach to giving ensures roadblocks are removed for their nonprofit partners so they're able to do even more for their communities. 
 
The NewB Award — Toast 
For most transformational approach
Toast is brand new to the Benevity community and they hit the ground running with employee giving and volunteering, granting and client and end-user giving — involving all of their stakeholders from the very start. They implemented every best practice, including seeding giving accounts and recruiting employee ambassadors to create 20 events in time for launch. They took the creativity further with three minute donate-a-thons that doubled their participation in just one month. They also involved employees in the granting process and empowered them to create their own giving opportunities. Plus, they used the Benevity Giving API to empower their clients and their clients' customers to round up their bills to support local nonprofits. Since their program's launch in 2022, 225,000 restaurant guests have already rounded up their bills for charity. 
 
The BUFFY Award 
For individual leadership, innovation and impact
Fabian Lopez, Global Head of Corporate Social Responsibility at Appfire lives by the program's motto, "if it's big in your heart, it's a call to action for us." He works every day to make Appfire's program inclusive of every cause and everybody, encouraging participation from employees as well as their families and friends, customers and partners. Fabian is known for always showing up, whether it's rolling up his sleeves to paint a school in Guatemala to traveling around the world to raise awareness for the Appfire Town program. Launched in 2022, it's a space where everyone is invited to become a "neighbor" and create social impact in their local and global communities through giving and volunteering. In just four months under Fabian's leadership the program raised $20,000 for Ukraine relief, planted 120 native plants in Patagonia and increased participation in doing good tenfold.
Noah Salata, Community and Social Impact Advisor at American Family Insurance wasted no time searching for answers when his company asked, "How can we be better community partners?" When "removing barriers" emerged as a response, Noah championed moving to a trust-based approach to philanthropy before many companies were doing it. This led American Family Insurance to remove all reporting and application requirements for its grantees so they could focus 100% of their efforts towards creating impact and changing outcomes for the people they serve. Noah pushes for an equitable approach on behalf of communities and nonprofits alike, embedding decolonization and anti-racism principles into the company's philanthropy practices. He has helped American Family Insurance establish a new vision for community investment that centers around stakeholder philanthropy, and he's paving the way for other leaders to do the same and become the best community partners they can be.
The Employee Catalyst Award 
For an employee whose passion creates movements
Julia Coussens from CITGO is not only CITGO's most avid volunteer — logging 115 hours in 2022 alone — but she's rallying others by creating and leading many of Team CITGO's volunteering and fundraising activities. As an active member of CITGO's Environmental Stewardship Committee ERG, she coordinated a team of 390 volunteers in the 2022 Houston Trash Bash. Through this event, she facilitated over 20,000 minutes of volunteer time and generated over $3,000 in volunteer rewards that were then donated to great causes.
Scott Woolcott from Morningstar has been instrumental in taking Morningstar's program global — going well beyond his day job to unify their entire workforce right after a big global acquisition. He helped onboard 15 offices in the EMEA region so everyone, everywhere could participate in their upcoming Global Volunteer Days — achieving over 50% participation. Scott continues to step up as a program resource for employees everywhere, all while leading local efforts for Morningstar's London office and working with local causes.
This year's winners, and all of the nominees, are setting the standard and raising the bar for what it means to be a purpose-driven company. 

READ THE FULL STORIES OF EACH GOODIE WINNER ON BENEVITY'S BLOG.