America's Charities Releases Groundbreaking Report: "Snapshot 2017: What Us Employees Think About Workplace Giving, Volunteering, and CSR"
New study details workers' expectations; Helps employee engagement leaders shape more successful programs and nonprofits better cultivate employee donors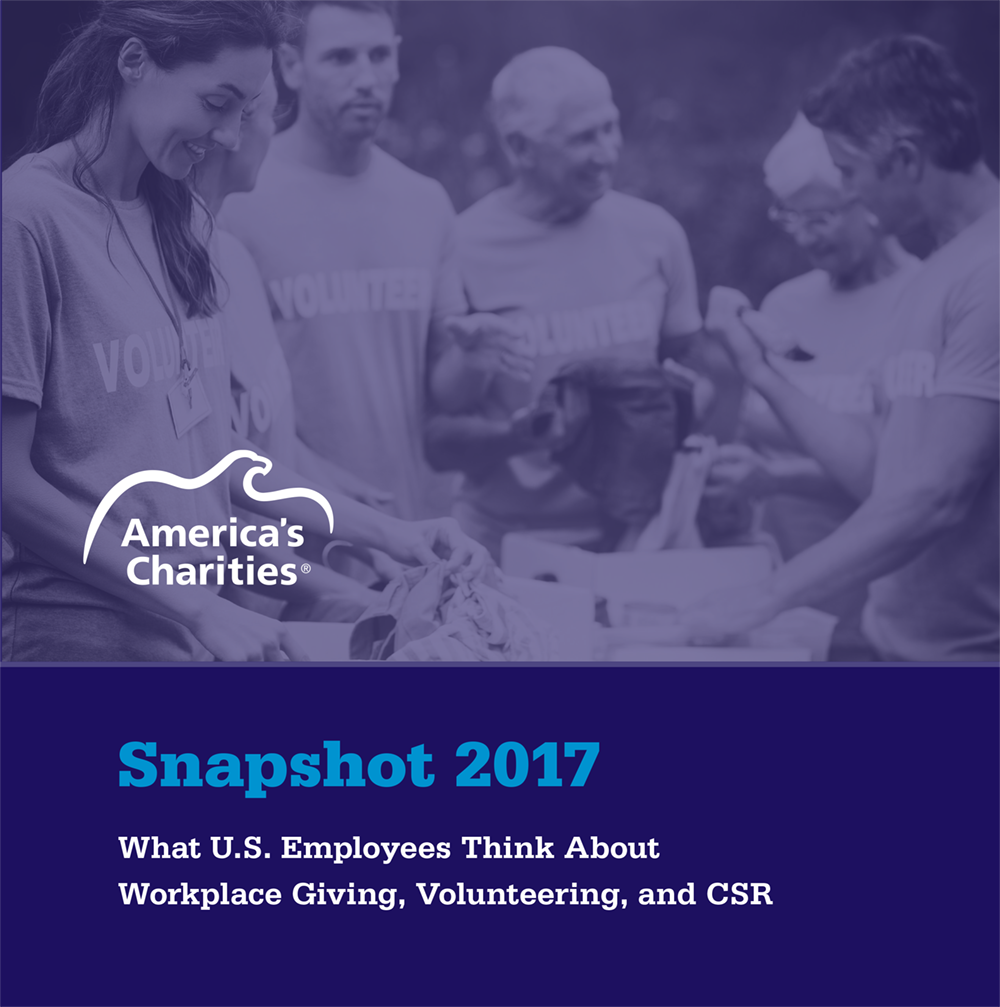 WASHINGTON, D.C., October 24, 2017 /3BL Media/ – America's Charities, which inspires employees and organizations to support causes they care about, today launched their new groundbreaking report, Snapshot 2017: What US Employees Think about Workplace Giving, Volunteering, and CSR. Since 2000, America's Charities has been researching and reporting trends that are shaping the evolving fields of workplace giving and employee engagement from both the employer and nonprofit perspective. This seminal research series is titled "Snapshot" because it captures specific attitudes and perceptions on employee giving and engagement at particular moments of time. Now, Snapshot 2017 pivots—from how companies are engaging their workers for social impact and how nonprofits are meeting corporate expectations—to focus on workers themselves.
"We hear from our private and public sector employer clients and nonprofit members every day about what they value and expect from each other," said Jim Starr, president and CEO of America's Charities. "But we rarely have the opportunity to dive into the audience that connects them both: American workers. Our new research details what employee donors want and expect from their employers and the causes they support. In turn, Snapshot 2017 helps workplace giving and employee engagement leaders better shape and improve their giving and volunteering programs, as well as helps nonprofit leaders better cultivate and engage their workplace donors."
Developed from an online survey conducted in the first and second quarters of 2017, Snapshot 2017 provides rich insights into employer donor motivations — insights that are valuable to companies who are looking to attract and retain talent, build a strong culture, and achieve greater social impact. Key findings include:
Workers value giving on the job. Nearly 3 out of 5 survey respondents indicate that they volunteer their time through a workplace-sponsored program and nearly one half report that they donate through employee giving programs.
 
Choice is critical to workplace donors. Workers don't want to have their giving choices dictated by their employers. In fact, more than three quarters of respondents said that having the ability to choose causes they care about is imperative or very important to a positive donation experience.
 
Workplace giving is a valuable tool for attracting and retaining talent. Workers aren't just looking for a strong salary and an opportunity to advance their careers. They also want to work for companies that reinforce their personal values. More than 70 percent of respondents said it was imperative or very important to work for an employer where mission and values align.
 
Technology can enhance workplace giving. While values and incentives matter to workers, they also want to be able to give easily and make informed choices about their giving — both of which are aided by a strong technology platform. Nearly half of survey respondents say that an online platform is imperative or very important to their donation experiences.
 
Nonprofits face hurdles to connect with workplace donors. Workers report that they want to give to nonprofits that can clearly show that their donations will make a difference. In fact, nearly 4 in 5 workers said it was imperative or very important for nonprofits to report results and demonstrate impact. While nonprofits recognize the need to show their impact, 70 percent of nonprofit respondents to our 2014 survey said they face significant challenges in doing so.
 
Companies are on board. Perhaps the most encouraging finding is that companies recognize the philanthropic motivations of their employees — and they are taking steps to align their work with those motivations. 87 percent of companies understand there is an expectation to support causes and issues that are important to employees.
Based on these findings, Snapshot 2017 and its corresponding blog post includes recommendations for employers who want to engage their employees, amplify their programs, and truly make a difference.
Engagement programs account for more than $4 billion in charitable contributions each year. Workplace giving donors give on average five times more than traditional one-time donors, and because donations are typically deducted from paychecks all year long, it's not only less of a burden to the donor, it provides nonprofits with support they can count on all year long.
"Snapshot 2017 underscores the growing importance that giving and volunteering at work have become to American workers," added Starr. "The data show that employees across all generations—Baby Boomers, Generation X, and Millennials—want meaningful opportunities to connect with their communities and their colleagues, and they want to make a difference. There was no discernable difference between these age groups. Snapshot 2017 proves that giving and volunteering initiatives are a win-win-win for employers, employees, and causes alike."
For more information about Snapshot 2017: What US Employees Think about Workplace Giving, Volunteering, and CSR, and to download the full research report for free, visit www.charities.org/snapshot2017.
Methodology
The Snapshot 2017 survey was conducted online and includes responses from 1,586 employees collected from January 31 to April 30, 2017. These employees work in 18 industry groups, including education, financial, government, healthcare, technology, nonprofit, professional services, and consumer products. Responses were received from a diverse cross section of roles. More than 28 percent of respondents were Millennials, 33 percent were Baby Boomers, and 33 percent were Gen X-aged employees. Nearly 30 percent have been with their current employer more than 10 years while 43 percent have been with their current company fewer than five years.
About America's Charities
America's Charities is a 501(c)(3) membership-based nonprofit that inspires employees and organizations to support causes they care about. In its 35+ years as a leader in employee giving, America's Charities has raised more than $675 million for nonprofits addressing causes including education, human rights, hunger, poverty, research, animal welfare, veteran assistance, disaster relief, and health services. More information about America's Charities can be found at www.charities.org, as well as on our social media networks.
###