America Ferrera and Global Citizen Urge Latinas to #JustVote
America Ferrera and Global Citizen Urge Latinas to #JustVote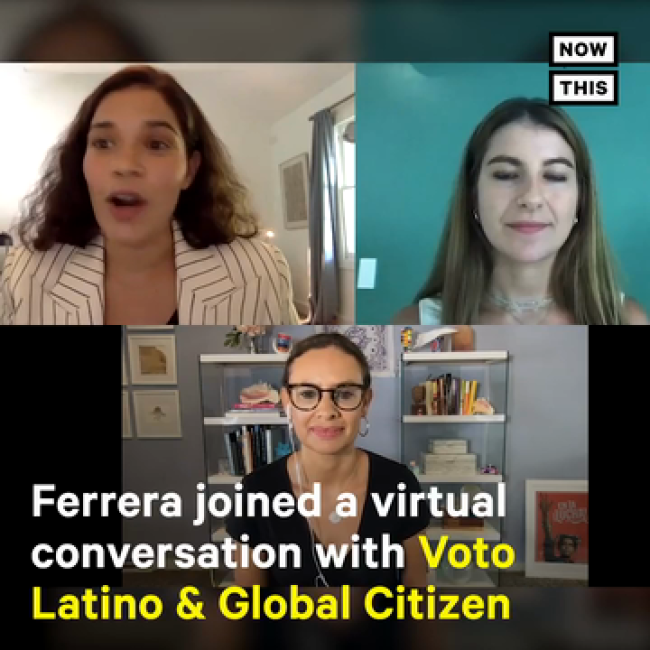 Thursday, October 8, 2020 - 10:45am
Actor and She Sepuede co-founder America Ferrera is urging Latinas to leverage their political power in the 2020 election, with the help of Voto Latino and Global Citizen. 
###
About Just Vote
Just Vote is a non-partisan, get-out-the-vote campaign launched by Global Citizen and HeadCount to mobilize support from artists, influencers, media and corporations to give young Americans the tools to use their voice in the 2020 U.S. elections. The non-partisan effort aims to engage one million young voters and get 50,000 young people registered for the first time or re-registered ahead of November 3, 2020. Visit www.globalcitizen.org/justvote to learn more.
About Global Citizen
Global Citizen is the world's largest movement of action takers and impact makers dedicated to ending extreme poverty by 2030. With over 10 million monthly advocates, our voices have the power to drive lasting change around sustainability, equality, and humanity. We post, tweet, message, vote, sign, and call to inspire those who can make things happen to act — government leaders, businesses, philanthropists, artists, and citizens — together improving lives. By downloading our app, Global Citizens learn about the systemic causes of extreme poverty, take action on those issues, and earn rewards with tickets to concerts, events, and experiences all over the world. To date, the actions of our community, along with high-level advocacy efforts and work with partners, has resulted in commitments and policy announcements from leaders valued at over $48 billion, affecting the lives of more than 880 million people. For more information, visit GlobalCitizen.org.
About HeadCount
HeadCount is a non-partisan, non-profit organization that promotes participation in democracy through music, culture, and digital media. Since 2004 the organization has registered over 700,000 voters and worked with a long list of musicians and partners including Ariana Grande, Billie Eilish, Camila Cabello, Dave Matthews Band, JAY-Z, Beyoncé, March for Our Lives, RuPaul's DragCon, MTV, and Dead & Company. With 40,000 volunteers, street teams in most major U.S. cities, and presence at more than 1,000 events each year, HeadCount ranks as one of the most active grassroots civic participation organizations in the United States. Following COVID-19 restrictions, the organization quickly pivoted to an all-digital approach that led to innovation and online initiatives to fill the needs of the public in using their voices in democracy. For more information, visit HeadCount.org.