AI Drives Data Insights for Doctors and Their Patients
How artificial intelligence and automation are enabling precision medicine to become the standard of care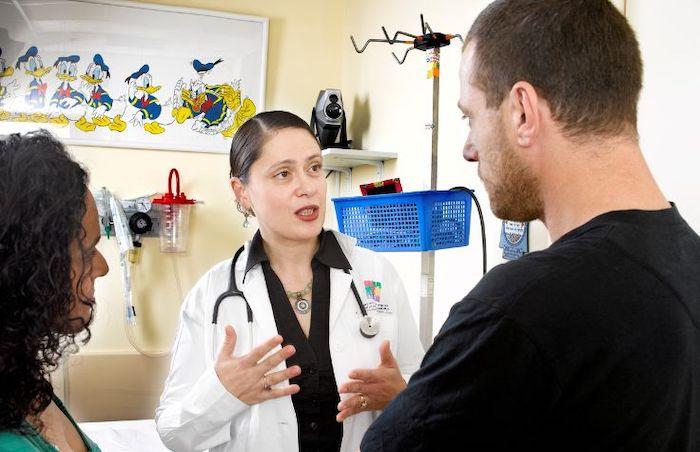 Originally published on Illumina News Center
Dr. Lina Basel-Salmon has been treating rare disease patients at Schneider Children's Medical Center of Israel and Beilinson Hospital at the Rabin Medical Center for 22 years. In the city of Petah Tikva where she practices, Dr. Basel-Salmon was an early adopter of genomics in clinical practice, using whole-genome sequencing to diagnose her patients. Dr. Basel-Salmon's Raphael Recanati Genetics Institute at Schneider-Beilinson sees 14,000 patients every year, a number that has been growing steadily. Her goal is to sequence all of the cases with suspected genetic disease.
But, when done at scale, one of the major challenges for clinicians like Dr. Basel-Salmon remains finding answers in the enormity of the genomic data. With the use of genomic sequencing increasing globally, the data generated from genomics doubles every year and is expected to reach 20 exabytes by 2024 (one exabyte equals one billion gigabytes). Machine-learning forms of artificial intelligence (AI) are increasingly being used to help process the vast quantities of genome-sequence data and automatically detect the hidden patterns in DNA with high accuracy, helping to reveal the genetic cause of an illness or condition.
Five years ago, Basel-Salmon began collaborating with Emedgene, now an Illumina company, as it had developed an AI-driven genomic interpretation software solution. She found that utilizing an AI solution that mimics the work of the geneticist overcomes many of the inherent hurdles in tertiary analysis. Bringing the clinician perspective, Basel-Salmon contributed to developing a user-friendly platform that allows clinical researchers to navigate and pull key insights from the ever-increasing volume of genomic data at their fingertips. Today the platform is used by leading medical institutions such as Boston Children's Hospital, The Mayo Clinic, SickKids Canada, and Baylor Genetics.
Basel-Salmon, who also serves as director of the Raphael Recanati Genetic Institute—the biggest genetics institute in Israel—and full professor at the Sackler Faculty of Medicine, Tel Aviv University, is continuing a research collaboration with Illumina to identify novel genetic diseases in undiagnosed patients.
Tel Aviv, not far from where Basel-Salmon practices medicine, is considered by many the Silicon Valley of Israel. The city is recognized globally as a destination for innovation and technological expertise. Last fall, Tel Aviv ranked seventh for global startups according to Startup Genome's Global Startup Ecosystem Report 2021.
Recently, Illumina established a Center of Excellence in Tel Aviv to further develop leading-edge, AI-driven interpretation technologies as part of its commitment to shorten the diagnostic odyssey—and its associated costs—for rare disease patients and their families.
The Illumina AI platform shortens the relevant lists of disease-causing variants, explains Basel-Salmon, which reduces the time and effort required to manually analyze and interpret genomic data. "Automatic variant analysis embedded in a genomics AI platform is extremely helpful in assisting teams with the variant analysis process. I believe that using an AI-driven approach will enable massive analysis and re-analysis of unsolved cases," she says. "This is very important, since we and others have reported that genomic data reanalysis can increase the diagnostic yield by up to 15 percent."
Basel-Salmon and her team observed that in more than 95 percent of the cases, the reported variants were correctly classified by the Illumina Emedgene platform. Moreover, in most of the cases the variants were ranked in order of highest probability of disease causation. "The platform helped us to pick up strong candidate variants in genes with no previously known phenotype from the sequencing data."
"AI provides an additional layer of detection abilities and security," adds Shay Ben Shachar, Director of Precision Medicine at Clalit Research Institute. The Israel-based institute is part of Clalit Health Services, a payer-provider health system with four million members. "Comparing AI-based analyses with traditional analyses taught us that sometimes only AI-based approaches enable prompt and accurate prioritization of the disease-causing variant."
"AI technologies in genomics allow us to interrogate a person's unique genetic makeup and identify disease-causing mechanisms automatically and with high accuracy," says Einat Metzer, General Manager of Genetic Diseases at Illumina. "The technology developed here in Israel will be key to overcoming genomic data interpretation bottlenecks and making genomic insights accessible to all."
Learn more about Illumina's approach to expanding access to genomics
Illumina
INNOVATIVE TECHNOLOGIES
At Illumina, our goal is to apply innovative technologies to the analysis of genetic variation and function, making studies possible that were not even imaginable just a few years ago. It is mission critical for us to deliver innovative, flexible, and scalable solutions to meet the needs of our customers. As a global company that places high value on collaborative interactions, rapid delivery of solutions, and providing the highest level of quality, we strive to meet this challenge. Illumina innovative sequencing and array technologies are fueling groundbreaking advancements in life science research, translational and consumer genomics, and molecular diagnostics.
All trademarks are the property of Illumina, Inc. or their respective owners.
For specific trademark information, see www.illumina.com/company/legal.html.
© 2022 Illumina, Inc. All rights reserved.