Add to Subtract: How Kimberly-Clark Is Boosting Sustainability With a Simple Addition to Product Packaging
Add to Subtract: How Kimberly-Clark Is Boosting Sustainability With a Simple Addition to Product Packaging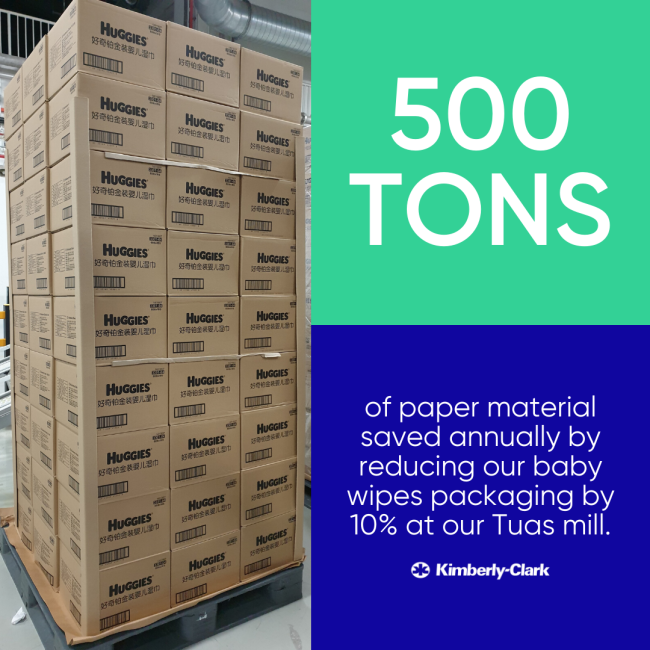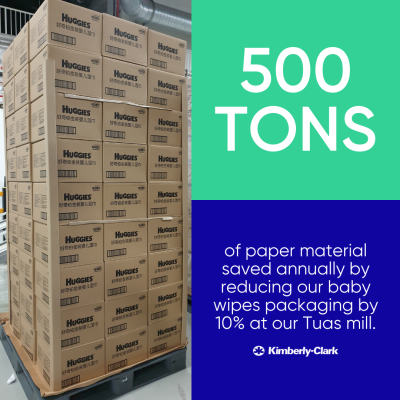 Wednesday, April 22, 2020 - 6:25pm
The sustainability teams at Kimberly-Clark know that small innovations to reduce waste can add up when it comes to protecting the environment.
Kimberly-Clark's Tuas manufacturing plant in Singapore is reducing packaging waste through their Edge Board Projector project, which improves packaging strength by adding a small cardboard edge to boxes. Prior to this initiative, Kimberly-Clark's packaging material had to be thick to withstand the stacking, distribution and delivery of the company's products. With the addition of the well-designed add-on, the team is now able to use thinner cardboard packaging material.
This simple change has reduced the thickness of the packaging material for Kimberly-Clark's baby wipes by nearly 10%. This reduction helps the mill save approximately 500 tonnes of paper material per year. In addition, this effort has increased container loading capacity by 30% and will help lower the mill's carbon footprint by 9,000 metric tonnes per year.
The improvements to the packaging efficiency and its redesign were done to help contribute to Kimberly-Clark's sustainability goals, including a 40% reduction of greenhouse gases by 2022.