3,000 Colleagues Volunteer Across US for Second Annual 21CF Impact Week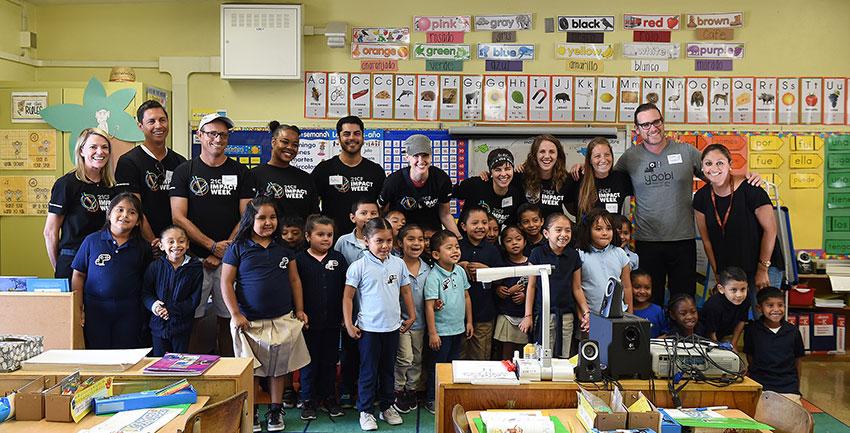 21st Century Fox Social Impact
For six days and nights in October, nearly 3,000 colleagues from across 21st Century Fox businesses gave back to the communities around them as part of the second annual 21CF Impact Week. Building on the success of 21CF's first ever company-wide week of service in 2016, which was piloted in New York and Los Angeles, colleagues in 25 U.S. cities took part in 99 service activities that benefited kids, veterans, the environment, victims of Hurricane Harvey, and many more. It is estimated that these efforts, which collectively totaled more than 9,000 hours of service, made a positive difference in the lives of more than 83,000 people. The company plans to further expand 21CF Impact Week to its global locations in 2018.
"I'm honored to work for a company that made Impact Week such an ambitious, visible initiative," one volunteer said. "I would like 21CF to continue to send the message of encouragement to employees at Fox that we are ordinary people who can do extraordinary things for other people when make a diligent community effort."
21CF worked with local leads at each of its U.S. based businesses to organize volunteer opportunities around its Social Impact focus areas: Creativity & the Arts, Sports & Well Being, Knowledge & Exploration, Sustainability & the Environment, and Diversity & Inclusion. Service projects included preparing meals for the homeless, cleaning up parks and gardens, building school libraries, packaging supplies for military servicemen and women, and mentoring local youth, among many others. 21CF Impact Week gave colleagues the chance to build thriving communities while strengthening their relationships with coworkers and forging new connections across the business.
In total, 21CF colleagues packed 45,800 pounds of food, made and served 82,884 meals, removed one ton of trash from lakes and rivers, collected 1,019 toys, and created 9,440 backpacks, kits, and care packages, culminating in nearly 9,050 hours of service.
Keep reading and view the full case study at impact.21CF.com.