3 Best Practices to Remember When Choosing a Sustainability Framework
by Laura Wise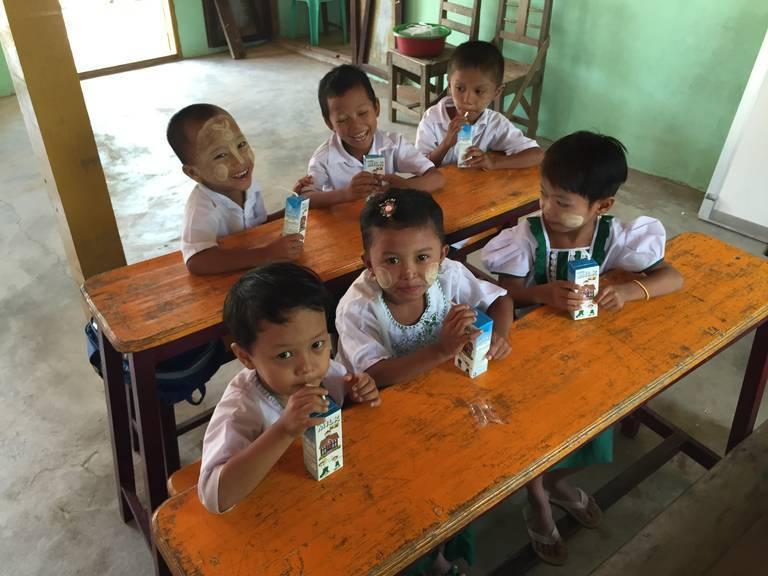 Tetra Pak's School Feeding Programmes provide nutrition for children around the globe.
Originally published on Triple Pundit
As early trading and bartering have grown into a booming, trillion dollar world economy over the last several hundred years, so has the need for companies to reevaluate how they are participating in this economy.
Year after year, surveys show that consumers are increasingly interested in sustainability. They want more information about products, about labels, and are more careful with brand choices. These growing desires are the new reality of business in the digital age and can be both a challenge and an opportunity for the business community. As consumer interest has grown, sustainability reporting has developed alongside it and is now common practice for many organizations. Yet the field of sustainability reporting can be intimidating for newcomers. CDP, DJSI, GRI, GRESB, SASB and the UN Global Compact: Where does one begin?
We sat down with Tetra Pak's Global Sustainability Leader Mario Abreu to learn more and it quickly became clear that sustainability reporting begins where many things in life often begin; from the inside out.  
Tetra Pak calls itself the world's leading processing and packaging solutions company. Their brand promise is simple: to 'protect what's good.' For Tetra Pak that means protecting food, protecting people, and protecting futures. Tetra Pak, founded in 1951 is one of three companies in the Tetra Laval Group – a private company founded in Sweden. Tetra Pak produced their first corporate environmental report in 1999 and began reporting on social indicators in 2004, the year that they signed on as a signatory to the UN Global Compact. The company recently released its 2017 sustainability report in accordance with the GRI G4 core guidelines. It also uses the CDP framework to report on climate and forest disclosure and is also reporting through a number of platforms that span environmental impact, supply chain, and human resources.
Companies who report benefit from a number of advantages including the chance to develop a strong understanding of the risks and opportunities associated with their business. In preparing for their GRI assessment, Tetra Pak conducted an independent materiality assessment. This assessment essentially allowed the company do a SWOT (strengths, weaknesses, opportunities, threats)  analysis of their business.
The assessment results helped to create a channel for internal review and discussion. Although it was a complicated undertaking, Mario is happy with the process and results, he explained:  
"I'm proud of the fact that for our materiality assessment we reviewed the comments of 3,500 consumers through a consumer survey, we conducted internal workshops and interviews with about 50 colleagues including the global leadership team, and we looked at the materiality reports of our key customers. I'm not calling it a framework, but I believe this was something that was very helpful for us. It helped to discover the 14 most material social and environmental aspects for Tetra Pak. I would recommend this, this was very constructive for us."
While companies like Tetra Pak have been reporting for years, other companies are just starting out on their reporting journey. Mario admits that assessments that might be easy or only require moderate effort for Tetra Pak might be impossible for smaller companies. But this, he believes, is why a variety of reporting techniques are necessary. He advocates strongly for companies to do what they can with the resources they have:
Reporting, he explains, "can be difficult, but it is worthwhile. On the one hand, often environmental and efficiency improvements tie into financial rewards. [Reporting] will allow you to invest money more wisely if you understand what potential risks you may have. Is water, electricity, or carbon tax going to become a concern? On the other hand, the elements essential for a report are also the elements needed to drive an efficient business and minimise business risk. There are challenges there, but there are many benefits to be reaped from putting in the time to collect the data and collect the information required to put together the reports.
So, how does one get started or grow one's reporting efforts? Based on Tetra Pak's success in the space, Mario offers three best practices:
Data Management. Tetra Pak continuously collects data from their plants and biggest suppliers. They currently use an online platform which is a big improvement over simple spreadsheets. Find a system that is tailored for employees and that's easy to use.
Materiality Assessment. It is the best way to engage and hear others and learn the nuances of your business. "At Tetra Pak, we brought together the head of corporate governance, the head of HR,  the head of supply chain, and many other leaders. We used the GRI platform and its lists; economic, environmental, and social. We looked at the lists together and decided among all of them, which is most important."
The Sustainable Development Goals (SDGs). Tetra Pak set aside time to review the 169 targets associated to the 17 SDGs. The goals are intended for society at large, so we filtered them by asking the question, 'how can we really contribute to these?'
Ultimately, nine of the 17 SDGs had business relevance for Tetra Pak. While they support all of the goals, there were some targets that made more sense for the company to pursue. "This also helps you decide what direction you want to go," described Mario,  "If we consider targets that are close to what we do, they can serve as a north star for us." 
Choosing where to start or grow your reporting journey may not be easy, but it is necessary. Successful sustainability strategies are not pulled out of the sky – they are built on the foundation of a company's values, core business, a desire to authentically connect with and engage their consumers. Reporting creates an atmosphere of learning about your business and becomes a channel for internal review and improvements. While GRI is the most widely used reporting framework, there are many others tailored to specific indicators that could be a fit for you. Do your research and create the resources and channels for the successful collection of data and information. As Tetra Pak shows, any company can improve over time by using sustainability reporting to benefit the bottom line.