10 Takeaways from Barclays' Green Frontiers Conference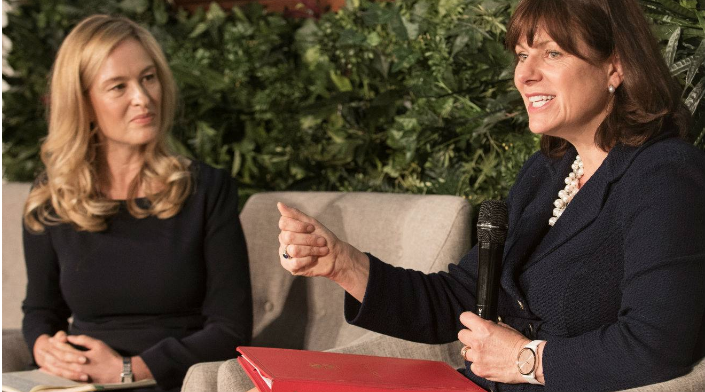 Originally published on Barclays Citizenship
Barclays' first green finance conference, held at London's Royal Geographical Society, brought together speakers from business, finance and government to explore how innovation and investment can tackle climate change.
The conference was an example of what Rhian-Mari Thomas, Chair of Barclays' Green Banking Council, calls "our convening power, that can bring together different parties to address the topic of accelerating green finance".
We highlight ten key insights from the conference:
1. Collaboration works
Panellists debated the options for accelerating the transition to a low-carbon economy. "The only way to get change is by drilling down into the very detail on how decisions are made, and how the right decisions are based on the right information," said Sir Roger Gifford, Chair of the UK Government's Green Finance Taskforce and the City of London's Green Finance Initiative. 
Gifford was keen to point out that, while there is competition between companies and countries over sustainability, there is also collaboration, with the Taskforce being a good example. "There's an enormous amount of information sharing, detailed investment decision-making type of discussion that we can have," he said. "For the Taskforce report, we talked to hundreds of different people, from across the financial services industry, and 88 different firms. That way we can drill down into the real detail of how decisions are made and how we get changes made."
2. Don't do the usual thing
Recounting how the Green Finance Taskforce was created, Claire Perry, Minister of State for Energy and Clean Growth, said: "We basically said to the country: give us your best and your brightest. Don't come and do the usual thing, where you come and speak to ministers every two weeks for the next 10 years. Come together for six months, and give us 10 things that will really move the dial in this financial space."
Rhian-Mari Thomas of Barclays was part of that group, and the report they produced is a set of recommendations on, as Perry says: "How we use finance to accelerate the transition to the low-carbon economy, but also, bolster communicating leadership in finance."
3. We're in the middle of a revolution
Taking to the stage, Sir Roger Gifford told the conference: "We are in the middle of a revolution." He continued: "These kinds of discussions, five years ago, 10 years ago, didn't exist. Now, we see the growth of interest from investors and investor institutions in green finance and green accredited bonds. That is what the Green Taskforce was really asked to focus on, how we bring finance thinking into mortgages, investment plans, saving plans, and into the minds of every household in the country. How do we do that?"
4. Involving the customer is key
Sir Ian Cheshire, Chairman of Barclays Bank UK PLC, wanted to see customers get involved in the change-to-green process – something he said that the finance sector could stimulate through the launch of green ISAs and green mortgages. "We need a reward system," he said. "A lot of our customers, especially the millennial population, are going to respond to this really well, but we have to positively market the products to consumers to help drive this change. As a chair of a UK retail bank, I'm interested in how we build the customer into this and make it more available and more transparent."
5. Barclays is a pioneer
Rhian-Mari Thomas described Barclays as a "pioneer in the green finance revolution". "We were the first UK bank to issue a green bond backed solely by UK assets," she explained. "And, last year alone, our investment bank helped clients issue more than £16bn of green bonds. We're furthering the UK's ambition to be a world leader in green finance with first-to-market products, from Green Loans to Eco Innovation Finance. We're proud to be part of the Government's Green Finance Taskforce and even prouder to be the first major UK bank to offer a green mortgage."
6. The financial sector can be a catalyst
"Finance is here to support the transition to a different type of economy," Sir Ian Cheshire told the conference. "I think this a great time to engage in this debate, but it requires two things: it requires real leadership and it requires real collaboration. Neither of those are easy and I appreciate that, particularly when you are trying to exchange an existing company's status quo and (way of) thinking.
7. The cost of carbon is unaffordable
In his closing remarks to the conference, Sir Ian Cheshire said that the climate crisis showed that the cost of carbon has become unaffordable. At the same time, transitioning to a low-carbon economy will bring benefits to businesses. "It is a national strategic objective and it also plays to our strength as a global financial centre," he said. "Governments are engaging with us and, fundamentally, every change creates opportunity."
8. Decarbonisation is an "opportunity"
Claire Perry used her speech to describe decarbonisation as an "opportunity": "It's that focus on clean growth now that has excited so many of us in this room today, and in the UK and in the world. It is absolutely possible to both grow your prosperity and decarbonise. It's about the incredible opportunity that is there as the UK and the world transitions to a low-carbon form of economic growth."
9. Green is becoming mainstream
Sir Ian concluded: "There's a real sense that things are pivoting. There's a mainstreaming in every sense – in the retail product sets and in the financial markets. The economy is changing for a whole set of reasons, including cost curves and other pressures. Fundamentally, every change creates opportunity. What we're seeing is a transition from an old-world economy to a new-world economy, and the question for us in the financial services world is: 'How do we facilitate it but how do we also make money out of it and ourselves?'"
10. The business case for green
"Climate change brings threats," Rhian-Mari Thomas told the conference, "but it also brings opportunities for established businesses and entrepreneurs. At Barclays, we want to help our clients realise those opportunities and thrive in a world that is better for everyone."
Expanding on Thomas' sentiments, Sir Ian Cheshire added: "We are beginning to shift our product suite, and our conversation with our customers, towards green products. There are some real opportunities on the back of that, in terms of green finance and green growth, which are going to be given serious, top-level political backing. So, one of the questions for us is what can the finance sector do to try and enable that – shine a spotlight on it? From the Barclays point of view, we are very pleased with the progress we have made in the last year, but intend to very fully play a much bigger role."