1 Trillion Gallons of Water Being Recycled Using Xylem Technology
Company's 2020 Sustainability Report tracks progress in tackling critical global challenges of water access, affordability and resilience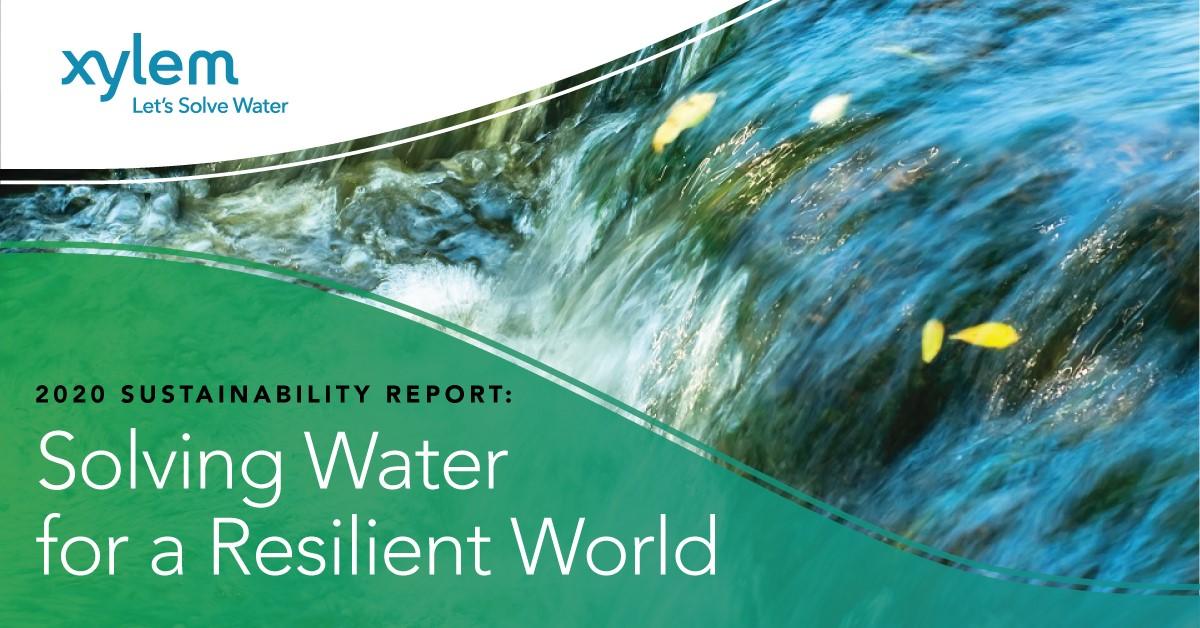 RYE BROOK, N.Y., June 1, 2021 /3BL Media/ - Xylem (NYSE:XYL), a leading global water technology company, is helping its customers re-use more than one trillion gallons (4.3 billion cubic meters) of water, according to its 2020 Sustainability Report, Solving Water for a Resilient World, released today. The company's technology also prevented 369 billion gallons (1.4 billion cubic meters) of polluted water from potentially flooding communities and entering local waterways. Water re-use and pollution prevention are two of Xylem's signature sustainability goals, targeted for achievement by 2025.
Deployment of advanced water technologies is driving the dramatic sustainability gains, around the world. The City of South Bend, Indiana, optimized its existing wastewater network with artificial intelligence systems to deliver an 80% reduction in sewer overflows. A treatment plant in Cuxhaven, Germany, cut aeration energy use by 30% using Xylem technology. And a water utility in Malaysia identified more than 300 leaks in its network using sophisticated in-pipe sensors, helping dramatically reduce the loss of treated water.
"Bringing access to sustainable, clean and affordable water to more people around the world — while protecting the environment — is both our purpose and our business," said Patrick Decker, Xylem's president and CEO. "The achievements detailed in this report show how, together, our colleagues and our customers are making a big difference in our communities. Technology can do a lot to make the world more sustainable and more resilient, but these results come from the commitment, dedication, and even heroism of the people we're so privileged to serve and work with, every day. It's within our power to solve urgent challenges like water scarcity and affordability, now, and create a more water-secure world for future generations."
In 2020, Xylem made significant progress toward its sector-leading 2025 signature sustainability goals, despite the additional challenges of COVID-19. Through its advanced products and technologies, the Company helped customers reduce their carbon footprint by 0.7 million metric tons of CO2, equivalent to keeping 150,000 passenger cars off the road for a year. Xylem is now running almost half its major facilities on 100% renewable electricity, and has committed to transition its global vehicle fleet to electric and hybrid, targeting an initial 45% reduction in fleet CO2 emissions by 2023.
In addition to advancing its existing sustainability goals in 2020, Xylem made new commitments to address the pandemic's impact, around the world. The Company doubled philanthropic investments and extended new support to employees, business partners and the communities they serve. It also expanded relationships with its global NGO partners, like Americares and UNICEF, supporting 4.1 million people in underserved communities to get access to water and sanitation and providing 3.6 million people with water education to raise awareness and improve their quality of life.
"As a company, we recognize the opportunity we have to lead, given the breadth of our technologies and our global reach," said Claudia Toussaint, Xylem's Chief Sustainability Officer. "We navigate difficult times in ways that make us stronger and more resilient — and support our customers and communities to do the same. With that mindset, we pulled together across our organization, and with our partners around the globe, to help mitigate the impacts of COVID-19 while continuing to deliver on our sustainability commitments."
"If anything, the pandemic has made the economic and social value of water networks and other critical infrastructure more apparent than ever," continued Toussaint. "We know they are always essential, but we all learned how critical they are in times of crisis. They're also a potential driver of economic recovery, and a pre-requisite for broad-based prosperity. The shocks of the last year have heightened everyone's awareness of the need for greater resilience and equity, and the imperative of a sustainable future."
Among the actions and achievements from 2020 detailed in the GRI-compliant report, additional highlights include:
Raising $1 billion in a green bond offering – the first of its kind for a US industrial company;
Reducing company water use intensity by 30% over the last six years – nearly 10% versus 2019, alone;
Reducing company net greenhouse gas emissions intensity by over 7% versus 2019;
Committing to a sustainable fleet strategy to transition the global vehicle fleet to electric and hybrid;
Launching a U.S. supplier diversity program;
Increasing transparency in its supply chain by engaging suppliers to report into EcoVadis and CDP and take the WASH pledge.
Further aligning business and sustainability performance by tying five key 2025 sustainability goals to long-term incentives for an expanded group of executives.
To learn more about Xylem's sustainability progress, download Solving Water for a Resilient World.
About Xylem
Xylem (XYL) is a leading global water technology company committed to solving critical water and infrastructure challenges with innovation. Our more than 16,000 diverse employees delivered revenue of $4.88 billion in 2020. We are creating a more sustainable world by enabling our customers to optimize water and resource management, and helping communities in more than 150 countries become water-secure. Join us at www.xylem.com.
Media
Houston Spencer
+1 (914) 240-3046
Houston.Spencer@xyleminc.com