American Cancer Society
Cancer Research, Prevention and Community Health News & Media
American Cancer Society
Campaigns
American Cancer Society: Behind the Science is a video series featuring American Cancer Society experts that is aimed at increasing awareness about emerging issues in cancer science.
During the 9th annual Coaches vs. Cancer Suits & Sneakers awareness weekend on January 27-29, nearly 1,000 basketball coaches across the United States will swap their loafers for sneakers in support of the American Cancer Society's mission to save lives and create a world...
Pages
American Cancer Society ON SOCIAL MEDIA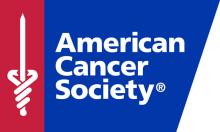 More than one hundred years ago the American Cancer Soceity began the fight of a lifetime — the fight against cancer. Now it's time to join together to finish the fight. The American Cancer Society (ACS) works relentlessly to save lives and create a world with less cancer and more birthdays. Together with millions of our supporters worldwide, we're helping people stay well, helping people get well, finding cures, and fighting back against cancer. 
To learn more about us or to get help, call us anytime, day or night, at 1-800-227-2345 or visit cancer.org.