Why a Car Company has a Pollinator Program
Why a Car Company has a Pollinator Program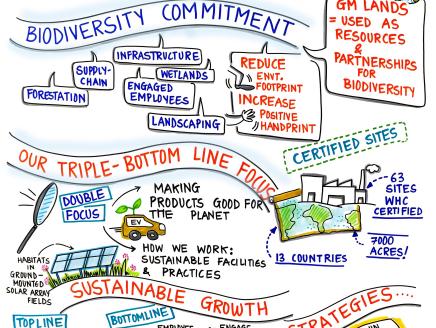 tweet me:
Why a car company has a #pollinator program @GM http://bit.ly/2uptR9B
Wednesday, July 5, 2017 - 11:30am
GM is committed to using its lands to increase and promote native biodiversity – and it encourages other companies to do it, too. Presenting at the Electric Power Research Institute Conference, Sue Kelsey, GM's global biodiversity program manager, shared benefits of making commitments related to sustainable growth. Below is an illustration of her comments, drawn by Nitya Wakhlu of Drawbridge Innovations LLC, which explored how pollinators help GM reduce its environmental footprint and maximize community impact.
Read more about what companies can do to protect the nation's pollinators.
More From General Motors
Thursday, May 14, 2020 - 10:05am
Monday, April 20, 2020 - 10:30am
Tuesday, March 31, 2020 - 12:00pm