What Ecolab Learned From the WEC Gold Medal
What Ecolab Learned From the WEC Gold Medal
by Emilio Tenuta – Vice President of Corporate Sustainability, Ecolab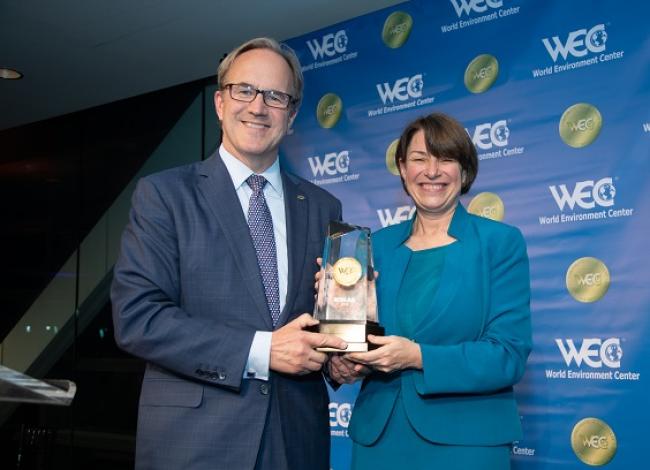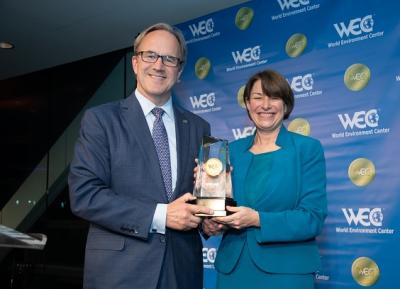 tweet me:
Considering applying for the @WorldEnvCenter Gold Medal? See lessons learned from @Ecolab, the 34th Gold Medal winner. #WECGoldMedal #Sustainability #SustainabilityAwards http://bit.ly/2KAr300
Wednesday, August 8, 2018 - 12:00pm
It's been three months now since Ecolab had the honor of receiving the WEC Medal for International Corporate Achievement in Sustainable Development. And while the afterglow of that evening is fading – slowly – and the photos of our team receiving the award have come down from digital signage screens in the lobby of our headquarters building in Saint Paul, Minn., our efforts in sustainability aren't slowing down. Quite the contrary.
If anything, winning the Gold Medal has strengthened our conviction that we have a unique role to play in advancing sustainable practices in today's global corporate landscape. Shortly after the WEC award ceremony in Washington, D.C., we published our annual corporate sustainability report, entitled "Catalyst for a Better World." That phrase encapsulates our purpose and our ambition going forward.
In chemistry, a catalyst is a substance that causes or accelerates a reaction. Ecolab plays that role in business, because our work helps our customers around the globe achieve their sustainability goals. That's why our impact in the world is orders of magnitude greater than what would ordinarily be expected of a company our size.
The World Environmental Center's jury of independent experts, in its official award citation, said much the same: "Ecolab's sustainability goals cover not only on its own footprint, but are mainly focused where its impact can make the most difference – reducing its customers' water and energy consumption."
To give you an idea of how that plays out in the real world, here are some numbers from our sustainability report, which covers our results in 2017. In that year, we helped our customers:
Save more than 171 billion gallons of water, equivalent to the drinking water needs of 590 million people, as well as 12 trillion BTUs of energy.
Generate more than 20 percent of the world's power, safely produce 25 percent of the world's processed food, and support clean restaurant kitchens serving 45 billion meals.
Prevent more than one million foodborne illnesses and reduce the risk of Hospital-acquired infections for as many as 10,000 people.
Meanwhile, we are on track toward our goals of reducing greenhouse gas emissions in our own operations by 10 percent by 2025 and conserving 300 billion gallons of water within our own and our customers' operations by 2030. That's equivalent to the annual drinking water needs of more than one billion people.
The good news is that sustainability is gaining importance as a business driver around the world. Companies everywhere strive to lower their impact on the planet and positively benefit the communities in which they operate.  The good intentions are there, but the fact is that many companies are still in the process of determining how to turn these ambitions into tangible reality.
That's where Ecolab comes in. With the solutions we offer, we enable the customers we serve at nearly three million locations in more than 170 countries around the world reduce costs and boost operational efficiency, while cutting water use, energy and waste at the same time.
When the profit motive and the good of the planet come together, positive change is ready to happen. All that's needed is a catalyst to bring the elements together in the right configuration and speed up the reaction. That's the role Ecolab has carved out for itself. Being awarded the WEC Gold medal was not only much appreciated recognition for us – it's also an impetus to redouble our efforts.