[Webinar] "Owning" Your Most Significant Personal Information
[Webinar] "Owning" Your Most Significant Personal Information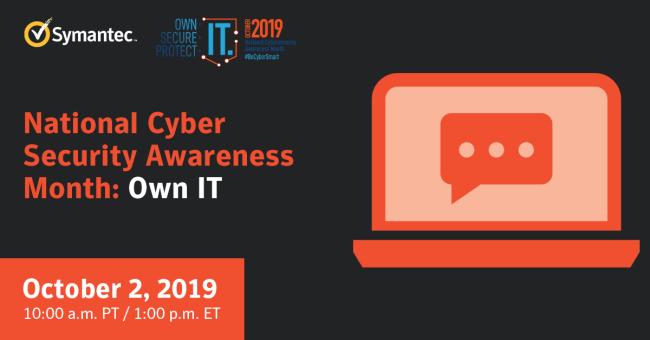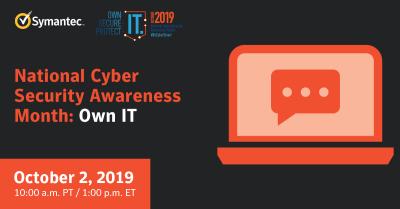 tweet me:
Join @Symantec, @NationalPTA, @connectsafely, and @StaySafeOnline on October 2nd at 1pm ET for a webinar to learn how #BeCyberSmart and protect the devices you use day to day. Register now: https://symc.ly/2m4p8L5 #CyberSecurity #ncsam
Friday, September 27, 2019 - 12:05pm
Start October strong with Symantec and NCSAM partners, the National PTA, Connect Safely and the National Cyber Security Alliance, to learn how to protect the devices you use day to day. Understanding how to protect your most significant personal information is crucial in this world of constant connection. We will focus on elements of home and family and the topics will include:
Safe social media
Updating your Privacy Settings
Best practices for device applications (apps)
Speakers: Paige Hanson (Norton LifeLock), Collin Robinson (National PTA), Larry Magid (Connect Safely) and Kelvin Coleman (National Cyber Security Alliance)
Symantec is committed to promoting cyber security awareness not only in the month of October, but year-round. Be sure to attend Symantec's upcoming webinars throughout the month & download resources at our #BeCyberSmart Page.
More From NortonLifeLock
Thursday, February 6, 2020 - 4:30pm
Tuesday, December 10, 2019 - 3:05pm
Wednesday, December 4, 2019 - 3:15pm