Waste Not, Want Not: Rubbish Processing Company Creates Jobs While Transforming Waste Into Fuel, Compost and Recycled Goods
Primary tabs
Waste Not, Want Not: Rubbish Processing Company Creates Jobs While Transforming Waste Into Fuel, Compost and Recycled Goods
Saahas Zero Waste champions innovative waste reduction solutions in India, which protect environment while providing reliable work for informal sector workers.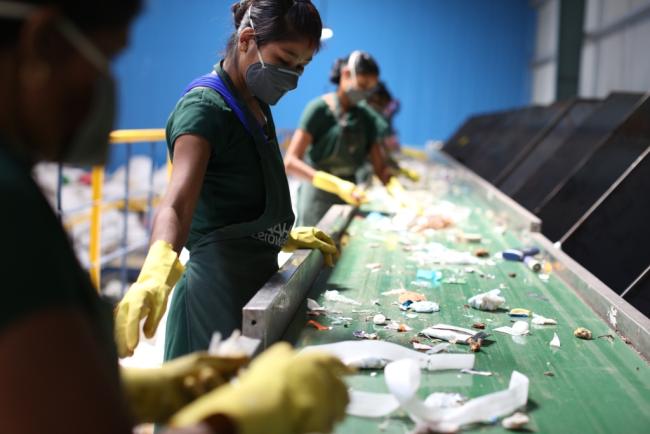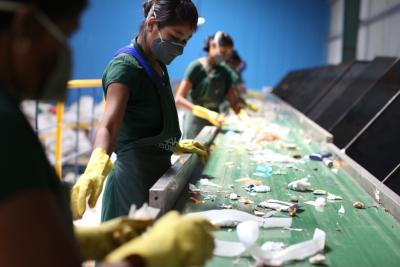 tweet me:
.@SaahasZeroWaste creates jobs while transforming waste Into #fuel, #compost and #recycled goods http://bit.ly/2SO4D0a @BCtAInitiative #sustainability
Friday, January 11, 2019 - 1:30pm
BENGALURU, India, January 14, 2019 /3BL Media/– Recognising the substantial environmental impact urban waste has in India, waste processing company Saahas Zero Waste has joined Business Call to Action with a pledge to dramatically reduce the amount of waste destined for landfill by converting 122 tonnes per day into gas, compost and recycled products, while providing work for approximately 800 low income earners, including women, by 2021.
Launched in 2008, BCtA aims to accelerate progress towards the Sustainable Development Goals (SDGs) by challenging companies to develop inclusive business models that engage people with less than US$10 per day in purchasing power (in 2015 dollars) as consumers, producers, suppliers and distributors. It is supported by several international organizations and hosted by the United Nations Development Programme (UNDP).
India generates over 150,000 tons of municipal solid waste per day. Most of this ends up either being burnt or dumped in water bodies, landfills or left in the open, which results in air, water and soil pollution. Compounding this, most of the waste management sector in India today is informal, where health and safety standards are disregarded, and vulnerable people living at the bottom of the economic pyramid (BoP) are exploited.
Saahas Zero Waste (SZW) has turned this issue into an opportunity by working to recycle waste and help formalise the waste management sector. According to SZW, up to 90 percent of resources can be recovered from waste, if managed close to the source by trained personnel. SZW runs decentralized waste processing facilities which turn biodegradable waste (about 60 percent of total waste) into compost, which can be used to replenish soil nutrients, or biogas, an environmentally friendly alternative to fossil fuels. Remaining waste that can be recycled is sent to authorised end destinations to be turned into new products, and the remaining 10 percent is sent to landfills for final disposal.
While the informal waste management sector in India plays a critical role in collection and bringing recyclables back into the value chain, workers have little or no access to minimum wages, social security benefits, personal protective equipment and other safety, health and environmental practices. To address this, SZW requires that all its partner industry actors must comply with minimum standards of health, safety and environmental protection and ensure than no child labour is used in its operations. In this way, SZW's operations play a supportive role in formalising the waste management industry, including implementation of safety standards and compliance with law, a reduction in exploitation of vulnerable people, and contribution to the economy and state revenues.
SZW works with large technology and educational campuses, residential complexes and other bulk waste generators (premises generating more than 100 kgs of waste per day) to implement segregation at source, onsite management of biodegradable waste, transportation of other solid waste for further segregation at its materials recovery facility and finally to appropriate recycling facilities and co-processing units such as cement kilns and waste to energy plants.
All waste management activities such as collection, sorting, baling and composting are done by SZW employees, approximately 80 percent of whom are female low income earners. In this way, SZW is helping to create dignified, sustainable and safe livelihoods for them.
"Our workers have reported that since joining us, they have increased their household incomes. Regular incomes have also enabled employees to buy essential household items that have improved their quality of life," said SZW CEO Wilma Rodrigues.
"Saahas Zero Waste is not only tackling a monumental waste issue, which will have a positive impact both on the environment and the communities where it operates, but it is transforming the lives of the people it employ and in particular, improving the lives of vulnerable women in India," said Paula Pelaez, Head of Business Call to Action. 
For Further information 
BCtA: bcta.secretariat@undp.org
BCtA membership does not constitute a partnership with its funding and programme partners, UNDP or any UN agency.
About Business Call to Action (BCtA)
Launched at the United Nations in 2008, BCtA aims to accelerate progress towards the Sustainable Development Goals (SDGs) by challenging companies to develop inclusive business models that offer the potential for both commercial success and development impact. BCtA is a unique multilateral alliance between key donor governments including the Dutch Ministry of Foreign Affairs, Swedish International Development Cooperation Agency (Sida), Swiss Agency for Development and Cooperation, UK Department for International Development  and the United Nations Development Programme — which hosts the secretariat. For more information, please visit www.businesscalltoaction.org or on Twitter at @BCtAInitiative.
About Saahas Zero Waste
Saahas Zero Waste (SZW) is a socio-environmental enterprise that believes in a circular economy, where all waste is converted to resources. SZW provides waste management solutions to its clients including onsite management of wet waste and onward transportation of other categories of waste to authorised end destinations. SZW assists entities in complying with their extended producer responsibility with respect to plastic and e-waste by developing and implementing reverse logistics. Finally, closing the loop, SZW offers products such as stationary items, roofing sheets, clothing, backpacks and chipboard, made from certain types of waste.
More From Business Call to Action (BCtA)
Friday, April 26, 2019 - 11:40am
Thursday, April 25, 2019 - 9:05am
Thursday, April 18, 2019 - 12:05pm