WBCSD's Panorama Podcast | Cities' Response to Climate Change
WBCSD's Panorama Podcast | Cities' Response to Climate Change
tweet me:
Don't miss the latest Panorama #Podcast: @WBCSD, @c40cities & @arcadisglobal discuss how cities' response to #ClimateChange http://apple.co/2A3tgNz #ClimateAction #SDGs
Multimedia from this Release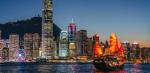 Friday, May 11, 2018 - 8:50am
As the world becomes more urban, our cities are under increasing pressure to take the lead on sustainability. How have cities responded to this challenge? And what action is business taking? To answer these questions, and many more, we speak with Bianca Nijhof, Global Sustainability Program Manager at Arcadis and Simon Hansen, Director of Regions at C40.
Don't miss an episode! Subscribe, rate and share WBCSD's new Panorama Podcast on iTunes. 
More From World Business Council for Sustainable Development (WBCSD)
Wednesday, January 13, 2021 - 4:00pm
Monday, January 4, 2021 - 8:20pm
Monday, January 4, 2021 - 8:10am
Videos from World Business Council for Sustainable Development (WBCSD)