Vegan Soul Food: Improving Health "One Chew at a Time"
Vegan Soul Food: Improving Health "One Chew at a Time"
Chef GW Chew's plant-based meat substitutes are going from restaurant to supermarket with support from a Wells Fargo diverse small business program.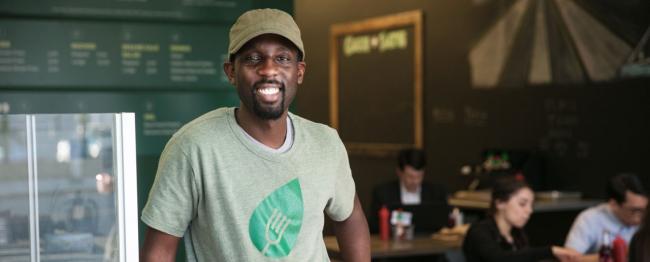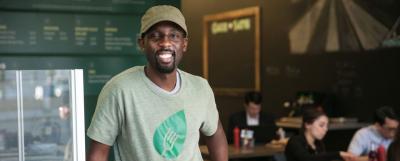 tweet me:
Vegan soul food: Improving health "one chew at a time" http://bit.ly/2TmHOFb
Friday, March 8, 2019 - 8:00am
March 7, 2019
Jennifer Donaldson
Wayne Thompson
If it looks like steak and tastes like steak, it must be steak, right?
Nope.
To Chef GW Chew, it's something even better: a vegan Philly cheesesteak. His "Philly Cheeze Steak" sandwich — "cheeze" instead of "cheese" since it's not made from milk — is one of several plant-based food offerings at The Veg Hub, a restaurant he founded in Oakland, California.
"I grew up as a kid eating fried chicken and ribs and other fatty foods that we now know have a direct impact on health," said the Bay Area-based restaurateur, cook, pastor, entrepreneur, and vegan advocate.
"Food is a life-or-death issue," Chew said. "Having healthier food options that taste amazing — but don't have the same risks that overconsumption of meats brings — can have a big impact, not just on the environment and health, but on families."
After founding The Veg Hub in 2016, Chew is now gearing up to take the mission of his Something Better Foods Inc. business far beyond the restaurant: In July, he plans to start selling his company's Better Chew brand of meat and chicken substitutes at 44 Whole Foods supermarkets in Northern California.
His company's expansion is the latest success stemming from the Wells Fargo Works for Small Business®:Diverse Community Capital program, which began in 2015 to help diverse small businesses like Chew's by providing resources to Community Development Financial Institutions, or CDFIs.
To date, Wells Fargo has provided $94.8 million in grants and capital to 92 CDFIs, like Working Solutions in the San Francisco Bay Area, which, in turn, make loans to help small businesses that typically can't access conventional financing.
"Our focus is startup and early-stage businesses that we know are not going to be able to receive capital through traditional bank financing and who have very limited access to capital," said Working Solutions CEO Sara Razavi.
In Chew's case, Working Solutions provided him the $50,000 loan in October 2017 that he used to acquire a manufacturing site in Vallejo, California — and the all-important guidance his business needed about profit margins, pricing, packaging, and other essentials to win the Whole Foods order.
That support, in turn, prompted other investors to buy in — allowing Something Better Foods to raise nearly half a million more dollars, Chew said.
According to Opportunity Finance Network's evaluation of the Diverse Community Capital program, it has allowed CDFIs like Working Solutions to make at least 8,000 loans so far to diverse small businesses — creating and retaining at least 45,500 jobs to help strengthen communities.
Connie Smith, who manages the program for Wells Fargo, said the number of loans to diverse small businesses and resulting job creation and retention will rise as the program continues.
The Wells Fargo Foundation has committed $100 million to continue and expand the program through 2020. Smith said that CDFI-awarded money through the Diverse Community Capital program has benefitted borrowers in 36 states, the District of Columbia and Puerto Rico, including residents of communities in both rural counties and urban centers.
"Chef Chew is the perfect example of how supporting CDFIs leads to empowered business owners, growing businesses and strengthened communities," Smith said. "Many local economies rely on the services, goods, and job opportunities created by diverse small business owners, and we are committed to supporting the growth and success of those business owners by helping them access the resources they need."
Wells Fargo launched the program after its Small Business Diverse Segments Lending Study found diverse small business owners needed more help in building credit and getting financing.
A personal mission

Chew points to several reasons why he started Something Better Foods: his father's death at age 62 and the void his loss created; countless studies that show urban communities in food deserts; and research findings that African Americans have much higher rates of heart disease, diabetes, cancer, and other diseases than the general population.

According to the American Heart Association, African Americans in the U.S. have the highest prevalence of high blood pressure in the world. When it comes to diabetes, a 2017 National Institutes of Health study found that African Americans will have 66 more cases than other ethnicities for every 1,000 cases diagnosed of Type 2 diabetes alone.

After 15 years of trial and error, Chew has patented a process taking ingredients like garbanzo beans, soybeans, brown rice, and other grains and vegetables, to recreate the taste and texture of the foods they replace. The "cheese" in his 3 Cheeze Mac-n-Cheeze and on his Philly Cheeze Steak? No dairy here. It's made from cashews and carrots.

Along the way, he's won over business competition judges, food critics, and fitness coaches alike.

Oakland health coach Mario Catley said Chew's test kitchen at The Veg Hub is the first stop whenever his clients want to eat healthier but aren't sure how. Chew, who regularly teaches cooking classes to school children and adults, is always glad to oblige.

"When my clients come here and see they can still have their Philly cheesesteak, their teriyaki wraps, and soul food plates, they say, 'Wow, I didn't know I could enjoy the foods I'm used to and still be on a plant-based diet,'" Catley said. "Chef Chew's Something Better Foods is one of the huge staples in the Bay Area when it comes to plant-based nutrition in the community."

'A great product'

Patrick Wyman, the local forager for Whole Foods in Northern California and Reno, Nevada, said Chew and his food first caught his eye at the Food Funded event of Slow Money California in 2016.

"One of our core values as a company is to nurture our local communities, so it dovetails perfectly with what Chef Chew is up to with Something Better Foods," Wyman said. "Natural foods, and in general plant-based foods, is a huge growth area and so having somebody that we could work with that could produce some products and go in a niche that we have was attractive.

"You first have to have a great product and have a tie to the community and mission behind it, and Chef Chew's 'Better Chew' products have all three," Wyman said. "He's very skillfully mimicked the taste and mouth feel of traditional recipes and offered an alternative and healthier product than meat-based products."

'One chew at a time'

Chew said that his research shows plant-based foods have multigenerational appeal.

The market is growing 6.6 percent year over year, he said, and the U.S. market is set to reach $5.2 million by 2020.

Leading the way, Chew said, are flexitarians who don't want to eliminate meats entirely from their diet but want to include more plant-based foods.

He notes a recent Gallup poll that showed the percentage of Americans identifying as vegan has remained relatively unchanged for 20 years while meat reduction is rising — so much so that sales of plant-based food grew 8.1 percent in 2017 and exceeded $3.1 billion last year.

"One of the things about being an entrepreneur is you control your own destiny," Chew said about the manufacturing business that will employ about 12 people and generate nearly $5 million in sales post-launch.

"For me, it's all about the mission: Changing lives one chew at a time."
More From Wells Fargo & Company
Thursday, June 18, 2020 - 1:35pm
Friday, June 12, 2020 - 1:20pm
Thursday, June 11, 2020 - 9:15am