United Way Greater Toronto Launches $110 Million Fundraising Campaign
United Way Greater Toronto Launches $110 Million Fundraising Campaign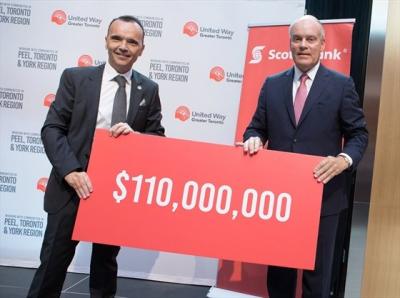 tweet me:
"Giving back is an important part of Scotiabank's corporate culture. It's an honour for me to serve as the chair of the most ambitious fundraising campaign in @UWGreaterTO history" Brian Porter, Scotiabank President and CEO. @ScotiabankViews http://bit.ly/2NkRgpP
Wednesday, September 19, 2018 - 9:45am
The United Way Greater Toronto has launched its most ambitious fundraising campaign ever.
The organization that serves Toronto, and York and Peel regions is embarking on a $110 million fundraising campaign, it announced at its launch event at Scotiabank in Toronto Monday, Sept. 17.
Funds raised in this campaign will support the fight against poverty through a network of agencies that help people when and where they need it the most.
This year's campaign chair is Scotiabank president and CEO Brian Porter.
For more information, visit www.unitedwaygt.org.
More From Scotiabank
Tuesday, December 1, 2020 - 1:35pm
Monday, November 30, 2020 - 9:15am
Monday, November 30, 2020 - 9:15am