U.S. Soccer Sponsor Enters Equal Pay Fight on Women's Side
U.S. Soccer Sponsor Enters Equal Pay Fight on Women's Side
Procter & Gamble urged the federation "to be on the right side of history," and donated more than $500,000 to the team's players association.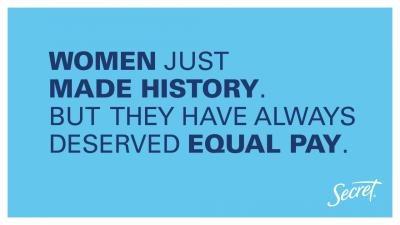 tweet me:
.@SecretDeodorant, @ProcterGamble taking action to help close the @USWNT gender pay gap by giving $529K ($23k x 23 players) to the @USWNTPlayers. #WeSeeEqual #EqualPay #PayThem #USWNT #USWNTPA #DontSweatFairPay #ASNS http://bit.ly/2k0KBUd
Monday, July 15, 2019 - 2:50pm
One of U.S. Soccer's official sponsors has sided with the World Cup-winning United States women's team in its fight with the federation for equal pay, urging its partner, the governing body for soccer in the United States, "to be on the right side of history."
The sponsor, Procter & Gamble, declared its support for equal pay in a full-page advertisement in Sunday's editions of The New York Times.
More From P&G
Monday, March 16, 2020 - 9:15am
Thursday, March 12, 2020 - 9:35am