Tod Christenson Announces Retirement as BIER's Executive Director
Tod Christenson Announces Retirement as BIER's Executive Director
Associate Director Nick Martin to Transition into the Role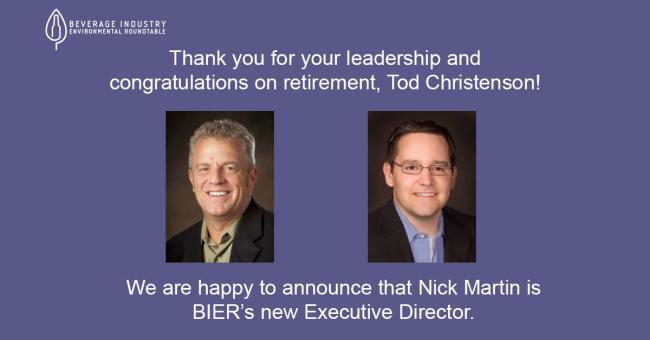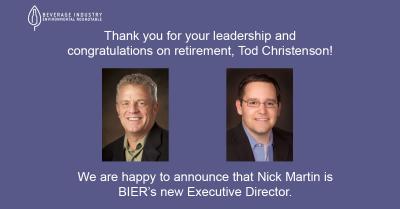 tweet me:
BIER Executive Director Tod Christenson @SustainTodC is retiring and Nick Martin @AnteaSustain is set to transition into the role effective 5/31/18 bit.ly/NewBIERDirector
Wednesday, May 30, 2018 - 11:10am
May 30, 2018 /3BL Media/ - Effective May 31, 2018, Tod Christenson will be formally retiring from his role as Executive Director of the Beverage Industry Environmental Roundtable (BIER). As one of the original founders of the group back in 2006, Tod has been instrumental in the growth and evolution of the roundtable and in the success of its many initiatives.
"I want to offer my thanks and appreciation for the trust you have extended to me, and the sincere friendships that have developed," says Christenson. "Thank you all for your confidence and for letting me learn through you." His final BIER meeting occurred last week at the spring gathering in Copenhagen, and his final work product will be the soon-to-be-released update to the Beverage Industry Sector Guidance for Greenhouse Gas Emissions Reporting.
Stepping into the Executive Director role will be current Associate Director Nick Martin, who facilitates our Water and Technology working groups and has been with BIER since its inception. Says Martin, "I'm honored to be stepping into the big shoes Tod will be leaving behind. BIER has some exciting projects on the horizon, and I am excited to play a role in guiding and growing this great group of industry-leading companies."
We join with all the BIER member organizations and participants (past and present) in thanking Tod for his hard work and dedication. We wish him the best in his retirement and are grateful for his leadership. And we're thrilled knowing that Nick will lead us in advancing collaboration and accelerating to sustainable impact for the beverage industry and beyond.
About BIER
The Beverage Industry Environmental Roundtable (BIER) is a technical coalition of leading global beverage companies working together to advance environmental sustainability within the beverage sector. BIER aims to affect sector change through work focused on water stewardship, energy efficiency and climate change, beverage container recycling, sustainable agriculture, and eco-system services. BIER members include: American Beverage Association, Anheuser-Busch InBev, Bacardi, Beam Suntory, Brown-Forman, Carlsberg Group, The Coca-Cola Company, Constellation Brands, Diageo, Heineken, Jackson Family Wines, New Belgium Brewing, MillerCoors, Molson Coors, Pernod Ricard, Ocean Spray Cranberries, and PepsiCo. For more information, visit www.bieroundtable.com.
More From Beverage Industry Environmental Roundtable
Thursday, June 18, 2020 - 12:15pm
Wednesday, May 20, 2020 - 2:10pm
Thursday, May 14, 2020 - 12:15am