Symantec Once Again Named a Sustainability Leader on Both the Dow Jones Sustainability (DJSI) World and DJSI North America Indices
Symantec Once Again Named a Sustainability Leader on Both the Dow Jones Sustainability (DJSI) World and DJSI North America Indices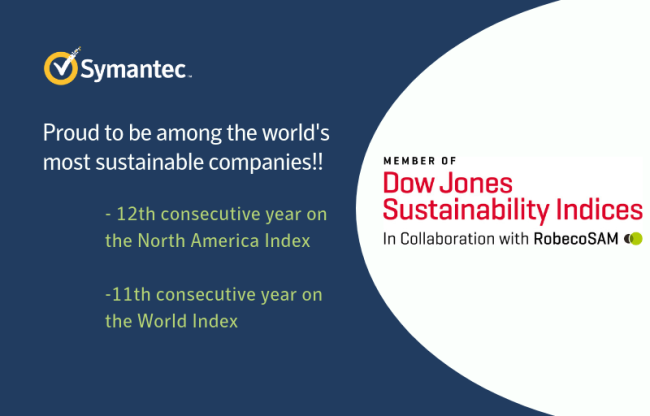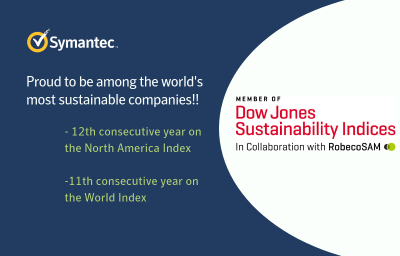 tweet me:
.@Symantec is proud to be included among the world's most #susty companies in the #DJSI for the 11th consecutive year @RobecoSAM http://bit.ly/2MxAr5x
Friday, September 21, 2018 - 10:05am
Symantec is once again named a Sustainability Leader on both the Dow Jones Sustainability (DJSI) World and DJSI North America indices along with just a handful of other software technology companies. This is our 12th consecutive year listed on the North America Index and our 11th consecutive year on the World Index. The DJSI World represents the gold standard for corporate sustainability and is the first global index to track the leading sustainability-driven companies based on RobecoSAM's analysis of financially material Environmental, Social, and Governance (ESG) factors and S&P DJI's robust index methodology.  RobecoSAM assesses the world's largest companies via its annual Corporate Sustainability Assessment (CSA), which uses a consistent, rules-based methodology to convert an average of 600 data points per company into one overall score. This score determines inclusion in the DJSI. As more companies dedicate themselves to sustainable business practices, the number of companies that want their efforts measured and assessed via the CSA continues to rise (+5% in 2018).
More From NortonLifeLock
Thursday, July 23, 2020 - 10:00am
Monday, July 20, 2020 - 10:00am
Thursday, July 9, 2020 - 1:05pm