Stakeholders Share Views for Advancing SDGs
Stakeholders Share Views for Advancing SDGs
by Catherine Benson Wahlén, Thematic Expert for Human Development, Human Settlements and Sustainable Development (US)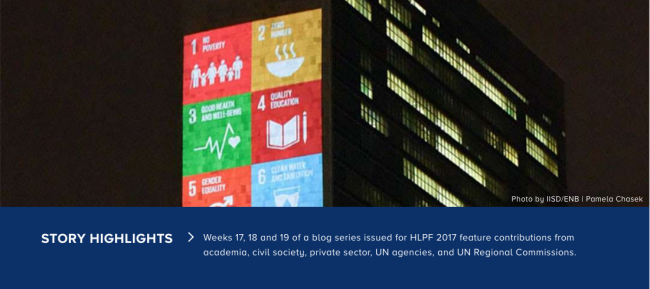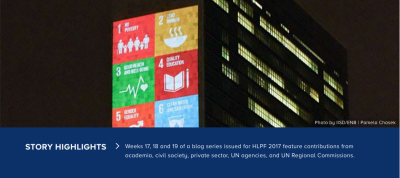 tweet me:
#Stakeholders Share Views for Advancing #SDGs http://bit.ly/2u0QSTN via @IISD_SDGs @WBCSD
Wednesday, August 30, 2017 - 8:25am
Representative of UN agencies, UN Regional Commissions, academia, civil society, and the private sector share multifaceted perspectives and recommendations for the implementation of the Sustainable Development Goals (SDGs) in a blog series managed by the UN Division for Sustainable Development (DSD).
DSD developed the blog series for the 2017 session of the High-level Political Forum on Sustainable Development (HLPF), which took place from 10-19 July 2017 at the UN Headquarters in New York, US.
Irge Olga Aujouannet, World Business Council on Sustainable Development (WBCSD), writes that business will have a critical role in achieving the SDGs, as a source of innovation, finance, economic growth and employment. She further highlights the role of the SDGs in providing business with opportunities to: better manage their risks; anticipate consumer demand; build positions in growth markets; secure access to needed resources; and strengthen their supply chains. Aujouannet stresses the SDGs as "a win-win" for business and the world.
Read this article in its entirety on IISD's SDGs Knowledge Hub. 
More From World Business Council for Sustainable Development (WBCSD)
Wednesday, January 13, 2021 - 4:00pm
Monday, January 4, 2021 - 8:20pm
Monday, January 4, 2021 - 8:10am
Videos from World Business Council for Sustainable Development (WBCSD)