Speeding Up the Race to Zero: Insights from Global 100 CEOs
Speeding Up the Race to Zero: Insights from Global 100 CEOs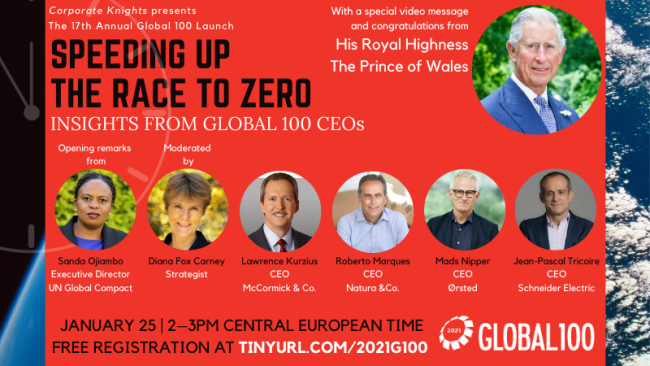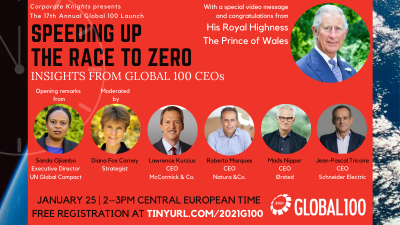 tweet me:
Tune in Jan 25 for a first look at the 2021 #Global100 and a roundtable on speeding up the #racetozero with CEOs of UN Global Compact, @Ørsted, Schneider Electric and many more. Free registration at https://bit.ly/3iwTSgL #ClimateAction #ESG #Global100
Thursday, January 21, 2021 - 10:10am
NEWSROOM: Ørsted
CONTENT: Multimedia with summary
The 17 th annual Global 100 Most Sustainable Companies will be unveiled on January 25 with a virtual CEO roundtable discussion to share insights from Global 100 pros and why it's essential for businesses to speed up the race to a net-zero-emissions economy. Join us 2–3PM Central European Time for a special video message from His Royal Highness The Prince of Wales, opening remarks from Sanda Ojiambo (Executive Director of UN Global Compact), and a roundtable discussion with the CEOs of four perennial Global 100 companies: McCormick & Co, Natura & Co, Ørsted and Schneider Electric.
Find out how Global 100 companies are leading the charge to zero carbon economy including through the Business Ambition for 1.5°C commitment (an initiative from a coalition of UN agencies, business and industry leaders to do their part to prevent the worst impacts of climate change by holding temperature rise to 1.5°C above pre-industrial levels).
More From Ørsted
Friday, February 5, 2021 - 10:00am
Monday, January 25, 2021 - 10:00am
Wednesday, January 20, 2021 - 10:00am